The Best Family Camping Tents 2021
Also available in: French
Feeling the urge to head out into the great outdoors with the family? Find yourself scanning through tent options but just can't decide on which one to choose? Discover five of the most suitable tents for you and your family so that you can spend a comfortable stay under the stars with your loved ones.
Please note that the high demand for outdoor gear and replenishment issues from international vendors caused by the COVID-19 pandemic have resulted in a more limited tent selection this year. Several models are currently out of stock. We apologize for any inconveniences that this situation may cause and would like to thank you for your patience and understanding.
We strongly recommend that you check to make sure that the tent you are looking for is available at the SAIL location of your choice before visiting. Or, you may purchase your tent online for a simple and practical solution. Happy camping!
The best family camping tents 2021: 5 tent selections
1. The SAIL Toundra Tent (3 or 4-person)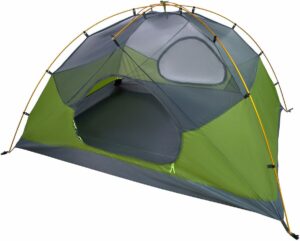 This durable, polyester tent with sealed seams can accommodate three to four people depending on the model selected. Once out of its compressible carry bag, the Toundra tent is easy to set up so you don't need to spend your time pitching it, but spend time having fun with your family instead.
Floor area: 4.1 square metres / 43.9 square feet (3-person) and 6 square metres / 64.4 square feet (4-person)

Doors: 1

Vestibule: exterior
Shop 3-person Toundra TentShop 4-person Toundra Tent
2. The ALPS Canadian Shield tent (3 or 4-person)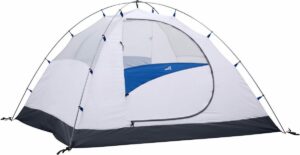 The Canadian Shield tent allows you to sleep in nature and wake up dry thanks to its materials, offering good protection against the weather, and UV rays. In addition to the two exterior vestibules which provide shelter from the rain, the tent has solid walls with good ventilation. Weighing just over 8 lbs (6.6 kg), it's the perfect ally to accompany you on all your outings.
Floor area: 4.8 square metres / 52 square feet (3-person) and 6 square metres / 64 square feet (4-person)

Doors: 2

Vestibules: exterior
Shop Canadian Shield Tent (3-person)Shop Canadian Shield Tent (4-person)
3. The Coleman Sundome Dark Room (4-person)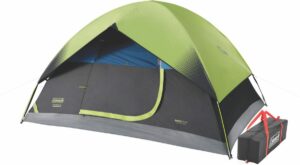 Designed for light sleepers and those who like to sleep in, this Coleman tent features coated walls with technology that blocks out as much light as possible. The result? The tent stays cooler and darker, even under the bright sun. After dark, luminescent stitching lets you find your way back inside in the dark. Finally, its 10 lbs (4.6 kg) weight makes it quite light to transport.
Floor area: 5.9 square metres / 63 square feet

Doors: 1

Vestibule: none
Shop Sundome Darkroom 3-season tent (4-person)
4. The Eureka Chic-Choc 5-person tent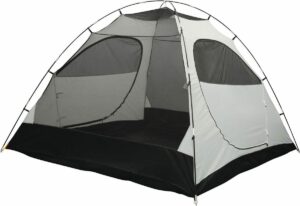 The two doors on this ergonomic tent allow for good ventilation without letting bugs get in thanks to the tightly woven mosquito nets. Although there is no interior vestibule, the fly sheet creates waterproof storage space for shoes and materials that don't attract animals.
Floor area: 7.5 square metres / 81 square feet

Doors: 2

Vestibule: exterior
Shop Eureka Chic-Choc Tent (5-person)
5. The 8-person Protex Retreat Tent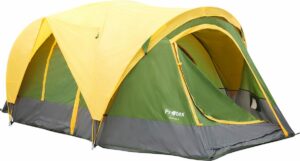 Housing a larger family in a tent is possible! This spacious shelter offers a large interior floor space allowing you to set up several mattresses – even a playpen – in addition to storing your luggage. It even has a small vestibule to store your shoes. It's a super practical way to prevent dirt from getting inside after your daily adventures.
Floor area: 10.1 square metres / 108.5 square feet

Doors: 2

Vestibule: interior
Bonus tips for your shopping session
Pick the right size tent. How many people will be camping with you? A tent that's too small will make you feel cramped while a tent that's too big will cause heat loss on cool summer nights. You've also got to consider that some people move around more when they sleep, and their height might play a role as well. It's a good idea to make your choice based on these criteria.
Practice putting up and taking down your tent before buying it, if possible. Also, notice the structure (pointed dome or square shape) and take a look at the poles to determine if the assemble will be easier, or more complicated than you think.
Use a room divider if you need privacy. If you're travelling with teenagers, they may want their own space to read magazines or novels late at night.
Calculate the weight of the tent when it is stored in the carry bag. Generally, the more spacious the tent, the heavier it is. If you're heading out canoe camping and will be doing some portage, you'll probably want a lightweight, compact tent.
Opt for a good mattress and a sleeping bag that's warm enough for a peaceful night's sleep. Having the tent is good, but a proper mattress and adequate blanket are even better. These can make or break your experience and help you not get too cold or too hot.
What to bring camping?
So, you've got one of the best family camping tents, and not sure about the next step? In addition to your personal belongings, bring some rope, tarpaulins, and a sewing kit to repair possible holes.
Make your life easier by consulting our list of essentials to bring when camping. What's more, enhance your stay with this list of accessories that will add a touch of glam to your nature getaway. We're making it near impossible to forget anything.
Also available in: French