The hunt is on! Here are 7 essential products for deer hunting
Also available in: French
The end of October marks the beginning of deer hunting in the Quebec outfitters. To maximize your chances of bringing back your prize(s), here are some essential items to bring with you:
With the cold and wet temperatures of November, you will need warm and waterproof clothing if you intend on staying outdoors on the lookout for several hours. With SAIL's coat and insulated wader, you can hunt in comfort without worrying about the rain or snow.  Made from 100% polyester, every seam is bonded and taped for protection against leakage and are double-layered in nylon. The coat has a detachable hood and features several pockets where you can store your ammo and belongings. To complete the camouflage look, or simply to protect your hands from the cold, the SAIL brand also offers mittens with the same insulating characteristics.
This lure spray composed of urine and fermented apple juice, will attract deer to your site like a bee on a honey pot! This long distance lure comes in a 750ml bottle, which can last two years.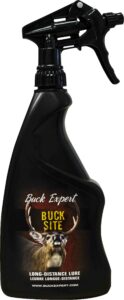 In order to keep an eye on your spot and to know the whereabouts of wild game, you will need an efficient hunting camera. The Primos camera is simple to use and delivers full resolution 7MP colour images. It also includes a video option with high definition quality, and will allow you to shoot at night thanks to the infrared LED emitters.
With this lift system, you can hoist your game safely from predators, even if you're all alone. The set includes a highly durable 40 foot nylon cable that can lift up to 600 pounds.
This field-to-freezer game processing set has everything you need to get the job done. It consists of 3 knives, one saw, forceps, a sharpener, sterilized gloves all in a hard-side carrying case. The knives are made of resistant and durable stainless steel, and have a non-slip rubber handle.
With this gear on hand, all that'll be left is to find your spot, install your ground blind and enjoy every moment spent outdoors away from the hustle and bustle of the city.
Good hunt!
Also available in: French