Ashley Rae's 5 Best New Fishing Gear Suggestions
Also available in: French
Fishing products are ever evolving. There's always something new to try – whether it's a favourite lure in a new colour, a new technique or accessory, or the latest in technology to help make your time on the water more efficient. In this blog, SAIL Fishing Ambassador, Ashley Rae, highlights some new fishing gear products that have recently been added to our SAIL locations and online store.

Infini Soft Plastics
Newly added this year, Infini is a lineup of Canadian-made soft plastics available exclusively at SAIL. This collection includes 9 different profiles with techniques geared towards trout, largemouth and smallmouth bass, walleye, and panfish.
Here are some of the standouts in this collection:
The 3" Drop Boom Shot Swimbait in the goby colour looks like a great option for smallmouth bass out on Lake Ontario and the St. Lawrence River.

The 3" Trout Masu Worm Soft Bait in bubblegum pink looks perfect for fishing the tributaries of the Great Lakes for steelhead.

Both the 4" Flint Minnow Soft Bait (in a natural colour to match the forage) and the 4" Ruby Grub Soft Bait on a jig head are sure to catch some walleye.

You can't go wrong with a wacky-rigged 5" Stowt Stick Soft Bait for largemouth bass.

Rapala X-Rap Haku
This 5.5"/ 2-2/3 oz lure may appear as a regular glide bait but it has a unique feature. The hooks are fastened on a titanium wire that releases from the body of the bait. On the hookset, the hook rig will release from the body, providing direct contact to the fish. This provides a better hook-up ratio and less chance for fish using the lure as leverage to shake off. The durable rig is built with 100lbs of titanium wire and features a solid connector ring, heavy-duty split rings and premium VMC Coastal Black round bend trebles. This lure was designed primarily for pike fishing.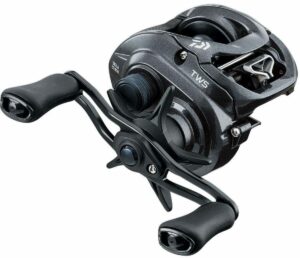 Daiwa Tatula CT
This Daiwa Tatula CT baitcaster reel was designed for a variety of fishing techniques, from soft plastics to crankbaits and beyond. It is a lighter weight reel at just 7.2oz. This reel includes Daiwa's T-Wing System level-wind for smooth line release helping to prevent backlash. When the reel is out of gear, it allows for less resistance on the line, enabling further casts and less occurrence of backlashes.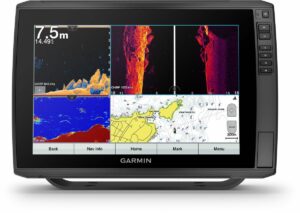 Garmin Echomap Ultra 122SV Fish Finder
SAIL carries a wide selection of Garmin products, and have recently added some new fish finders to their lineup. As a Garmin user for my year-round fishing adventures, I find their products very user friendly, and the cutting-edge technology packed into these units never ceases to amaze me. There's a long list of features on the ECHOMAP Ultra 122sv, but a few of my favourites are:
The built-in Ultra High-Definition (UHD) sonar: The included GT56 transducer provides Garmin CHIRP traditional sonar and UHD ClearVü and SideVü scanning sonars. The GT56 offers three scanning sonar frequencies which means detailed readings at all depths.

Fishing somewhere without a map? No problem! Quickdraw contours allow you to draw your own maps in real time with detailed 1-inch contours. You can choose to keep the data to yourself, or share it through the Garmin ActiveCaptain app. I love using Quickdraw especially when exploring new waters that don't have maps available, or filling in all the details on that "spot on a spot" that may not otherwise be evident on available mapping.

Panoptix LiveScope, the all-seeing live forward-facing sonar, is all the rage these days. This ECHOMAP Ultra 122sv supports LiveScope if you wish to add this amazing technology (sold separately) to your unit. It is truly incredible seeing how fish are reacting to your bait in real time and it has helped me learn so much more about the species I am targeting.
Looking for more new fishing gear for the 2021 season?
Be sure to check out the new arrivals to see more recently-added fishing items at SAIL! Happy fishing!
Article written in collaboration with Ashley Rae of She Loves To Fish. 
Also available in: French