Car Racks for Bikes: How to Choose the Right One?
Also available in: French
Some people are lucky enough to live near the best roads and trails to ride their bikes. For the rest of us, it can take many miles of riding to get the most out of our two-wheeled apparatuses. Learn more about the different types of car racks for bikes and tips for choosing the right one according to your needs.
In this article, you will learn more about:
Steps to follow when choosing a car rack for bikes
First, determine the vehicle on which you plan to install the bike rack. The type of car – sedan, SUV or hatchback – is important in choosing a suitable rack, but engine strength is not an important factor, despite what you might think. There is no standard to meet as tent trailers and some trailers require. Your type of traction does not interfere with your choice of rack either. However, you will have to consider the total weight to be transported.

Ask yourself these questions as well. Do you have a hitch on your vehicle or are you thinking of getting one installed? Will you need access to the trunk of your car at all times?

Next, determine the type(s) of bike(s) to be transported and the number. Will you carry only your prized high-end road bike? Two hybrid adult bikes and two kids' bikes? An electric bike and a fatbike? For example, carrying two fatbikes in the back of a small, subcompact car can create a lot of weight on the rear wheels and reduce the front wheels' grip on the road.

Also consider the places you will be visiting. Are they close to where your bikes are stored, or will you have to travel a long distance before you can ride your bike? If you live in the greater Montreal area and like to tour the Saguenay Fjord Route every summer, your needs will be different than if you want to transport your bikes to your cottage located an hour away from home.

Finally, if your vehicle or bike is less standard, you should know that there are also racks specifically designed for pickup boxes and tandem bikes, although these two racks are not discussed in this article.
The different types of car racks for bikes
Features of car racks for bikes

The platform support for the hitch

The arm support for the hitch

Roof racks

Trunk racks

Support

By the wheels

By the frame

By the wheels

By the frame

Number of bikes

1 or 2 bikes

2 or 4 bikes

1 to 4 bikes (depending on the width of the bars)

1 to 3 bikes

Stability

+++ (high-end models)

++ (mid-range models)

++

+++

+

Approximate price

$400-$1000 (excluding hitch)

$400-$500 (excluding hitch)

$200-$350 (excluding roof bars)

$200-$300

Suitable for a recreational bike?

Yes

Yes

Yes

Yes

Suitable for a road bike?

Yes

Yes, if it is not too high end or if it does not have a carbon frame

Yes

Yes, if it is not too high-end or if it does not have a carbon frame

Suitable for a mountain bike?

Yes

Yes, if the geometry is rather traditional

Yes, if the weight is not too heavy

Yes, if the geometry is rather traditional

Suitable for a gravel bike?

Yes

Yes

Yes

Yes

Suitable for a hybrid bike?

Yes

Yes, if the frame is standard

Yes

Yes, if the frame is standard

Suitable for an electric bike?

Yes

Suitable for a fatbike?

Yes
The platform support for the hitch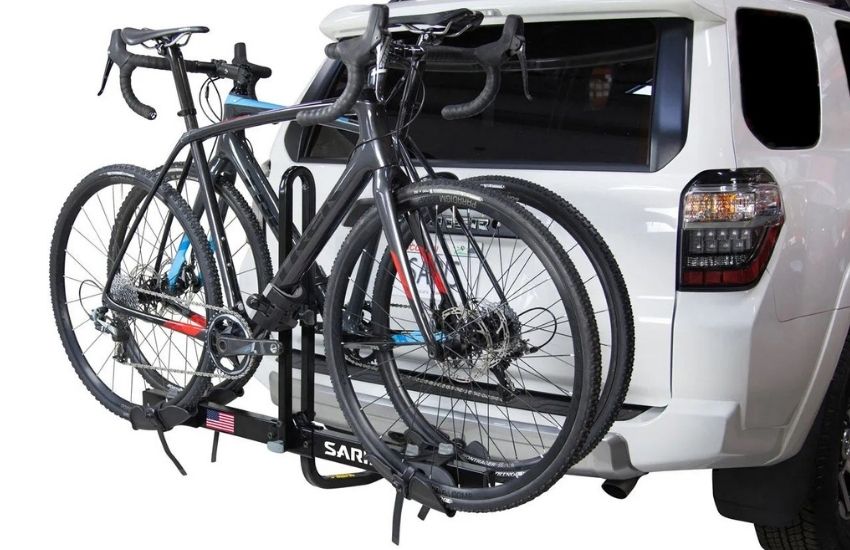 The bikes are supported by the wheels for this type of rack. It has the advantage of not damaging the frame and is compatible with many different bike styles.
Some models are very robust while others are more compact. The platform rack can generally accommodate one or two bikes, but extensions can be added as needed.
This rack is ideal for electric bikes and certain models of fatbikes. You just need to know the width of your bike's tires to see if they will fit in the top section that supports the tire. Look for the T2Pro XTR 2 (1.25 in. and 2 in. / 3.18 cm and 5.08 cm) from Thule and Freedom from Saris.
If your vehicle has a hitch, the platform mount is the most versatile, as it is very solid, easy to install (no need to visit the mechanic) and easy to lock.
On the other hand, these types of car racks for bikes can be heavy (some have wheels so you can roll it from the room where it is stored to your vehicle). Also, kids' bicycles cannot always fit on the rack because of their small tire size.
Pros
Versatile, if you want to carry different types of bikes, and convenient, if you want quick access to your bikes and enjoy easy installation.
The arm support for the hitch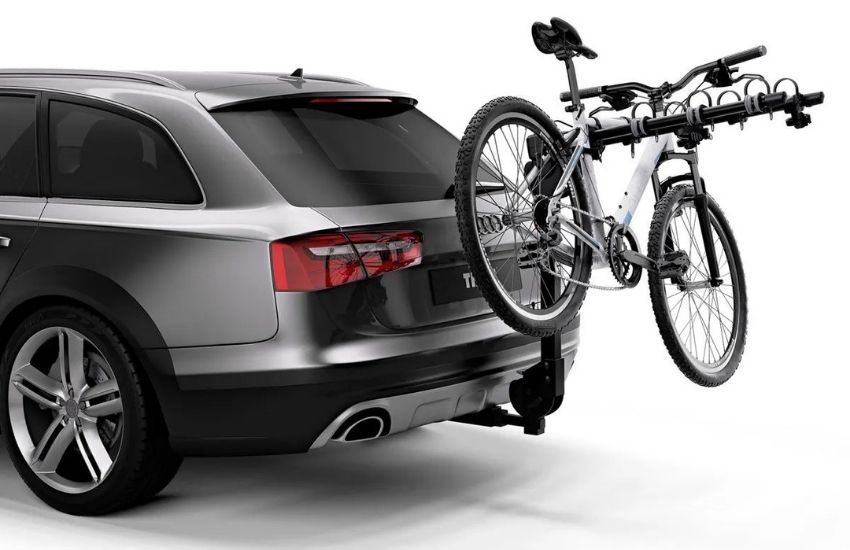 This hitch rack supports the bike by the frame. Not all bikes can be mounted on it, especially electric bikes with a wide frame and too heavy, or with a slanted frame like women's bikes. It is also not suitable for mountain bikes or bicycles that are too heavy. However, you can use it for bikes with standard structure and horizontal frames.
The advantages of this rack are that it is less expensive and lighter than the platform rack, making it easier to install, and it can support up to four bikes depending on the model (most are made for two or four bikes). Consider Thule's Apex XT model, which can support four bikes and fits either 1.25-inch or 2-inch hitches (3.18 cm or 5.08 cm).
On the negative side, the support arm tends to vibrate more than the platform rack, so it's not ideal for bikes with carbon frames, as this fragile material isn't made to take a lot of impact or tossing. Also, most of the support arms do not swivel, so they block access to the trunk of the vehicle. If you choose this model, make sure it has a lateral swing away system.

Pros
Affordable, if the hitch is already there, and spacious, if you want to carry up to four standard-sized bikes.
Roof racks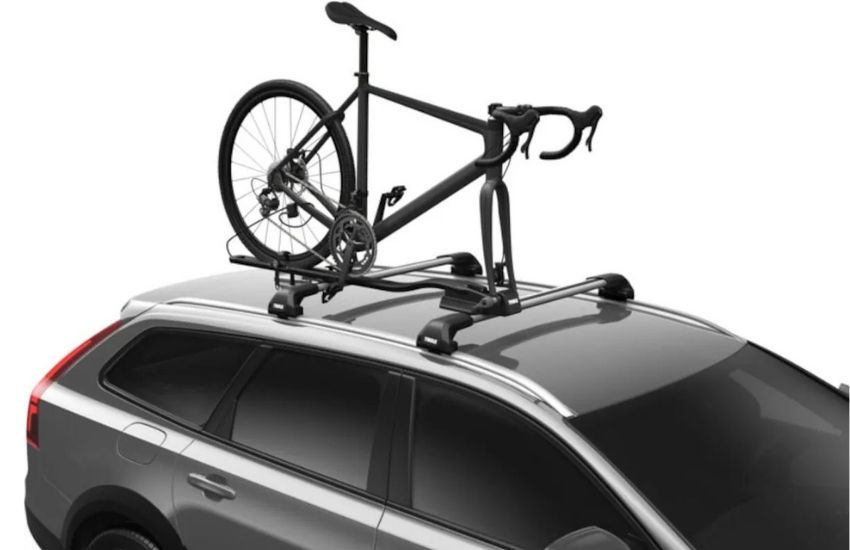 Several models of roof racks support the bike by the front fork that fits into the base. Other models also allow you to support the bike by the wheels, without having to remove it. Standard models can carry one or two bikes and some larger bar models can support up to four bikes.
Its main advantages? It is well suited for high-end road bikes, as the support by the fork offers more stability. It's also affordable (excluding the cost of the roof load bars that come separately). Investing in roof load bars makes sense if you are into other sports, as you can carry your bike, ski or kayak gear and even add a roof box to your vehicle. In addition, the roof load bars are adjustable and fit all types of vehicles.
On the other hand, road bikes, which are very light, are ideal for this bike rack, which requires a little physical strength to place the bike on the roof, whereas heavy bikes or bikes with large tires are not ideal. Of course, most models offer a locking system. Take a look at Thule's Upride model.
A bike roof rack, on the other hand, requires a bit more knowledge, as the front wheel must be removed. Fortunately, the wheels on the new bikes can be removed without the need for tools. Another disadvantage is that you can't ride everywhere, as underground garages and drive-in restaurants are restricted in height. Don't forget this important detail when your brand new bike is installed on your roof. Also, think about your body type; if you're short or not very strong, this may not be the most recommended rack for you.

Pros
Accessible if you want to open your trunk easily, if you already have roof bars, if your bike is light, if the car is not too high and if you do several sports.
Trunk racks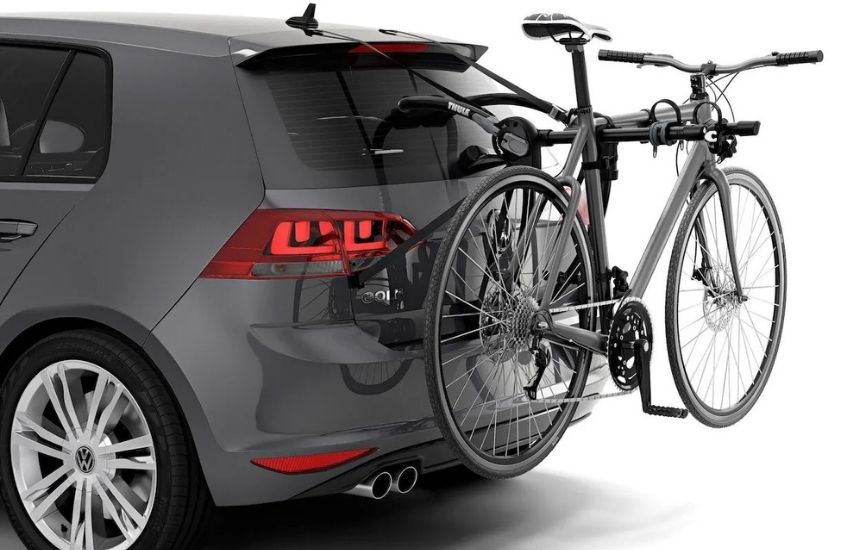 Do you own a hatchback, but like to bike in the Laurentians? No problem! Choose this rack that will support your bike by its frame.
In addition to being able to be installed on other types of vehicles, this type of rack is very affordable – especially since it does not require a hitch! – and is suitable for occasional trips and short-distance transportation. Since it's fairly light, it's easy to install, but it's not suitable for very heavy bikes. Instead, mount one to three recreational, road, light mountain or hybrid bikes. Turn to Thule's Gateway Pro 2 bike rack and go for a ride nearby.
Pro
Light and simple, as it does not require a hitch or roof bars, and very affordable.
What about bike racks for fatbikes and electric bikes?
These heavy bikes with unconventional geometry can be carried on platform-style racks like Thule's T2Pro XTR 2 and EasyFold XT.
FAQ
Do bike racks come with a locking system?
Yes, for most models. Sometimes you have to buy the locking barrels separately.
How do I lock a bike to a bike rack?
Many bike racks include the steel cables or provide space to incorporate a locking barrel to add a lock. The cylinders are often sold in sets of 2-8 pieces and only one key is needed for the whole set. Remember to lock the hitch or roof bars to your vehicle, the rack to your hitch, and each bike to the rack.
How to install a bike rack on a vehicle
First remove the front wheel, if necessary. Since each rack is different, carefully follow the detailed instructions on the packaging of your chosen bike rack to install it correctly on your vehicle.
Once the rack is installed, check that the screws and straps are tight and that the rack is solid, stable and securely fastened or attached to the vehicle. Then install the bikes according to the instructions. Once the bikes are in place on the rack, drive around the block before leaving for your long trip. During the trip, if you stop to fill up with gas for example, check the stability of the rack and the bikes.
Watch some videos for more info:

Do you have to remove the bike rack from the vehicle after each use?
Not necessarily. Some platform-type racks fold up and become very compact when there are no bikes installed on them, so it's okay to leave it on your vehicle all summer. The same goes for roof racks. On the other hand, for racks installed on the trunk of the car, it's better to install it and remove it after every ride, as it blocks access to the trunk.
Should the bike rack be removed from the vehicle when winter arrives?
It is recommended to remove it from the vehicle and store it in a dry place at room temperature. Why? Calcium, snow and rain can create corrosion on the bike rack.
While some Thule racks allow water to drain off and are made of aluminum or anodized steel (materials that do not rust) it is best to store your rack in a safe place at the end of the season.
Do bike racks damage cars?
No, if you use them in a standard way and respect the capacity. Be careful though: if you drive a rental car, be aware that the trunk bike rack can damage the paintwork due to friction.
Pro-tips
Look for a rack with a pivot system that will allow you to open the trunk of your vehicle (the rack can swing forward or to the side).

By following the instructions carefully, you won't need to visit the local garage to have your rack installed. Trust yourself!

Clean your rack to preserve its life and reduce the friction that wears the bike down. Be sure to oil the moving parts.




 
Also available in: French