Must-Haves for Camping Cookouts
Before heading out camping, you think of everything: the tent, the mat, what sleeping bags to bring, and where to go. But, comfort isn't the only thing that makes a camping trip great. It's equally important to make sure that you're well-equipped to eat well. Eating hearty meals to refuel after a day full of outdoor activities will make all the difference and truly maximize your experience. Gear that's suited to your needs doesn't necessarily need to take up more space – opting for versatile utensils and accessories is the key to a less cumbersome packing situation. Here's our guide of must-haves to bring along with you so that your adventure doesn't turn into a flop.
Staying hydrated
When camping or when hiking, clean drinking water is a vital rare element, even when you're surrounded by lakes and rivers. Water purification tools are available to help you! Items like purifying straws, filters, and even replacement filters are some examples. And for activities that involve more mobility, a selection of bottles and hydration packs is available. What are the criteria to consider when selecting a water bottle?
• Weight
• How fresh it will keep your beverage
• The life of the product
Choose from a wide variety of hydration packs and bottles – and you'll be set to go.
Water purification systems
Keeping food fresher, longer
A cooler isn't only for keeping beer cool, it also protects your food from insects and other animals, and preserves fruits and vegetables. Several different types of coolers exist according to your needs and based on how long your camping getaway will be. Ex: will you be heading out alone or with a couple of other people? The size of your cooler will, therefore, be chosen as a result. Do you need to bring along a second cooler for drinks? There are lighter, softshell insulated models should you wish to go that route. Another interesting option is a cooler on wheels to make getting around a little bit easier for you.
Coolers
Eating just as well as you would at home
What utensils and dishware should you choose for camping? Don't leave traces in the woods: try to avoid disposable camping dishware. There's such a large selection available for campers, from vintage sets to modern ones. They don't take up a lot of space and are super lightweight! There are even foldable plates, bowls and cups, sporks (spoon and fork combo), stainless steel tumblers, and even full kits with all your must-haves included.
Cooking some good meals
Wondering what type of stove to bring? If you'll be walking or canoe-camping, go for a compact model that includes all the accessories you need and a carrying bag all in one. You can find stoves with one, two, or three burners, it's really up to you to choose!
And since you never know whether you'll be making pasta, or wild mushroom risotto, it's good to bring different cookware to be ready for anything. Pick durable cookware that you can keep for several years.
Also, what's a camping breakfast without bacon and eggs? To prepare some delicious bacon, nothing's better than a cast iron pan that will give your breakfasts that classic taste.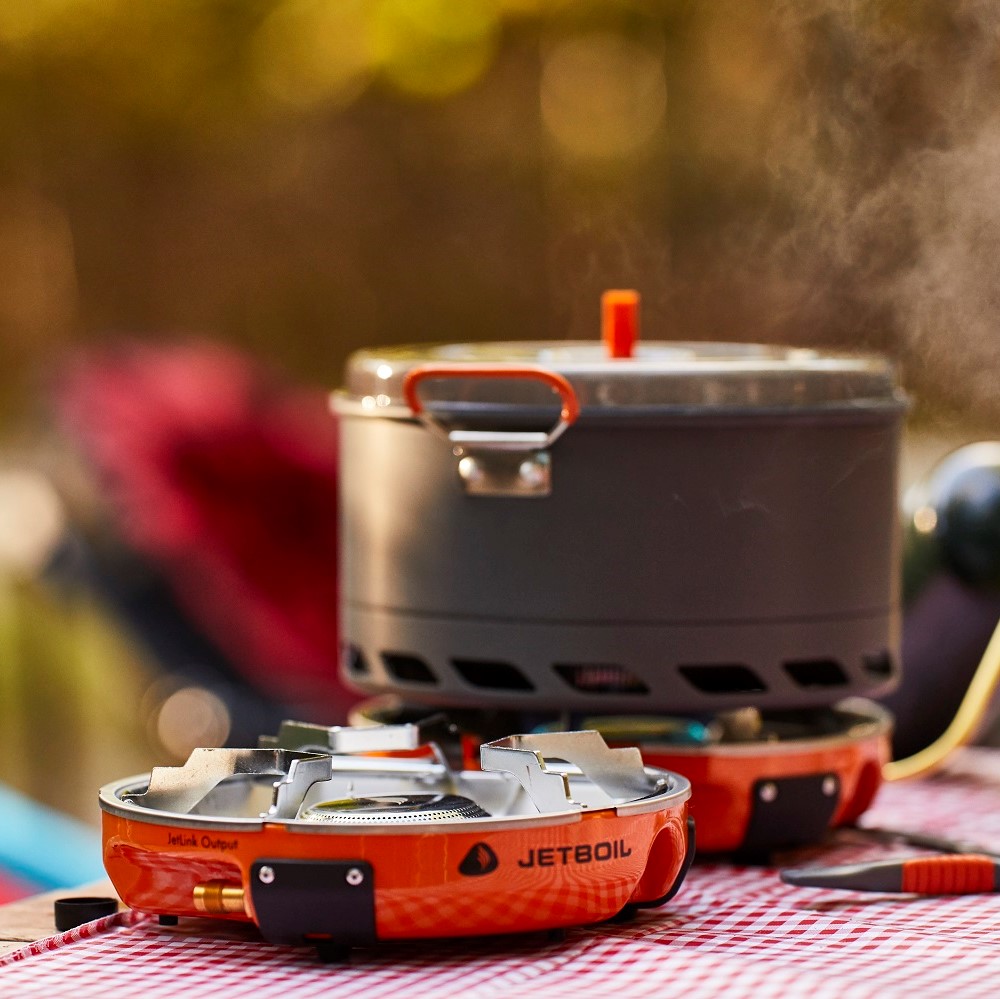 For smooth coffee every morning
To start your day off on the right foot, nothing's better than a cup of coffee. Filter coffee machines, French presses, and even ones for espresso are available for your camping trips. Think about choosing a reusable, ecofriendly coffee filter.
Coffee makers and kettles
Don't forget the must-have item for any camper: a Swiss Army Knife!
Swiss army knives can get you out of a pickle real quick. Consider choosing one with a bottle opener so that if you'd like to plan for an elegant dinner, you'll be all set. These tools are the kind of thing that can save you in a pinch!
Multipurpose knives
Ready for any meal
In addition to what you're already bringing with you, how about adding some snacks like protein bars for your coffee breaks after a hike or as a dessert. Try out freeze-dried food as well – it's so easy to prepare and tastes great. There's something for everyone: from three-cheese lasagna to crème brulée!
Freeze dried food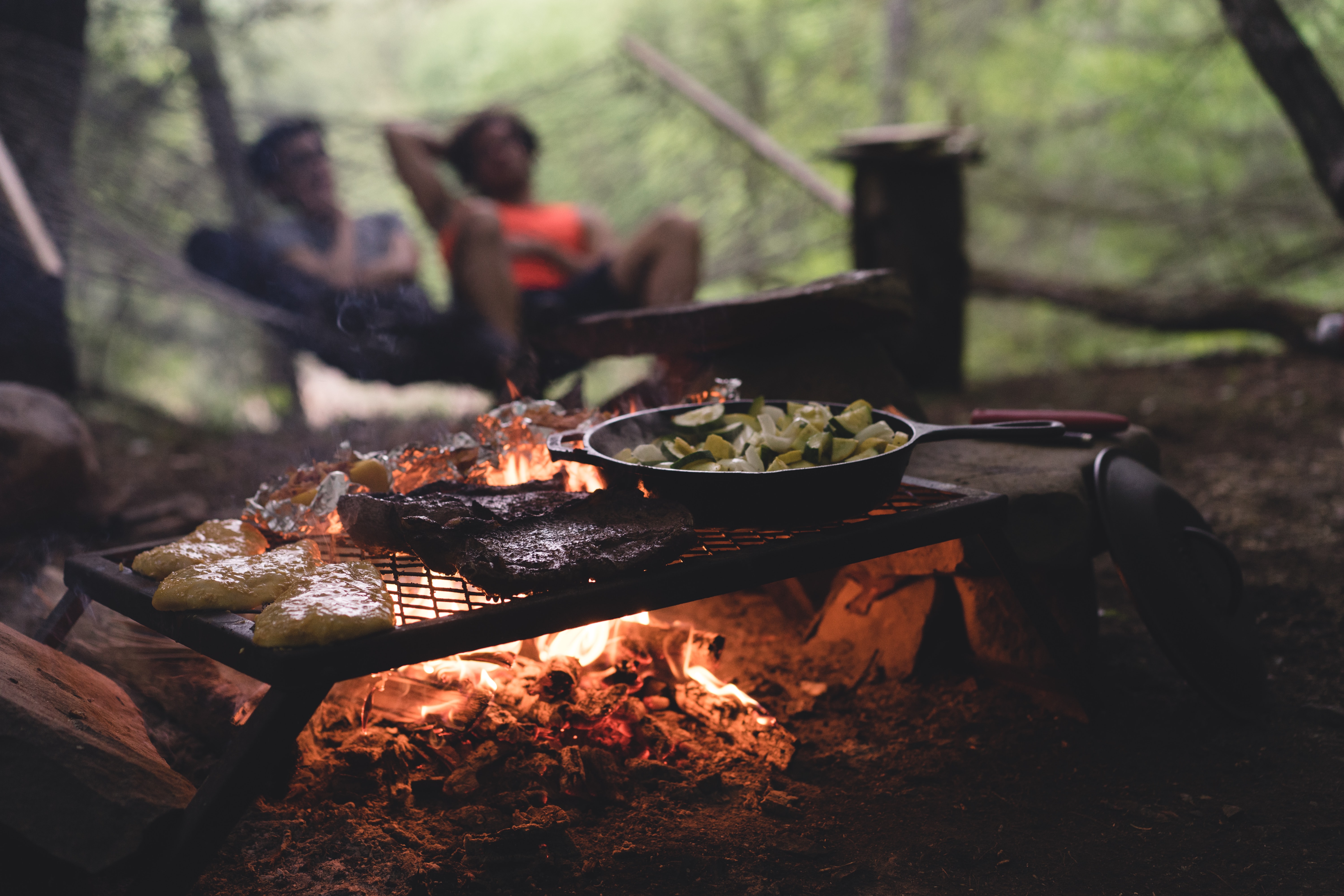 And finally, don't forget matches…you don't want to be stuck eating all your food cold.