10 Must-Haves for Camping Cookouts
Also available in: French
Before heading out camping, you think of everything: the tent, the mat, what sleeping bags to bring, and where to go. But, comfort isn't the only thing that makes a camping trip great. It's equally important to make sure that you're well-equipped to eat well. Eating hearty meals to refuel after a day full of outdoor activities will make all the difference and truly maximize your experience. Here's our list of must-haves to bring along with you so that your adventure in the outdoors is a tasty one.
Check out our Camping Guide to learn even more tips and advice on this activity, which is just as enjoyable to do with others or alone in the four corners of the country.
1. Keeping food fresher, longer
A cooler isn't only for keeping beer cool, it also protects your food from insects and other animals, and preserves the life of perishable foods like fruits, vegetables, dairy products, meat, etc.
Several different types of coolers exist according to your needs and based on how long your camping getaway will be. The loading capacity required will not be the same when you are camping alone as compared to with your family. The size of your cooler will, therefore, be chosen as a result. It also depends on the type of adventure you are looking for. If you're glamping, camping in the backcountry, or camping on top of a mountain, you may not need the same type of cooler. There are lighter or electric coolers, and softshell insulated models should you wish to go that route. Another interesting option is a cooler on wheels to make getting around a little bit easier for you.
Tip: If you want to keep your food cold as long as possible, get a second cooler for beverages, which you may open more frequently during summer.
2. Staying hydrated
Speaking of hydratation, clean drinking water is a vital rare element when camping or when hiking, even when you're surrounded by lakes and rivers. Water purification tools are available to help you. Items like purifying straws, systems, filters, maintenance kit, and even replacement filters are some examples.
Also, remember to bring a bottle of water if you are going to be doing any sports during your stay, like trail running, hiking, or climbing. A selection of bottles, foldable reservoirs, and hydration packs is available. See the criteria to consider when selecting a water bottle:
Their weight

The freshness they will offer

Their longevity

Their compactness

Their capacity
Shop – Water filters
Shop – Hydration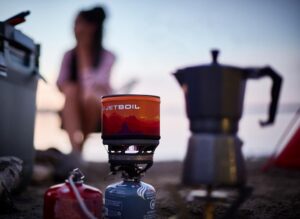 3. Lighting the fire
Wondering what type of stove to bring? If you'll be walking or canoe-camping, go for a compact model that includes all the accessories you need and a carrying bag all in one.
Some stoves also provide adjustable temperature and panels to protect the flame. The choice is yours, but above all, don't forget to bring a lighter, matches and a canister of fuel!
4. Cooking some good meals
Try to plan your menu in advance as much as possible, but don't limit your creativity, as meal ideas can almost be endless. It's not just burgers or fire-grilled sausages that will delight your taste buds.
Since you'll either be making pasta, ribs or wild mushroom risotto, it's good to bring different cookware to be ready for anything. Pick durable cookware that you can keep for several years.
Also, what's a camping breakfast without bacon and eggs? To prepare some delicious bacon, nothing's better than a cast iron pan that will give your breakfasts that classic taste.
Tip: Bring along a colander, which may also be used for hunting shells, rocks and gold nuggets in rivers as it is for draining vegetables and pasta.
5. Eating just as well as you would at home
Don't leave traces in the woods: try to avoid disposable camping dishware. There's such a large selection available for campers, from vintage sets to modern ones. They don't take up a lot of space and are super lightweight. There are even foldable plates, bowls and cups, sporks (spoon and fork combo), stainless steel tumblers, and even full kits with all your must-haves included.
Shop – Dishware
Shop – Cutlery
6. Cutting like a pro
Swiss army knives can get you out of a pickle real quick. Consider choosing one with a bottle opener so that if you'd like to plan for an elegant dinner, you'll be all set. These tools are the kind of thing that can save you in a pinch. You never know when it might come in handy, as you might also want to cut the string that holds your salmon roll or the rope that hangs your food bag.
7. Establishing the basics of camp cookouts
Don't underestimate the value of bringing a cutting board. In addition to allowing you to cut vegetables and fruit, it can be used as a presentation board for cheeses and other delicacies during happy hour, a tray for glasses and plates or a separation panel in the cooler. A thin object that takes up little space, but has more than one trick up its sleeve.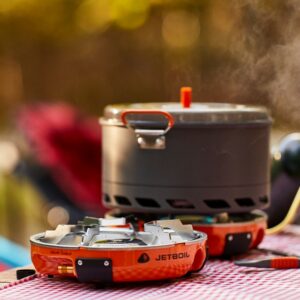 8. Warming up and waking up with a distinguished coffee
To start your day off on the right foot, nothing's better than a cup of coffee. Filter coffee machines, French presses, and even ones for espresso are available for your camping trips. Think about choosing a reusable, eco-friendly coffee filter. Bring along a battery-powered milk frother if you want to spice up your morning latte.
Shop – Coffee makers and kettles
9. Organizing food
If you want to avoid wasted food as much as possible, it is a good idea to organize your food in reusable containers. You can bring a fair share of flour or your favorite spices, use an empty container to save dinner leftovers, avoid certain ingredients like eggs from being broken (thank you, precious egg carrier!), reduce the odours that could attract animals, etc. A 100% worthwhile trick!
Shop – Containers [/ stag_button]
10. Starting on a clean slate
There's nothing better than bringing a tablecloth to cover the picnic table and everything you need to clean up after you've finished your meal.
Consider bringing a portable sink for washing dishes, a scrub brush and biodegradable soap for cleaning utensils, dishes and other kitchen gear while camping.
Shop – Cleaning products[/ stag_button]
Other essentials to take away
In addition to what you're already bringing with you, how about adding some snacks like protein bars for your coffee breaks after a hike or as a dessert. Try out freeze-dried food as well – it's so easy to prepare and tastes great. There's something for everyone: from three-cheese lasagna to crème brulée!
Use stove griddles and skewers for cooking sausages, s'mores or fish directly over the campfire.
Slip a battery-powered lantern into your bag so you don't get caught off guard at dinner time. It can quickly get dark in the forest once the sun has gone down.
Enjoy your meal!
Also available in: French