Salmon Fly Fishing: Tips for Getting Started
Also available in: French
Salmon fly fishing season is upon us and the excitement is reel (pun intended!) Fly fishing, more specifically for Atlantic salmon, attracts people from all over to the rivers of the province of Quebec. In the Gaspé region (salmon fishing paradise) preparation starts as early as the month of May. For seasoned anglers, as well as guides, it's the time to get out the gear, and to make sure that everything is working properly and is safe to use before June 1st: the day most rivers grant access to anglers. Let's take a closer look at this amazing sport.
Article written in collaboration with Lyne Sexton, a Hooké ambassador.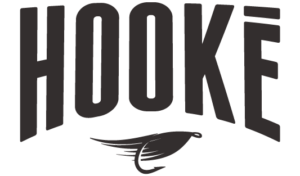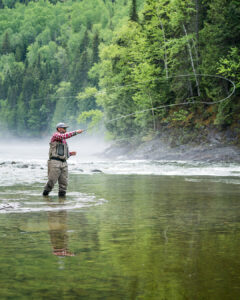 Some facts about salmon fly fishing
If you're interested in fishing for Atlantic salmon, but unsure about how to begin, what to buy, or where to go, here are some tips for a memorable season.
First things first, fishing for salmon is accessible to everyone, no matter your age or your budget. You simply have to follow the rules for the water body on which you plan to fish. Fishing periods can vary – just like the number of permitted catches – as well as the release regulations and general good practices that may change according to the different rivers. Note: Fly fishing is the only technique permitted for fishing salmon on most rivers.


When is the best time to fish for Atlantic salmon?
Although you can fish for salmon at any time of day, the best time to get out there is generally early in the morning to avoid the high heat of noon and to be out before others and get a head start. On the other hand, don't forget the rotation principle, which encourages anglers to move along the river slowly – upstream to downstream – to allow other anglers their shot along the water as well. Salmon can often be found in places where the current is strong, swimming against the current. They usually stay where there is more oxygen, in order to not become too tired. For this reason, they may often be found near large rocks, sheltered from the current. The trick is to present enticing and inviting bait and not scare them away. It will attract their attention, since Atlantic salmon, unlike other species, do not bite a fly for food, but rather simply because it has caught their attention. Also, don't forget to change your fly regularly, although opinions differ on this. Trying out different flies, going from dry to wet flies, and changing colours after a few casts will only increase your chances of making a catch.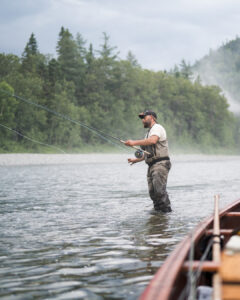 Have you thought about hiring a guide?
If you are planning your first outing, it's strongly recommended to take an introductory course or hire a guide who knows the river well. This person will guide you through the basics, the different types of flies (dry or wet), and when to use them. You will also learn techniques for bringing in fish, the right way to release them back into the water, and the general rules of fly fishing in a river. Certain rivers are calmer than others and more private, whereas others are shared with the locals, businesses, and the pleasure crafts that navigate it.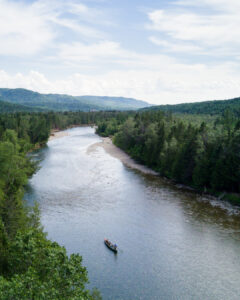 Where can you fly fish for Atlantic salmon?
By making sure you know the basics and are well prepared, you have a good chance of becoming hooked on salmon fly fishing. The province of Quebec has about sixty salmon rivers; it's an amazing playing field just waiting for you!
In the Gaspé region alone, there are 22 rivers where Atlantic salmon fly fishing is permitted. These waterways with crystalline and turquoise-coloured waters cross wild and varied natural landscapes – and it's truly a treat to witness! Some favourites are the Bonaventure River for its turquoise water, the Grand Cascapedia River for its large specimens, and the Matapedia River, especially for early-season fishing.
Why fly fish for Atlantic salmon?
When you become a fan of fly fishing, you'll understand that it's about way more than simply catching a fish. You'll enjoy the pleasures of capturing and releasing this king of the rivers, enjoy being in the heart of nature – whether solo, as a duo, or with the family – and lighting a campfire afterwards to enjoy a delicious meal.
If fly fishing for Atlantic salmon intrigues you, what are you waiting for? Learn more on the Saumon Québec website where even more information is available. The 2021 season has finally arrived.
Happy prepping and don't forget to swing by SAIL to get geared up!
Also available in: French