Trout Fly Fishing : Basic Tips to Get Prepared
Also available in: French
Prized by anglers everywhere in Ontario and Quebec, different species of trout can be found in many different places and their carnivorous diet makes them the fish of choice when it comes time to take out your fly fishing rods. Discover the basic notions for getting initiated to this popular sport.
Article written in collaboration with Hooké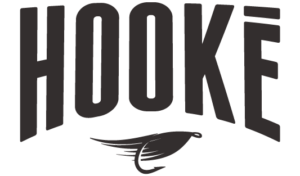 Some facts about trout
Trout is generally a species that lives in freshwater and belongs to the salmonid family.
When fully grown, it measures 30 to 50 cm, depending on the species, and can be found in clear, cooler water with a low current.
Among the most popular species are:
Rainbow trout (silvery colour)

Brown trout (German trout)

Brook trout (speckled trout, sea trout)

Arctic char (Quebec red trout)

Lake trout (grey trout)
Planning for trout fly fishing
Trout fly fishing season in the province of Quebec
Trout fly fishing season generally opens at the end of April and closes in mid-September in the majority of Quebec fishing zones.
You'll find the exact dates on the Government of Quebec's website in the fishing section.
In order to be well prepared for this popular sport, it's important to be well informed about the different species found in the different bodies of water around the province, whether it's brook trout, rainbow trout or brown trout.
Also take the time to analyze the times of the day when fishing is most fruitful. Is it dusk or dawn?
Trout fly fishing season in Ontario
Fishing dates and fish species associated with these dates may be found on the Government of Ontario website. 
Trout eating habits
First of all, you should know that when out fly fishing for trout, it's essential to understand the targeted species' diet in order to properly select the fly to work with.
While there is no absolute certainty, there are some basic principles that you can rely on to increase your chances of making a catch. Study the insects that inhabit the streams and learn about their life so you can mimic outbreaks, depending on the time of day. Now is the time to sharpen your observational senses by analyzing the surface of the water where you'll be fishing.
Also, note that trout feed when there is a change in atmospheric pressure, i.e. when the sun rises or sets, as this creates a drop or rise in temperature.
Mostly carnivorous, trout feed on small fish, insects, leeches or crustaceans, and their diet varies depending on the species.
For example:
Rainbow trout are particularly fond of plankton, crustaceans, insects, slugs, leeches, small fish, and fish eggs.

As for brown trout, it likes to eat fish, crayfish, and insects at dusk.

Finally, brook trout (also called speckled trout), rush towards leeches, worms, mollusks, crustaceans, insects, spiders, and small fish.
This is why it's important to get to know the species you'd like to fish in order to properly target what you need and adapt your lures and fly fishing techniques for trout.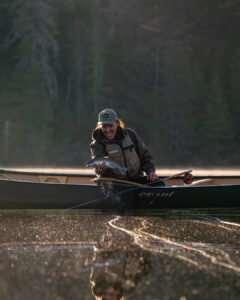 Basic gear for trout fly fishing
To begin, take the time to browse through our wide selection of fly fishing gear to get read for your next outing on the water.
In addition, consider the advice of Mathieu Leonard, fly fishing instructor and Hooké ambassador, who teaches about the must-have equipment to use when fly fishing for trout.
He favours streamers, which allow you to make long casts. Nymph fishing is also recommended, as it imitates small insects and can be very effective.
Fishing rod, fishing line, and flies for nymph trout fly fishing
Here's what you'll need:
A nymph fishing rod: choose a 10-ft (304.8 cm) trout fly fishing rod.

Line for nymph fishing

A reel made for this rod (depending on the weight and line).

A leader that you'll attach at the end of your line upon which to place the fly. Opt for a 6 lbs,

fluorocarbon 12-ft leader for fishing with a nymph.

Flies and nymphs.
Fishing rod, fishing line, and flies for streamer trout fly fishing
Here's what you'll need:
A streamer fishing rod.

Intermediate line for more depth

A reel made for this rod (depending on the weight and line).

A 6 lbs, fluorocarbon, 12-15 ft (365.8 to 457.2 cm) leader

A streamer fly with standard knot.
Other essentials for trout fly fishing
A ton of other fly fishing accessories exist on the market and each have their uses:
Waders to be able to move around the water easily.

A good waterproof raincoat.

Polarized sunglasses to protect your eyes from the sun's rays and flies.

A life jacket (PFD)

A small net.

Pliers or wire cutters.

Insect repellent.

A provincial fishing license.

A right of access for the river or lake where you'll be fishing.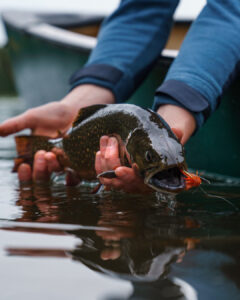 Quick tips for trout fly fishing
You can install more than one nymph on your leader, leaving about 6 inches (15 cm) between each. This allows for fishing at different depths to determine how high trout swims.

You can also try dry fly fishing. This technique is quite simple, as you don't need to assess the depth of the water.

Always have several flies, nymphs, and different-sized streamers on hand in different colours to adapt to the trout diet at different times of the year.
Also available in: French