3 questions to ask yourself before buying a travel backpack
Also available in: French
Purchasing a backpack is an important moment in the life of a traveler. Here are three questions that should be asked in order to make the best possible choice.
1- "What size of bag will I need? "
If you are travelling for a prolonged period of time (more than 2 weeks), we suggest a bag between 50 and 60 litres. It will be spacious enough.
A smaller bag is lighter and easier to carry. Some backpackers will even take the smallest one possible – about 35 litres, so that it qualifies as a plane, train or bus hand luggage. It's an ideal choice if you will be moving around a lot (ex. Traveling every 3 to 4 days).
If you'll be staying longer in one place, or if you REALLY need an extra pair of shoes/space to bring back souvenirs, a 60-75 litre bag can be a good choice.
VERY IMPORTANT
2- "Does the bag fit me?"
It may seem like an innocent question, but it's very important to try on and adjust your bag. Would you ever leave with a pair of shoes that were too small or uncomfortable? Well, it's the same thing for a backpack…try on several!
The store consultants will make sure you leave with a bag that won't hurt your back after a five minute walk.
In recent years, bags have been designed specifically for women: narrower straps, proper torso length, and a well-adjusted hipbelt to accommodate subtle physiological differences.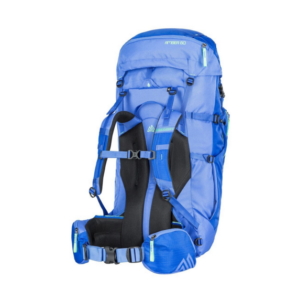 3- "Does it include characteristics that will make my life easier while traveling?"
Here are two characteristics of a good travel bag:
–  It has a rain cover: Perfect to protect your belongings from water (and yes!) even from dust and damage while traveling.
– It has both side and lower access: Having to empty out your bag every time you need a pair of socks can be very tiresome. Zippered pockets will allow you to easily access your items.
Suggested Brands : Osprey, Gregory, Deuter 
Have a good trip!
Also available in: French