Camping Cookbook: How to make nachos on the grill
Also available in: French
Who can resist a plate of homemade nachos? It's the perfect snack for when the kids bring their gang of friends over, but it's also a fun meal that can feed the whole family. Manon Lapierre offers some of her topping ideas as well as a technique for making nachos that you can add your very own personal touch to, depending on how you like 'em!
This recipe comes from the book En feu! written by Manon Lapierre and published by Cardinal Editions (French only).
How to make all dressed nachos
🔥Prep time: 5 minutes
🔥Cook time: 15 minutes
🔥Serves: 4
Cookware required
Cast iron baking tray or very large pan or casserole dish

Campfire grill
Ingredients
1 bag (300 to 350 g (2/3 to 3/4 lb) of unsalted corn chips (tortilla-type chips or those sold in specialty markets add that extra punch of yum!)

250 to 300 g (½ to 2/3 lb) of Monterey Jack or Tex mex style grated cheese

1 jar of your choice of salsa
Your choice of protein:
Cooked ground beef

Veggie-style imitation minced-meat

Marinated cooked chicken breast, cut into strips

Flank steak, cut into strips

Refried beans

Black beans
Your choice of vegetables:
Red and yellow peppers, cut into cubes

Green or black olives, sliced

Marinated jalapeño peppers (for those who like to bring the fire), sliced
Your choice of toppings:
Grilled avocado

Sour cream

Hot sauce

Salsa

Coriander

Pico de gallo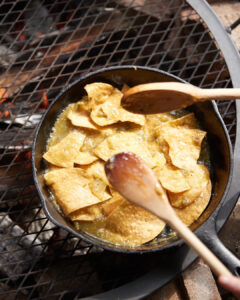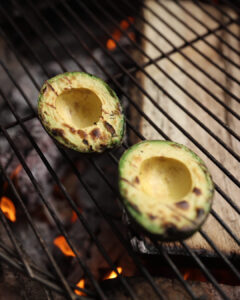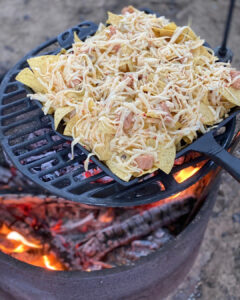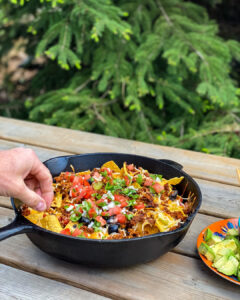 Steps
Place one layer of corn chips on a baking tray or large pan covered with aluminum foil.

Add half the cheese, your choice of protein, a bit of salsa (not too much – you don't want soggy nachos!), and vegetables.

Add another layer of chips, and the rest of the cheese, protein, and vegetables.

Preheat the BBQ or light the campfire.

Cut an avocado in half and grill it skin side down until browned. Set aside.

If using the BBQ, put the dish or pan on the grill and close the lid. Check on them periodically to avoid burning. Allow to cook until the cheese is melted.

When cooking over the campfire, put the tray or pan on the grill until the cheese melts. Rotate your tray or pan every so often.

Serve accompanied by or with toppings of your choice.

Extra Tip #1
Want to add an original touch to your recipe? Prepare a mixture of pico de gallo – a no-cook salsa! In a bowl, mix diced tomatoes with chopped onions, lime juice, salt, and coriander. Add to your nachos and you're set to enjoy.

Extra Tip #2
If you love nachos au gratin, you can finish off your cooking with a torch or place a sheet or aluminum foil over the top to simulate a convection oven.
To find everything you need to cook in the great outdoors or while out camping, check out our cookware and camp kitchen accessories.
Article written in collaboration with Manon Lapierre, Founder of La petite Bette Blog.
Also available in: French