Tips to Watch for Wildlife Safely and Respectfully
Also available in: French
You don't need to go very far to see wildlife. The next time you head out into nature, stack the odds in your favour and follow these tricks for some memorable encounters without disturbing wild animals in their natural habitat.
The basics to watch for wildlife
No matter the animal you hope to see, certain basic principles are followed by all wildlife explorers who want to have some successful sightings.
Stay quiet

Avoid giving off odours

Gear up properly

Respect the natural habitat and keep your distance

Be patient

Take notes
Also remember to learn more about the animal species you want to observe by consulting books or online guides and do your research to find the best observation spots to visit.
In Quebec, the shores of the St. Lawrence River, the several national and provincial parks and controlled zones (ZECs) are just some of the many places you can watch for wildlife.
The same is true in Ontario and elsewhere in Canada where many places are accessible and allow you to observe wildlife peacefully.
1. Stay quiet
Whoever enjoys animal-watching has no doubt already been struck by the serene nature of these creatures as they go about in their natural habitat. For a successful glimpse of an animal, it's of utmost importance to remain calm and as quiet as can be, blending into your surroundings so as not to frighten the animals around you. Do not yell at beasts except in case of danger and only whisper when necessary.
2. Avoid giving off odours
Often graced with a heightened, sophisticated sense of smell, animals will smell you before they even see you. If you smell like laundry detergent, fruity shampoo, or vanilla perfume, the odds will be against you that they'll come near. If you wish to protect yourself from insects and mosquitos, select products with natural ingredients that are odourless.
3. Respect their natural habitat and keep your distance
Whether it be a fern popping up from the ground in spring, an ant hill, or a hare's burrow, always be careful to remain on the trails so as not to step on anything and respect the fragile ecosystem you are visiting as much as possible. Make sure to stay a few meters away from the animals in order for them not to get used to a human presence and watch out where you put your feet. Above all, do not feed the animals to avoid creating an addiction which could adversely affect their digestive system and their usual diet and supply for food.
4. Gear up properly
To minimize the chances of being seen and scaring off the wild animals you want to observe, select the right equipment: camouflage clothing that does not make noise, discreet binoculars, game calls according to the species sought, a compass or a GPS to help you orient yourself and a notebook to write down your observations. Also, consider dressing for the weather, as you don't want to have to turn back if you get cold.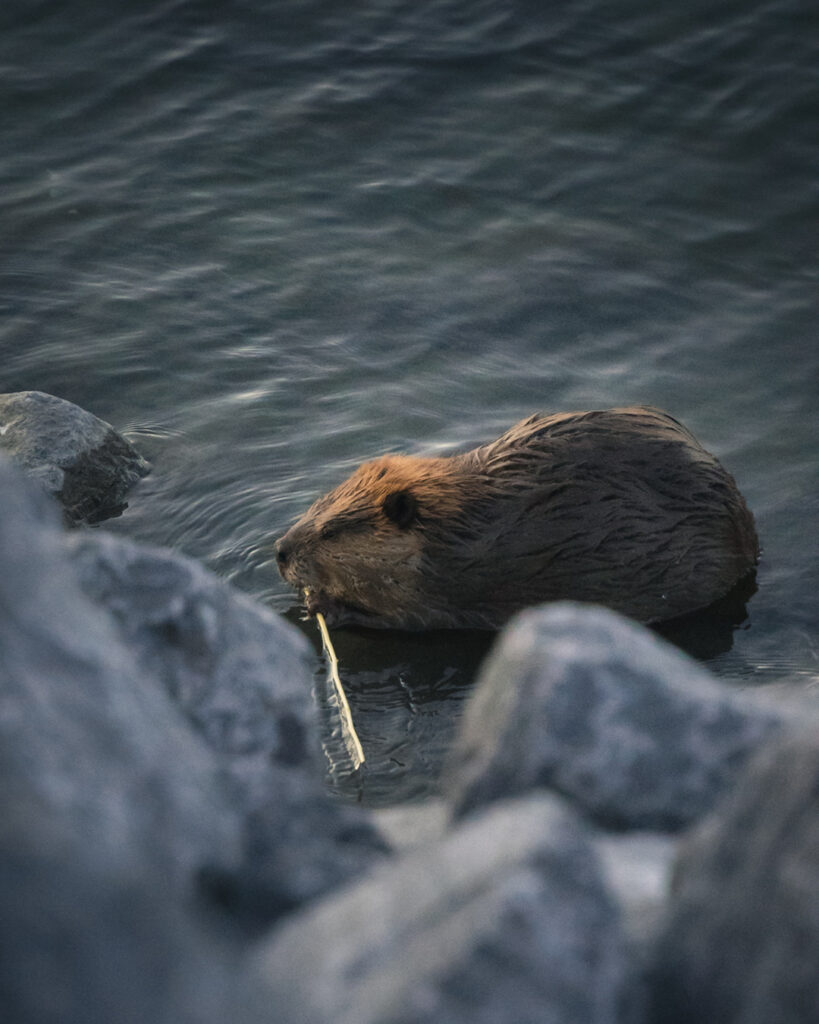 5. Be patient
For successful animal observation, patience is key. Even if you know the perfect spot to spot a fox, moose, white goose, white-tailed deer or beaver, go during the right time and season, and wait. Sit down, allow your gaze to wander around, and enjoy the quiet moment to appreciate the beauty of nature all around you. You'll see, it's most often worth the wait!
6. Take notes
Want to be certain to see a particular animal? Take some notes! As soon as you get out into nature, get into the habit of writing down the GPS coordinates of the spot you've found, the time of day, the weather, the direction of the wind…and track your results! With the help of an experienced guide, several trial and error attempts and a lot of perseverance, you'll practically be certain to get that glimpse of the animals you love to see year after year.
Tips to follow when watching specific wild animals
Birdwatching
If birdwatching is more your style, several options are available to you. Aim for mountain hikes to get the chance to see falcons and other birds of prey, check out lakes or swamps to have a chance to see a heron, head deep into a forest to find a woodpecker or go near a river to get a glimpse of a stilt.
While it's possible to see birds year-round, spring is the perfect time to get the most out of your outing!
Whale watching
Parks in Quebec and Ontario have tons of bodies of water where aquatic animals may also be observed. From beavers and rainbow trout to otters and muskrats, you'll be sure to see some interesting species. But, for whale watching, you've got to head to the Saguenay region of Québec. A true beluga haven, these beautiful white mammals can be found in the Saguenay fjord. You can also learn more about the efforts to protect this endangered species. Around the city of Tadoussac, where the fjord meets the Saint-Lawrence River, you may also catch a glimpse of a seal. But, to see the big whales (including blue whales!), you'll have to travel east and book a professional guided boat tour. Bring along your binoculars and you're set for some amazing sightings.

Observing moose
To observe large mammals such as bears, moose, or even a caribou, you must not only have patience, but you must be willing to wake up early! These creatures are out at sunrise and sleep for most of the day before coming out again at nightfall. If you really want to see one up close, get up very early, learn to identify their fresh tracks, and stay alert and careful. You might want to wear some camo gear and beware to keep a reasonable distance so as not to frighten the animal and make it charge.
In conclusion, remember never to feed wild animals, leave no traces behind you (trash, twigs, shells that have been kicked up, etc.) and read up on how to find your way in the woods and the survival essentials you might need!
Have fun!
Also available in: French