How to Choose Cross-Country Skis and Basic Gear
Also available in: French
Winter's chill is setting in and you've decided to adapt rather than hit the couch? Great thinking! Have you considered cross-country skiing as an option? In addition to helping you stay in shape, skiing also helps you to develop your balance and endurance. While you're looking into trying out this new sport, why not check out our tips to know how pick the right cross-country skis (the classic ones!) and basic ski gear that you need to face your new activity in the best way possible.
Article written by Chris Higgins, outdoor expert. 
You can learn more about this sport in the article:
Why choose cross-country skiing?

How to choose cross-country skis aka the right type of classic cross-country skis?

Classic cross-country skis for groomed trails

Backcountry cross-country skis

Hybrid cross-country skis

How to choose the right length and width for cross-country skis?

How to choose the right boots and poles for cross-country skiing?

Which cross-country ski bindings should you choose?

What cross-country ski accessories will improve your experience?
Also, take this opportunity to learn about the equipment you will need for cross-country skiing.
Cross-Country Skiing – GearCross-Country Skiing – Clothing
Why choose cross-country skiing?
The benefits of cross-country skiing on your health are well known and documented, but there are other advantages to this sport. Contrary to downhill skiing, you don't need to wait in line for long periods of time before getting on a ski lift, nor do you need an annual pass. Once you've nailed down the basics, you can even do a few laps around your local soccer field.
It's also a great way to do a good cardio workout and operate a variety of muscles in your body; from pecs to abs to adductors to calf muscles.
How to choose cross-country skis aka the right type of classic cross-country skis?
First, cross-country skis are divided into two main families: classic cross-country skis and skating skis (a more difficult technique that will not be discussed in this article).
The different types of cross-country skis can be boiled down to three main types: classic for groomed trails, backcountry and hybrids. Some cross over, others don't. Each has its strengths depending on where you plan on skiing. Before making your choice, it's important to consider each of the different types and think about where you will be enjoying your ski outing.
Classic cross-country skis for groomed trails

The most common is the classic ski which is long and narrow, and best suited to skiing in tracks found at ski resorts and parks. Classic skis are designed to fit in these tracks though they do vary slightly in width. Intermediate and advanced skiers will appreciate the speed of narrower skis while beginners should stick to the wider models for greater stability and balance.
The debate continues between waxless and waxable skis. There's no denying waxable skis allow you to adapt to current conditions which in the hands of someone who knows what they're doing means superior grip and glide. 
On the other hand, today's technology is producing waxless skis with directional scales or skins that run very close in terms of performance. In addition, these skis require very little maintenance. No wax to apply before each outing (just once or twice a year on the sliding surface) – just grab and go. They perform well in all snow conditions (icy, sticky, etc.). There are also classic cross-country skis that are a little more upscale and are designed for racing and performance and offer a higher skill level.
Backcountry cross-country skis

At a glance, backcountry skis made for cross-country skiing look much like downhill skis. Much wider than classic skis, backcountry skis provide more surface area which helps keep you on top of the snow, minimizing the grunt of plowing through deep powder. If you plan on spending a lot of time in backcountry areas such as the Adirondacks with a heavy pack on your back this is the ideal type of ski. Don't bother bringing them to resorts, they don't fit in tracks.
You'll also notice full metal edges that give greater edging going up and down icy slopes. There'll be no track to guide those ski tips where you're going so their shorter ski lengths help avoid crossing the tips and face plants that are only funny the first time.
Hybrid cross-country skis

Somewhere in the middle between classic trail skis and off-road touring skis are hybrid skis. Like backcountry skis, they tend to size shorter and have either full or partial length metal edges for climbing and downhill control. They're wider than classic skis for more lift, but not so wide that they don't fit in a track. If you like the backcountry or exploring off-trail without giving up the option of skiing in the tracks this may be the ski for you (skis must be 65 mm wide or less to be able to glide on a groomed trail). Beginners appreciate its shorter lengths and metal edges, but they tend to be slower in track.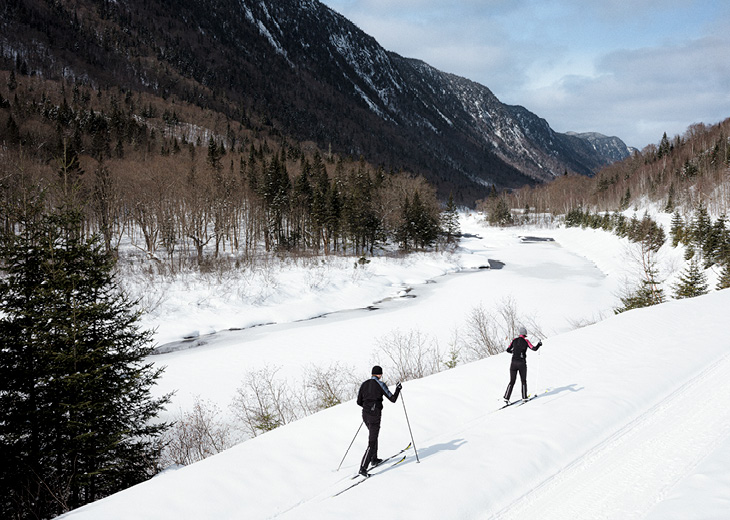 How to choose the right length and width for cross-country skis?
The majority of people who have had a bad first experience with cross-country skiing was simply because they bought used skis that weren't properly adjusted. It's important to think about adjusting your new skis to attain the proper ski length, as well as your boots before braving your first cross-country skiing experience.
When it comes to size, extending your arm above your head in order to determine the right ski length is a dated technique at this point, and isn't the most accurate. These days, cross-country manufacturers build skis according to a skier's weight. So, remember to weigh yourself before heading in store to look for your skis.
Beginners will want to choose shorter and wider cross-country skis with directional scales (for more stability) and a low camber, ideal for sliding on soft snow.
How to choose the right boots and poles for cross-country skiing?
For boots and ski pole length, it will depend on the technique you'll be doing while you ski. Poles used for the skate ski technique – a more difficult choice – are generally longer than those used for traditional cross-country skiing. Don't hesitate to ask for advice from a consultant in store.
Above all, find a cross-country ski boot that you like before buying your skis. If your boot is too small or too narrow, your feet will be cold on chillier days. When your boot is too big, you'll be prone to blisters. While out shopping, don't forget to bring along a warm pair of socks so that you'll have a clearer idea of your boot size.
Cross-Country Skiing – BootsCross-Country Skiing – Poles
Which cross-country ski bindings should you choose?
There are several types of bindings, which is why it is important to choose them carefully: SNS Profil, SNS Pilot, Prolink, NNN, Turnamic.
Some have afts, others have single rails. They are sometimes compatible with specific brands of cross-country ski boot soles or sometimes compatible with most brands.
Don't hesitate to ask for advice when you get to this stage.
Cross-Country Skiing – Bindings
What cross-country ski accessories will improve your experience?
1. Glide wax for waxless skis
In warmer conditions, put it on the full length of your ski to prevent snow from clumping. In colder conditions where the temperature is below 20 degrees Celsius, use it above and below the grip pocket for better glide. It also helps protect the base of your skis.
2. All-purpose scraper (for skis)
Small and inexpensive, use this handy tool to scrape snow and ice off your base and bindings. On waxable skis, you can scrape away wax or klister off your base.
3. Socks for winter sports
Don't underestimate the value of a good sock for warmth and blister prevention, especially in cold temperatures. Something made from merino wool or a synthetic is best for a day of cross-country skiing. Avoid cotton at all costs. Make sure that your feet fit into your boots with enough room to spare so you can move your toes and not cut off your circulation.
4. Good cross-country, breathable, well-insulated ski clothing that's adapted to the weather
Opt for snow pants and a jacket that are made form insulated, synthetic materials that allow moisture to evacuate and are quick-drying. Depending on the weather, you'll likely want to layer clothes – put on several layers with different functions – in order to keep heat in or remove a layer should you get too hot.
5. Gloves
Cold hands are no fun, so equip yourself with a good pair of gloves that allow for comfortable movements, but will also keep your fingers warm all day.
Lastly, remember that when you buy yourself new cross-country skis, you will motivate yourself to keep in shape during the winter months, without breaking the bank. The only thing left to do now is pick where you'd like to go skiing…then, get out there and work on that technique!
Happy skiing to all!
Also available in: French