New Anglers: What You Need To Know Before Heading Out Fishing This Season
Also available in: French
If you're like many Canadians who have taken up fishing this past year, it's important to ensure that you're prepared before hitting the water. This includes having the required licensing and safety equipment. SAIL collaborator and expert angler, Ashley Rae of SheLovesToFish.com, discusses what you'll need before heading off on a fishing trip this season, as well as a few tips on what gear to bring along.
1 – Get Your Fishing Licence & Review the Regulations
The first step to your fishing adventure is purchasing a fishing licence so that you are legally permitted to fish, as well as thoroughly reviewing the regulations for the waters you wish to fish. Even if you are planning to catch and release, a fishing licence is still required by law, however, there are a few exceptions.
In Ontario, people under the age of 18, and over the age of 65 do not require a fishing licence, as well as veterans or active Canadian Armed Forces members.
Quebec also has some exceptions as well.
Both provinces host licence-free fishing events to encourage people to get out and try fishing.
Conveniently, fishing licences can be purchased in store at your local SAIL store. 
For more information, visit these websites: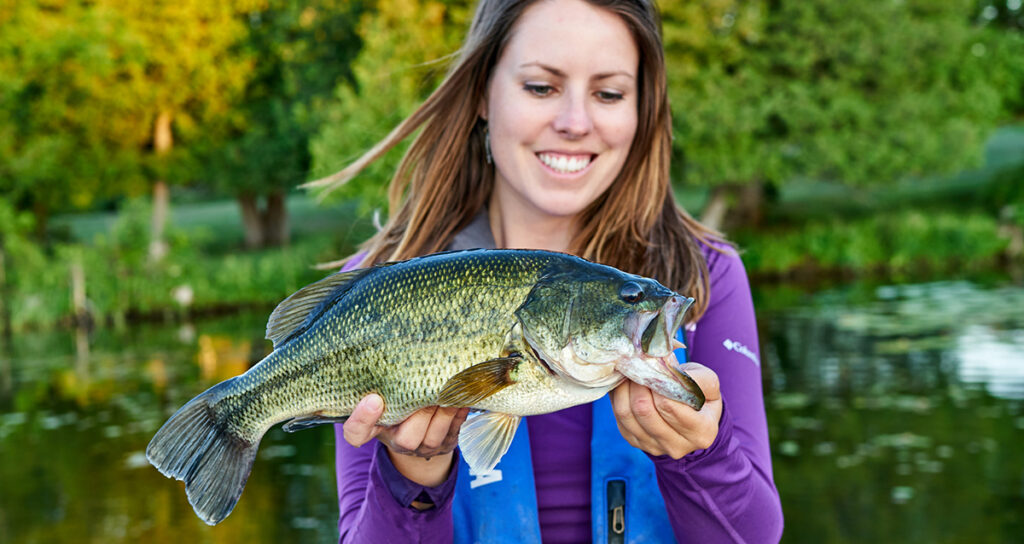 2 – Determine the targeted species
We're so fortunate here in Canada to have a wide variety of fish species that we can pursue. Depending where you live, there may even be year-round fishing opportunities available. Each species is a little different in the habitats and areas they frequent, what they eat, and what types of lures, presentations, and equipment is most effective. To set yourself up for success, it's best to narrow down which species you'd like to target first, and then pick up the appropriate equipment for the job.
If you're fishing in Ontario, I highly suggest checking out the Fish ON-Line website. It is a great resource for determining which fish species are present in lakes and rivers throughout Ontario, and it also lists the fishing regulations along with additional information on each waterbody. You can also search by fish species, and view stocking information.
There are plenty of options at SAIL when it comes to purchasing fishing equipment. As a general rule, lighter rods, reels, and tackle are typically suited for smaller species such as: bluegill, perch, pumpkinseed, crappie and some species of trout. Species such as: largemouth and smallmouth bass, walleye, lake trout, pike, salmon and muskellunge, will require equipment that is a little heavier and better suited to handle these larger species.
As someone who has worked in the SAIL fishing department, I can tell you that the SAIL staff will be happy to make suggestions on what fishing equipment you'll need for your first adventure. They may even be willing to share some local secrets and hotspots with you!
Don't forget to bring along some basic tools such as pliers (for hook removal), scissors (for cutting line), and a hook sharpener. A net is also nice to have handy!
3 – New anglers should always do their research
Spending the time learning about the species you are targeting can drastically improve your success out on the water. There are plenty of informative articles, blogs, and videos online that can be helpful in teaching you about what to look for to locate fish, and how to use various techniques. There are several different websites that offer bathymetric maps (which is a depth chart of a lake or river). There's also a handy mobile app, called Navionics, that gives you access to a number of Canadian maps via your smartphone.
Additionally, I spend quite a bit of time looking at satellite imagery (using Google Maps or Bing Maps) when I'm scoping out fishing spots as it can sometimes show underwater structure, points, shoals, etc. There are even online forums, social media groups, and platforms (such as the mobile app, Fishbrain) dedicated to sharing fishing information.
4 – Safety equipment
Safety is always of utmost importance near the water. Transport Canada has regulations in place for which safety equipment is required if you're aboard a watercraft (canoe, kayak, paddle board, etc.). As a general rule, if you're aboard a boat, you'll want to ensure that you bring: a PFD (personal floatation device), boater safety kit, paddle or an anchor. It is a good idea for children to always wear a PFD when near the water, even while fishing from shore.
It's also a great idea to bring along a first aid kit. Additional equipment may be required depending on the size or type of watercraft you're using, so be sure to refer to the Transport Canada website.
What type of life jacket (PFD) should you choose according to your nautical sport of choice? Check out this article.
If you're spending the day on the water, it's also important to consider bringing along food, water, sunscreen and bug repellent. Dehydration and exposure are important to keep in mind.
5 – Dress appropriately
We're accustomed to all kinds of weather conditions here in Canada, but proper clothing makes for a more comfortable and enjoyable experience on the water. A few key items to have on the water with you include:
Apparel geared towards the weather conditions. Whether it's dressing in layers to keep warm, rainwear to stay dry, or sun-protective clothing to avoid harmful rays, the right clothing will ensure you are comfortable and can focus on fishing.
Hats are a must on the water to keep the glare out of your eyes, and also offer protection from the sun.
Polarized sunglasses are specially designed to eliminate glare from the water, which results in a better view beneath the surface. It's also a good idea to wear sunglasses while fishing with others as it offers eye protection as well.
Footwear can often be overlooked, but it is certainly important to keep your feet happy while out on the water.
Have a fun, safe, and successful season out on the water!
Article written in collaboration with Ashley Rae.
Also available in: French