Rainwear: Top 5 features of a perfect rain jacket
Also available in: French
What makes a good women's or men's rain jacket? If you're looking to stay dry on rainy days, here are some tips from experts at Columbia that can help you make the right choice!
Look no further for details on what to look for when shopping for a rain jacket! Here are the 5 top factors you should consider:
Shop – Columbia men's jacketsShop – Columbia women's jackets
1. Synthetic materials and membranes
First off, it's important to understand the different levels of water protection to find the right jacket for your needs.
Water resistance is a membrane's ability to repel water. This helps the jacket withstand water and protect you from light rain, but not heavy downpours.
Waterproofing is when a membrane is completely watertight. The seams and zippers on these jackets are often sealed.
Waterproof-breathable jackets keep you dry without trapping sweat, unlike poncho-style jackets made from ethylene-vinyl acetate (EVA).
A durable water repellent (DWR) treatment is applied to the jacket's outer shell, preventing it from becoming saturated with water, which would compromise the membrane's breathability.
Remember to choose a jacket that is either water resistant or waterproof, depending on your needs.
Water-resistant materials and membranes
If you need a jacket that's water-resistant for hiking in the rain, here are a few things to keep in mind:
Synthetic materials like polyester are highly water-resistant, durable and wrinkle resistant.

Hydroplus nylon, which holds up very well against water and wind, is not breathable.

Omni-Shield™ water-repellent technology resists light rain and stains, which makes it last longer and dry quicker.
Waterproof-breathable membranes
If you need a jacket that's highly water-resistant, whether you're facing torrential downpours, snow or extended rainfall, and you don't want to trap moisture and sweat in your jacket, opt for:
Omni-Tech®. Invented in 1991, this technology features microporous membrane that strikes a perfect balance between waterproofing and breathability. Many of Columbia's shells and rain jackets are made with this membrane.
OutDry™ technology. There are two options: OutDry Extreme and OutDry Extreme ECO. These waterproof-breathable membranes were designed for the most extreme weather and guarantee high-level waterproofing without compromising on breathability.

OutDry Extreme's revolutionary membrane stands out thanks to its innovative design, with the membrane on the outside of the jacket. The finish is highly scratch resistant.

OutDry Extreme ECO technology is known as an environmentally friendly option. It is made entirely from recycled fabric, does not contain any perfluorinated chemicals (PFC), and each jacket saves over 49 litres of water. Plus, it is bluesign® certified in recognition of its sustainable manufacturing processes.
Synthetic liners
Liners are often made from synthetic materials like nylon, fleece or polyester. These synthetic materials can maintain a steady level of warmth and dry quickly.
2. A level of waterproofing that suits your needs
There are different types of waterproof jackets to choose from that will protect you from the elements during your outdoor activities. You'll need to factor in the type of activity you'll be doing as well as the level of intensity. If you don't need a jacket for a specific activity and you're looking for protection under light rain, a jacket with a water-resistant membrane like Omni-Shield should do the trick.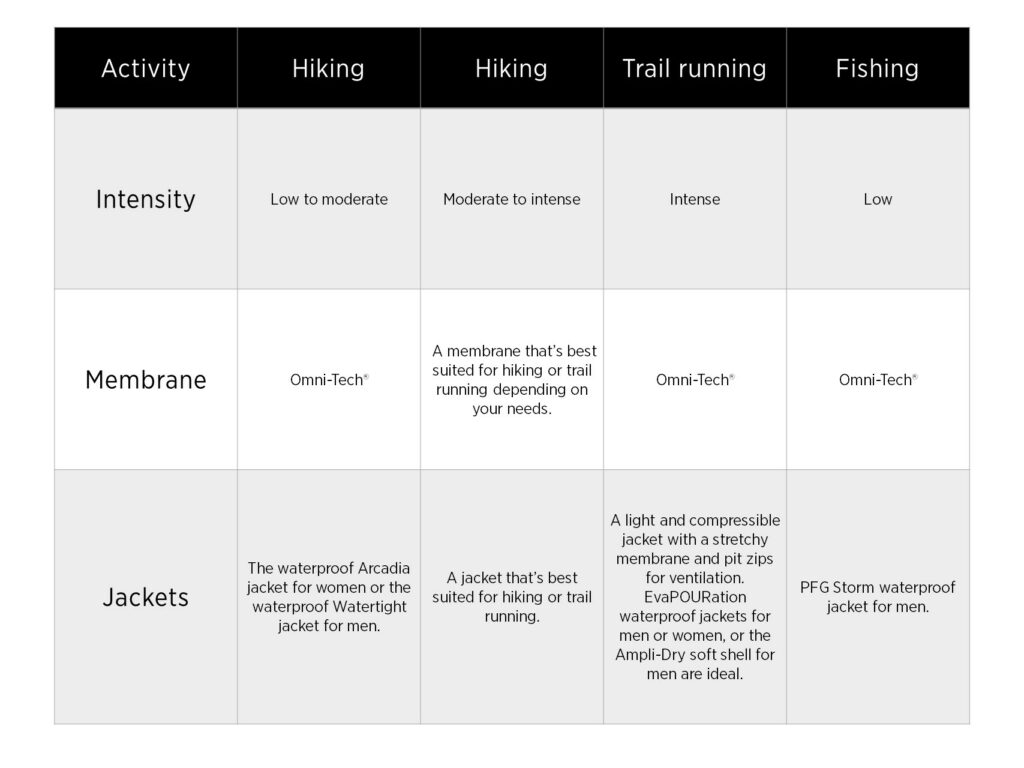 Shop –  Arcadia women's jacket by Columbia
Shop – Watertight men's jacket by Columbia
Shop – EvaPOURation men and women's jacket by Columbia
Shop – Men's soft shell Ampli-Dry jacket by Columbia
Shop – Men's PFG Storm rain jacket by Columbia
3. Efficient breathability
If you're planning on hitting the trails for a run, the last thing you want is a jacket that traps sweat.
To increase breathability, opt for a jacket with pit zips or ventilated pockets. Some highly breathable jackets are treated with a water-repellent finish instead of a membrane, which can be a great option for light rain or drizzle.
4. Lightweight, compressible, practical
These qualities might not be on the top of your list, but if a jacket is lightweight and compressible, it can make all the difference on a days-long camping trip. If you're carrying a heavy load, the last thing you'll want to deal with is a bulky and heavy jacket!
Before choosing your jacket, find out what you need based on the activity you'll be doing, how much storage you'll have access to, and the type of transportation you'll be using. Will you be trying to stuff your jacket into a small fanny pack or a hiking backpack? If you're looking for an even more practical option, some jackets have a practical storage pocket built right into the jacket!
5. Well-thought-out design
When you're shopping for a rain jacket, be sure to take a good look at all the seams.
If you need something that's completely watertight, examine the membrane and make sure that the seams and zippers are well sealed. LightRail™ zippers are bonded to laser-cut fabric with an adhesive that gives jackets a lighter, more streamlined look. They were designed to be waterproof.
If you don't want to feel the wind through your clothes, rest assured. All jackets with water-resistant membranes offer this perk.
On the other hand, you might want good ventilation on runs or hikes up mountain peaks to ensure performance. Pit zips do just that. Plus, front pockets can let air in (if they're not covered by backpack straps) and mesh-lined pockets provide great ventilation.
And don't forget to make sure that your rain jacket is the right fit and that you'll be fully protected—from head to waist to wrist. Does it have a hood? Wrist seals? Adjustable waist drawcord? That way, you can make sure it fits if you're also wearing gloves, a hat and layers.
Quick tip
Caring for your rain jacket to make it last
Depending on how frequently you use it, wash it regularly on the delicate cycle in cold water with gentle or water-based soap.
Tumble dry your rain jacket on low or hang it to dry. Always follow the washing instructions on the tag.
Also available in: French