Our 5 warmest coats to conquer the cold
The weekend's forecast has the temperature dropping to -30 °C and you doubt that your coat is suitable for polar temperatures? Are you looking for a coat to ''face the great north'' without freezing so that you can practice your outdoor winter activities? To help simplify your life, our clothing consultant Lucette Cadieux has selected 5 of our warmest coats to stay protected from the cold this winter: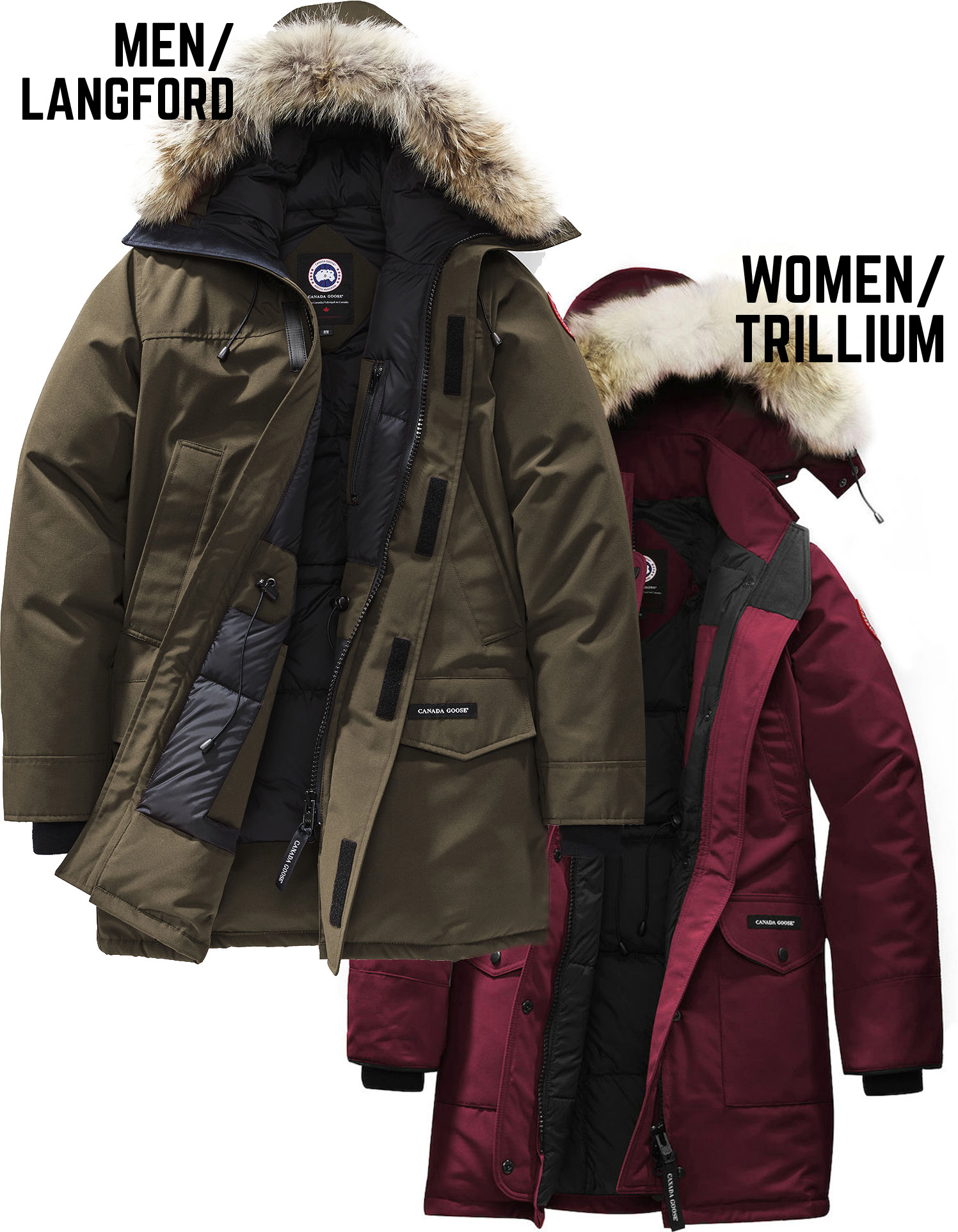 CANADA GOOSE
Canada Goose is a Canadian brand recognized for offering heavy-duty coats. In order to meet the specific needs of scientists working on the McMurdo station in Antartica, the brand launched the Expedition parka in the 1970's.
Characteristics: The Trillium and Langford coats are made with Arctic Tech fabric that is made of cotton and polyester. Treated with a DWR water repellent finish, this fabric will protect you from temperatures of up to -30°C. In addition, these coats are insulated with duck down to ensure optimal warmth in all winter conditions.
Maintenance: To keep your warranty and your coat lasting as long as possible, it must be dry cleaned.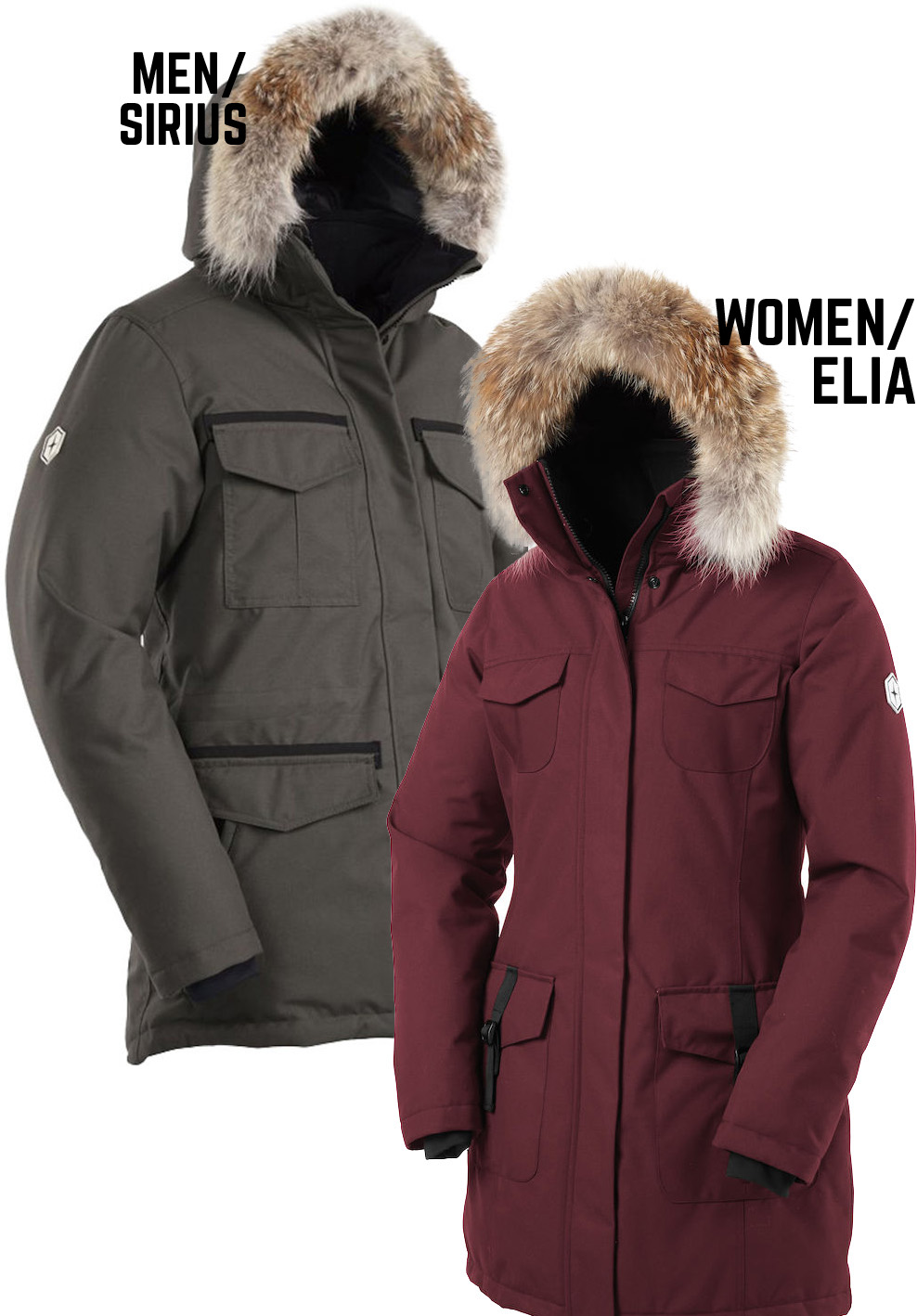 QUARTZ CO.
Quartz Co. is a company that offers a wide range of stylish coats designed to live in accordance with the winter season. Manufactured since 1997 in the city of Saint-Hyacinthe in Quebec, these coats will surprise you by their durability and how lightweight they are.
Characteristics: With the Elia and Sirius coats, you will encounter heavy snowfall and ice with ease. Shoveling your driveway will no longer be a pain thanks to your Quartz co. coat, as it's so lightweight that you will no longer feel the gruelling weight of winter on your shoulders. The Elia and Sirius coats' shells are made entirely of polyester and are also insulated with duck down.
Maintenance: Seeing as the down is treated against bacteria, these coats eliminate bad odors over time. You can wash and dry them by removing the detachable fur trim.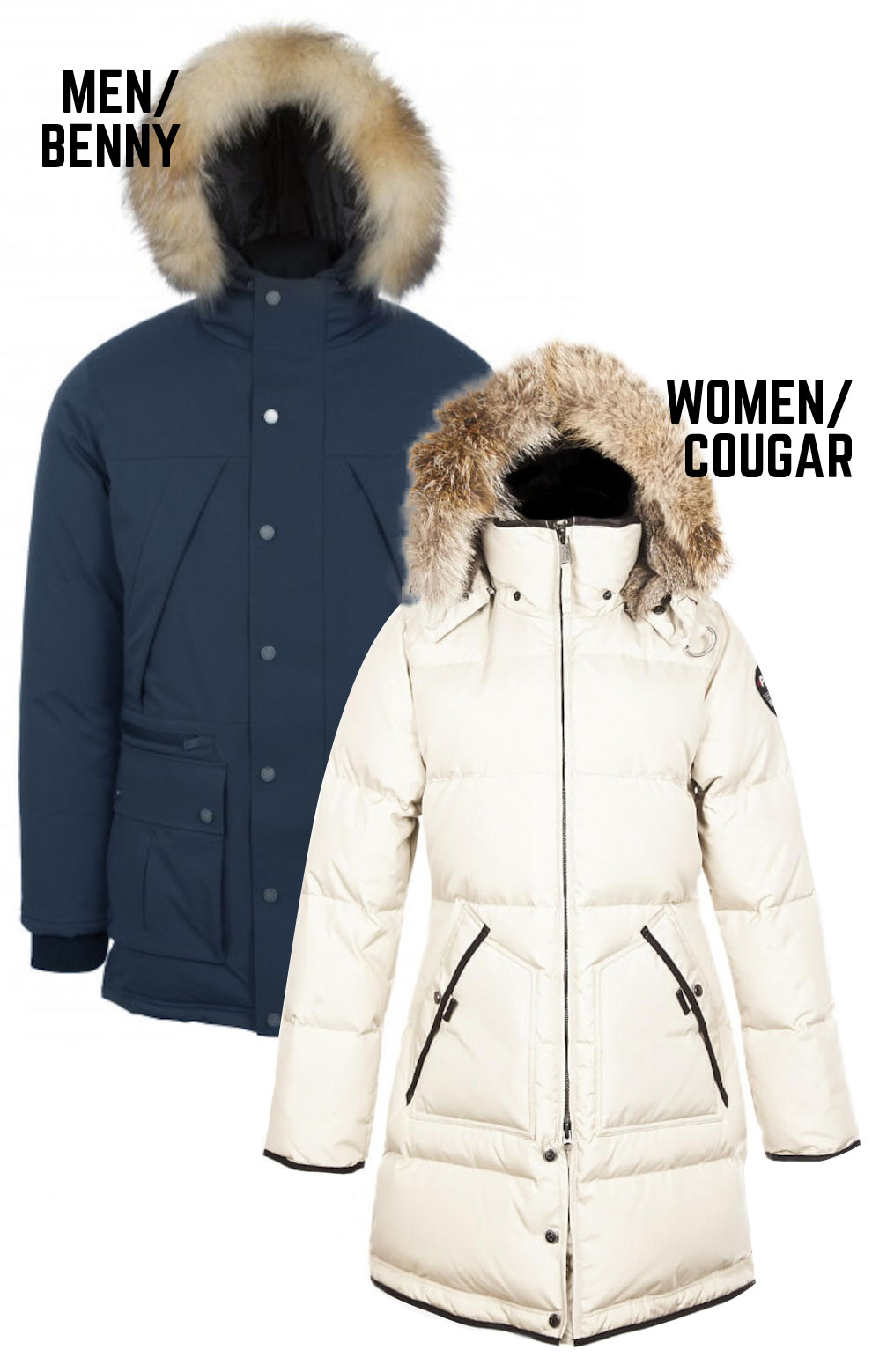 PAJAR
Pajar was founded in 1963 in Montreal by French-Canadian Paul Colbert. Originally offering boots and shoes, the company launched a range of coats in the 2000's for Canadian winters. The Pajar brand now sells its products in more than 40 countries around the world.
Characteristics: The Cougar and Benny coats have shells made of oxford nylon, they are lined with an inner layer of polyester and insulated with duck down, which will keep warmth close to the body during your winter outings. The advantage of these two coats is that their topstitching keeps their insulation in place, allowing even heat distribution.
Maintenance: Machine washable, these coats are easy to clean. Do not forget to remove the detachable fur trim from the hood before washing.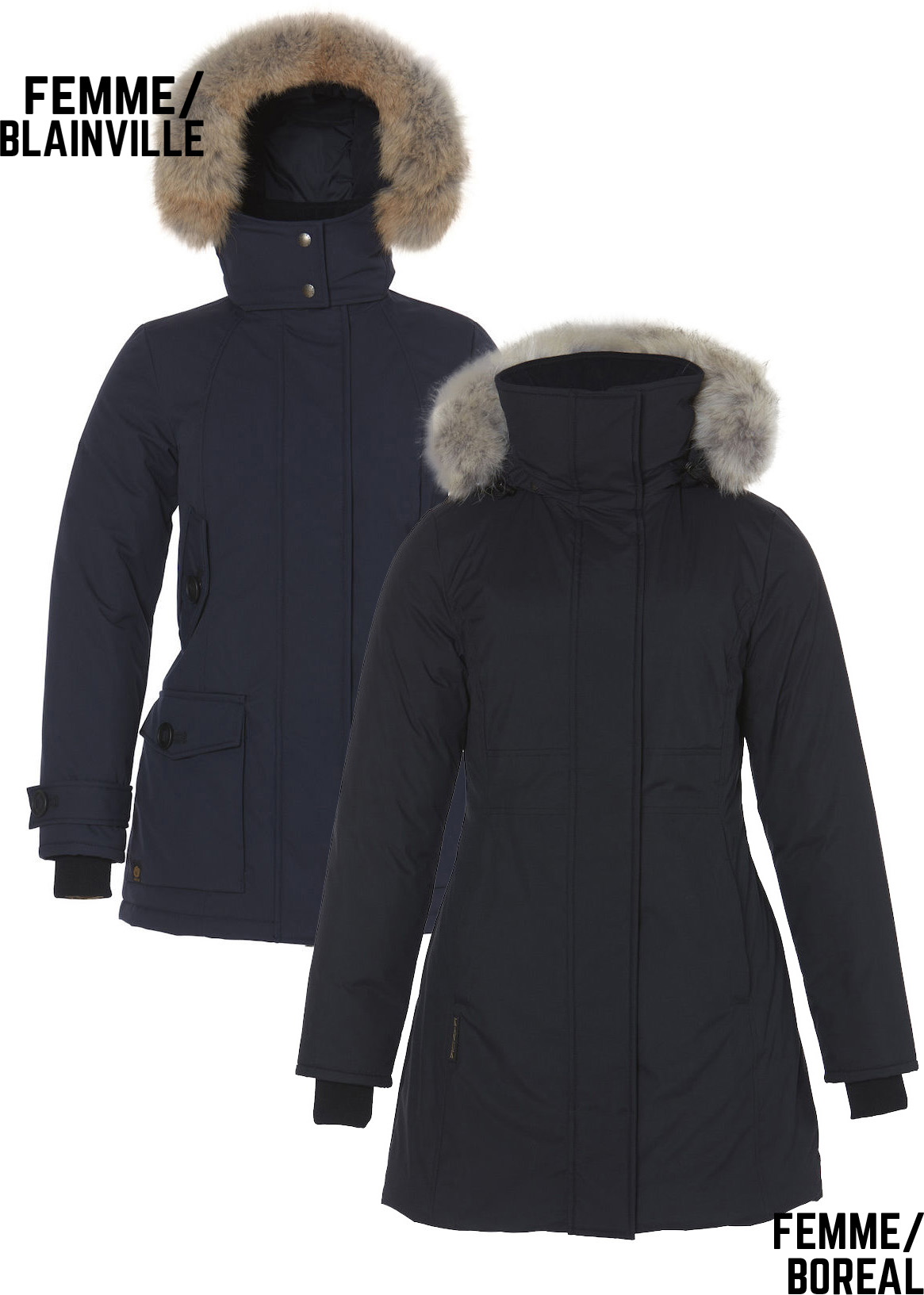 KANUK
With its extreme temperatures, high humidity and frequent storms, Quebec has a unique climate. Determined to design coats for such winter conditions, Louis Grenier, an outdoor enthusiast and passionate about winter, decided to launch the Kanuk brand in 1970.
Characteristics: The Boréal and Blainville coats stand out for their exceptional materials. All Kanuk coats are made of synthetic materials to keep moisture to a minimum. With a nylon shell treated with SWR, they are completely waterproof. In addition, they are also insulated with Thermo+ insulation. This insulation is made of hollow fibers, which trap heat and keep you warm longer.
Maintenance: The Kanuk coats should not be dry cleaned or washed in hot water. In addition, they must be washed in a front-load machine.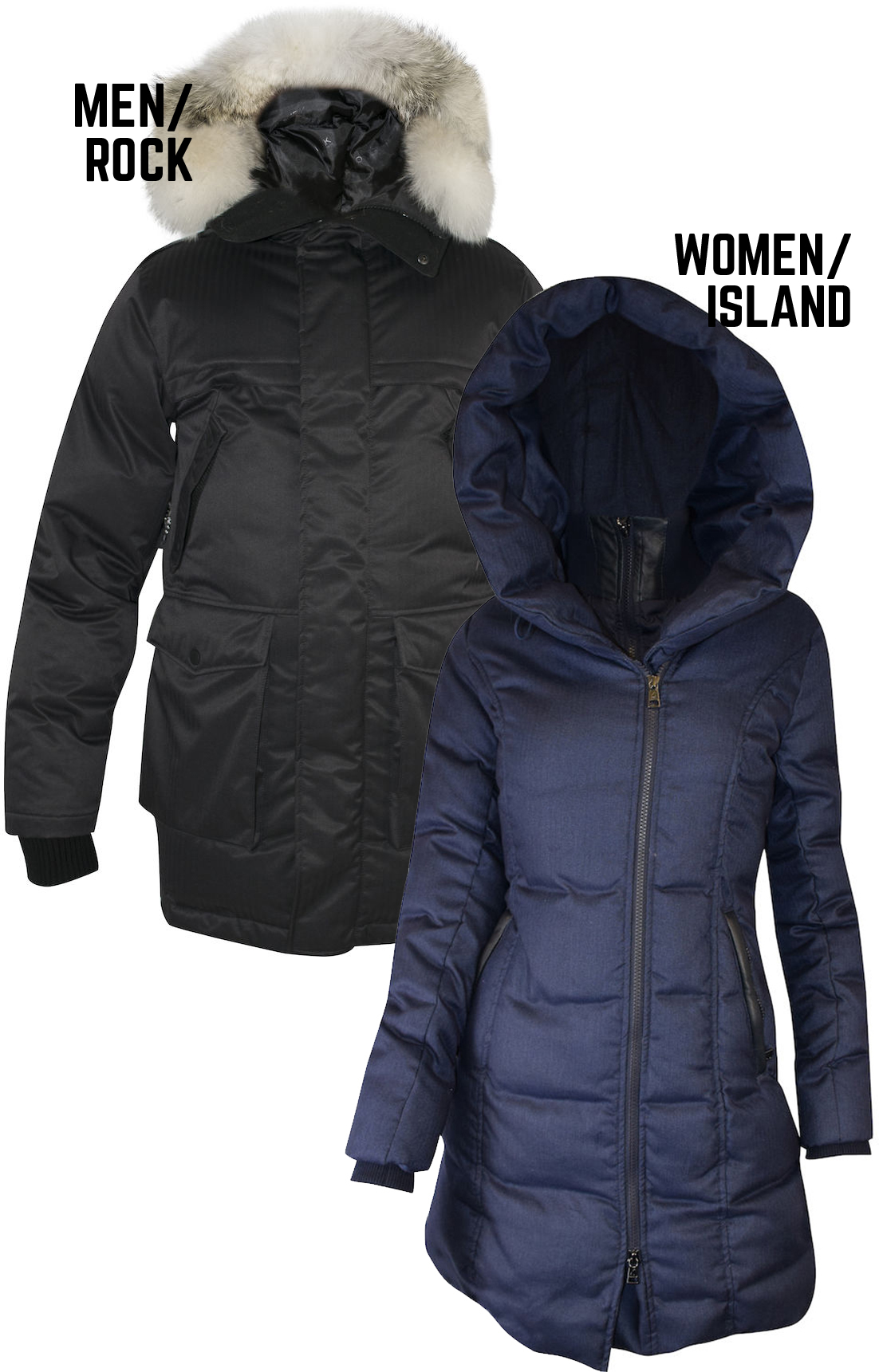 OOKPIK
Designed and developed in Montreal, Ookpik coats are inspired by the national symbol: the Ookpik (or the snowy owl in the Inuit language). A perfect balance between trendy and technical, these coats offer a trendy and urban style with reliable protection against the cold.
Characteristics: Made of duck down, all Ookpik coats have a swelling index of 600, which will keep you warm when heading to work in -25, -30 degrees °C. The Island and Rock coats are made with a nylon that imitates the texture of wool, for a feeling that is soft to the touch. In addition, their leather trimmings give them an urban twist
Maintenance: These two coats must be dry cleaned only.

If wearing one of these 5 coats, the frigid temps will no longer ruin your plans for the weekend.
Enjoy the great outdoors everyone!