Small Game Hunting: The Best Gear for Ruffed Grouse and Snowshoe Hare
Also available in: French
Small game hunting is the perfect autumn activity to explore the colourful forests of Quebec and Ontario while harvesting several catches to cook. The small game hunt is also easier for someone who would like to discover the fascinating world of small game such as ruffed grouse and snowshoe hare. But which firearms and techniques to use? SAIL's hunting expert, Claude Bissonnette, explains how to get started with confidence and enjoy your experience to the fullest.
In this article, you will learn everything you need to know about ruffed grouse and hare hunting in order to be well equipped.
Species hunted in Quebec and Ontario


The ruffed grouse




The snowshoe hare




Other species

Which firearm is best for small game hunting?


The hunting rifle




The rifle




The bow and crossbow
1. Species hunted in Quebec and Ontario
The ruffed grouse, commonly called partridge
This is the star prey of small game hunting! From the same family as the wild turkey or the pheasant, the ruffed grouse is commonly called partridge in Quebec (even if it is not the same species). The ruffed grouse is a gregarious animal that stays on the same territory most of the time and feeds mainly at the edges of the forest, in berry bushes and on the banks of streams.
It is a relatively easy species to hunt, even for a beginner. Claude Bissonnette usually travels by vehicle or four-wheeler on forest roads and regularly stops to walk several hundred meters into the woods.
You then just need to spot a grouse when it is busy rummaging noisily in the leaves and to seize your chance. It's much more difficult to shoot it in flight after a lift off, but it can be interesting to wait until it lands on a low branch before firing.
The quota for ruffed grouse is five per day, with a limit of 15 in your possession, in both Quebec and Ontario.
The snowshoe hare
The snowshoe hare is the second most popular species of small game, prized for the fine and refined taste of its meat. It reproduces in large numbers every year and is found in abundance in the forests of Quebec and Ontario.
To find them, you can look for their favourite habitat: dead tree trunks, marshes, old burned areas (vegetation that has been burned) or where there are young coniferous shoots.
A drive hunt is the preferred technique. From a group of three to five hunters, leaving 50 to 100 feet (15.2 to 30.5 metres) between each of you, and move forward at the same pace in a line to cover a good area. Keep your eyes peeled as the snowshoe hare is a sprinter and can exceed 40 km/hr.
There is no quota for hare hunting in Quebec. In Ontario, the quota is five hares per day, and up to 15 hares in your possession.
Other popular species in Quebec and Ontario
Among the twenty or so other species of small game, there are other ptarmigan (Arctic hare, white-tailed ptarmigan), mammals (coyote, wolf, fox) as well as winged game that are very popular with hunters, such as the spruce grouse. Not to mention migratory birds, which are very popular with hunters, including geese, snow geese, woodcock and ducks. Please note that for migratory bird hunting, a federal permit is required, in addition to the provincial permit for small game hunting.
2. Small game hunting dates in Quebec and Ontario
Claude Bissonnette believes that the best season for ruffed grouse and snowshoe hare hunting is from early September to late November. For migratory birds, the season starts in mid-September and runs until mid-December.
You will find the official dates of the hunting season for each species of small game on the official websites of Quebec and Ontario.
3. Which firearm is best for small game hunting?
The hunting rifle
The hunting rifle is the most popular weapon for small game hunters. For ruffed grouse and hare hunting, choose the 12, 20 or 410 gauge.
In terms of action, beginners who want to ensure maximum safety should go for a single-shot rifle before turning to a double-shot rifle (with side-by-side or overlapping barrels), preferably to be used with sufficient experience. Experts can try pump-action or semi-automatic shotguns.
As far as ammunition is concerned, grouse and hare are hunted with number 6 or 7.5 lea
The rifle
Rifles are also very common in small game hunting. In this category you will find rifles with side-fire or pellet (provided that they have a velocity of more than 500 fps). The pellet rifles that are sometimes used by young people (from 12 years old) are not authorized for small game hunting," says Claude Bissonnette.
The bow and crossbow
Rarer, but accepted for small game hunting in Quebec and Ontario, the bow and crossbow require specialized equipment that you will find in the store.
4. What clothing and accessories are required for small game hunting?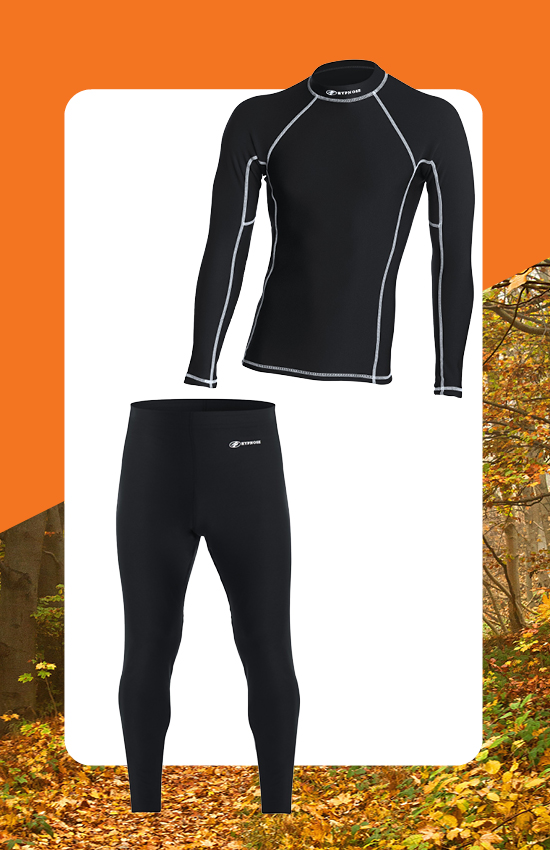 Since small game hunting involves a lot of walking, whether it's to locate prey in the underbrush or to make the survey, hunting clothing should be relatively light and breathable. There is no need to over-cover yourself; instead, use layering. It is not necessary to wear camouflage clothing because one of the most popular techniques in small game hunting is to scare the prey into moving or flying away.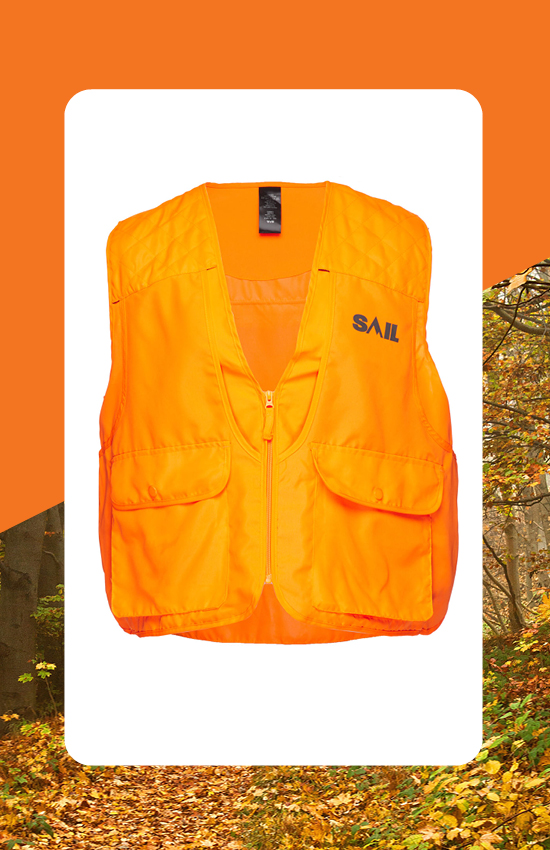 Because safety is paramount at all times during the hunting season, it is important to wear a regulation orange bib that covers the back, shoulders and chest. The models with a bag can be very useful to carry your catch once it is attained.
Finally, don't forget to equip yourself with good hunting boots, or at least comfortable walking boots with good traction on rocks or wet roots, for the many miles you will travel during your day of hunting in the woods.
As for accessories, Claude Bissonnette always brings a GPS, a compass and a radio transmitter when he goes hunting. He records the GPS coordinates of his vehicle before going into the woods on foot and can thus find his way back without any problem. The radio transmitter allows him to communicate easily with his hunting companions to orient himself towards prey in the deep woods.
5. Frequently asked questions
How to get a hunting licence
Before you can hunt in Quebec, you must obtain a hunting licence. To do so, you must take two courses, one in firearm safety and the second one which is an initiation to hunting with firearms. These courses are generally given over two days. It leads to a hunter's certificate, issued by the Ministère des Forêts, de la Faune et des Parcs (MFFP). This is the document that allows you to obtain a hunting license in Quebec.
It is also necessary to obtain a Firearms Possession and Acquisition Licence issued by the Department of Justice Canada.
For those who would like to try hunting for one or more days before embarking on the certificate process, it is possible to apply for an introductory permit. This allows you to hunt for a full season accompanied by an experienced hunter (who has a hunting license and a firearms license). It is really the ideal way to have a first experience without committing yourself.
In Ontario, before you can hunt, you must have an Outdoors Card (a wallet-sized plastic identification card issued by the Ministry of Natural Resources and Forestry that authorizes you to hunt and fish), an Official Hunter's Certificate, a Firearms Possession and Acquisition Licence, and all required hunting licences and tags for the game you wish to hunt.
The Ontario Hunter Education Licence is available exclusively to youth between the ages of 12 and 14.
Where to go small game hunting in Quebec and Ontario
In Eastern Canada, many lands are privately owned and require permission from the owner to hunt. The easiest way to hunt in Quebec is to go to public hunting areas, such as Sepaq wildlife reserves and Zecs (controlled harvesting areas). Claude Bissonnette is particularly fond of the wildlife reserves of Papineau-Labelle (in the Laurentians), Mastigouche and Saint-Maurice (in Mauricie), Ashuapmushuan (in Saguenay-Lac-Saint-Jean). Access fees are payable in each of these territories.
In Ontario, there are also provincial parks, provincial wildlife areas and conservation areas that allow small game hunting. There are also private estates, often with cabins or other accommodations for hunters.
How to maximize safety
In addition to the orange bib, it may be important to bring a first aid kit, rain gear and a change of clothes, as well as a map of the area where you will be hunting, water, food, rope and a knife.
Always tell someone you are going hunting, where you are going and when you should be back. If your vehicle is parked on the side of the road or in a public lot, remember to leave a visible note with your contact information and the time you may return.
Also available in: French