6 Southern Ontario Fishing Destinations For Your Bucket List
Also available in: French
It's no secret that Ontario offers world-class fishing opportunities. With the highest fish diversity in Canada, Ontario is home to over 128 native fish species found throughout its 250,000 lakes and rivers. For this blog, we check in with SAIL Fishing Ambassador, Ashley Rae of SheLovesToFish.com, to learn about some of her favourite Southern Ontario fishing destinations. Ashley also highlights a few experts who offer guided fishing trips on these iconic waters if you're looking to plan a future trip.
Note: Please verify any travel restrictions along with public health guidelines before travelling outside of your region.
1. Lake Ontario
There's something magical about being out on the vast waters of Lake Ontario, not to mention the calibre of fish that reside there. Lake Ontario has a surface area of over 18,000 square kilometers, is situated at the southern tip of Ontario, and shares the northern border of New York State. My connection and love for Lake Ontario began where I grew up, on the Bay of Quinte. The Bay is a tributary located on the north side of Lake Ontario, and is known best for its migratory walleye that are among some of the biggest in the world. Largemouth and smallmouth bass fishing is also very popular on the Bay with many tournaments hosted there and throughout other parts of Lake Ontario.
Lake Ontario offers incredible salmon fishing opportunities with populations of Chinook, Coho, and Atlantic salmon. There's a huge fishing charter industry present with many operations offering guided salmon and trout trips. Other popular species include rainbow trout, brown trout, lake trout, and northern pike. These are just a few of the many species that reside in Lake Ontario. One of my favourite, lesser talked about species, is common carp which I enjoy targeting from the shores of Lake Ontario. Common carp can grow to truly huge sizes, like the many other species that reside in Lake Ontario.
Ashley offers guided fishing trips for walleye on the Bay of Quinte. Learn more on her website.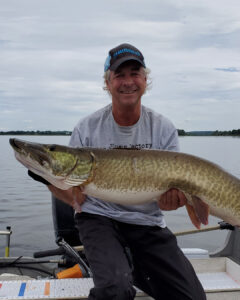 2.
Ottawa River
I've been fortunate to spend some time exploring the Ottawa River over the years since I moved to the Ottawa area back in 2013. I still feel as though I've barely scratched the surface of this water system, though. The river is over 1,200 km long with 65 percent of the river in Quebec and the remainder located in Ontario. There are over 85 fish species present here with some of the more abundant species being musky, bass, walleye, as well as channel catfish.
My friend, John Anderson, of the Ottawa River Musky Factory, has spent decades hosting guided fishing trips on the river. He's a wealth of knowledge and is truly passionate about this incredible fishery. I checked in with John for a comment on the Ottawa River and he shared the following:
"We're so lucky on the Ottawa River to have such a diverse fishery. The 13 dams on over 1000 km of river have created distinctly different sections of the river with distinctly different fish populations. Above Ottawa, the river is a great example of the Canadian Shield fishing experience with lots of rock, gnarly wind-blown trees, and pristine waters. At the lower end of the Ottawa Valley, the huge river is more dynamic and weather-affected which is why it is home to some of the best musky fishing in the world. Muskies are all we do at the Ottawa River Musky Factory, and teaching people how special this fish is and sharing the musky experience is what we are all about."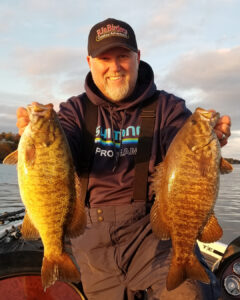 3. St. Lawrence River
Another famous river system in Southern Ontario is the St. Lawrence River. I've fished there primarily for smallmouth and largemouth bass, common carp, and have also been fortunate to get into some quality walleye there as well. This river is home to many more species though, including musky, walleye, yellow perch, and more. The St. Lawrence River is over 1,100 kilometers long, spanning from Lake Ontario, flowing northeast past Montréal and Québec City into the Gulf of Saint Lawrence.
I checked in with Rob Jackson, of RJnBirdees Outdoor Adventures, a multi-species fishing guide who offers trips on various water bodies in Ontario, including the St. Lawrence River. When I asked Rob to share some thoughts on the St. Lawrence River fishing opportunities with me, he wrote:
"The St. Lawrence River was recently ranked as the number one bass fishing destination in North America. Clear waters, beautiful landscapes, and arguably the best smallmouth fishery in the world. Smallmouth bass are routinely caught over 5lbs with some even approaching 8lbs! It truly is a magical place."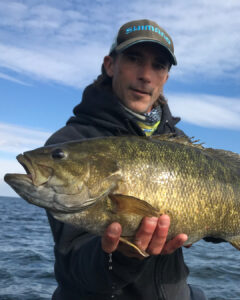 4. Lake Simcoe
Lake Simcoe is another favourite on my list and I am anxious to get back there for more fishing in the future. It's a very popular year-round fishing destination both during the open water and ice fishing seasons. Smallmouth bass, yellow perch, lake trout, and whitefish are some of the most popular species here. Lake Simcoe is the fourth largest lake situated entirely in the province, with a surface area of over 720 square kilometers and is located inside of Simcoe County, Durham Region, and York Region.
I spoke to Greg Amiel of Fishing 4 Tails, a multi-species guide who offers fall bass fishing trips on Lake Simcoe. Greg shared:
"Lake Simcoe is truly an amazing fishery considering the amount of angling pressure it receives. We usually catch quality fish each day including some over 7lbs each year. My biggest tournament bag (for five bass) is 29.96lbs but we've managed bigger bags fishing with clients over the years. We're always marking good fish on the sonar but some days they do get lock-jaw and some days they chew! It's a trophy fishery. Last fall we had a tournament where we averaged 24lbs each day during a two-day tournament. This amounts to 48lbs over two days with approximately 70+ bites with all fish over 3+ pounds."
As a side note, Greg also offers salmon and trout trips during the summer months on Lake Ontario, as well as fall walleye trips on the Bay of Quinte.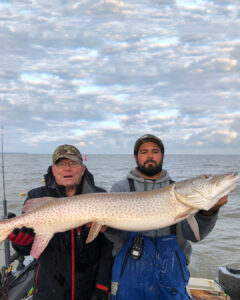 5. Lake St. Clair
As we move further west, I had to include Lake St. Clair on this list although I haven't spent a lot of time there yet. After fishing it the first time for a bass fishing tournament a few years back, I knew it was a special place and look forward to being able to plan future trips there. Lake St. Clair is situated between the province of Ontario and Michigan State with a surface area of over 1,100 square kilometers. Bass, musky, walleye, and yellow perch are popular for anglers there, although the lake is home to over 100 fish species.
Ian Jones of Fish LSC Charters is a multi-species guide who offers trips out on Lake St. Clair for musky and walleye. I checked in with Ian to share his thoughts on Lake St Clair and he wrote:
"Lake St Clair is hands down one of the best lakes in Southern Ontario for trophy fish of all species. With a maximum depth of 23 feet and multiple rivers connected to it, there's a lot of variety here. There are fantastic fishing opportunities here year-round and we have a lot of fun with it."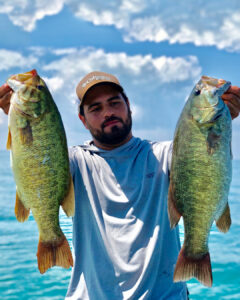 6. Lake Erie
I couldn't resist including Lake Erie on this list as another iconic lake in Ontario and have loved my experiences there. With a surface area of over 25,000 square kilometers, Lake Erie is home to one of the largest freshwater commercial fisheries in the world. Lake Erie's shores are shared by Ontario, Michigan State, Ohio State, Pennsylvania State, and New York State. Popular species here include: walleye, rainbow trout, smallmouth bass, and yellow perch. Lake Erie is home to over 130 types of fish. The walleye fishery is booming.
Ian Jones of LSC Charters also offers guided trips on Lake Erie as well and weighed in on the fishing opportunities found here:
"The big waters of Lake Erie are a trophy destination for many anglers. The population of big and small walleye is off the charts. This means you will have a great day on the water fishing. These big waters also offer an average class of smallmouth north of 4lbs."
These are just a few of my favourite large bodies of water in Ontario. Each of these water bodies are quite vast and diverse, so I would highly recommend hiring an expert fishing guide if you're new to exploring these waters or if you're a new angler. Regardless of your experience level, hiring a fishing guide provides a great learning opportunity, and on these waters, you'll have a shot at catching some world-class fish!
Discover our selection of fishing gear: Shop
Article written in collaboration with Ashley Rae of SheLovesToFish.com.
Also available in: French