Waterfowl hunting: our best tips on how to dress
Also available in: French
Waterfowl hunting is a rather unique discipline which is attracting a growing number of enthusiasts throughout Quebec. To help get started in a practical and efficient way, Éric Martineau, SAIL's hunting and fishing department manager for our Laval store, offers his top tips on how to dress and camouflage yourself appropriately.
In this article, you will learn everything there is to know about wearing the right gear for waterfowl hunting.
1. Why camouflage yourself when hunting waterfowl?
Ducks, Canada geese, and snow geese in particular are extremely wary birds. Éric Martineau stresses that they are often described as « educated&nbsp as they have learnt to spot hunters. Hence the importance of a perfect setup and a well-chosen camouflage to lure your prey.
Despite their two-dimensional vision, the three species mentioned above do have an acute sense of observation. Most of the time, these birds will fly around decoys several times on reconnaissance tours before feeling confident enough to land anywhere nearby. To avoid being spotted as they approach, it is important to shield your skin and eyes from sight. Skin colour enormously stands out a natural or camouflaged background. Which is why it is recommended to cover your head with a hood and to wear face paint specific to waterfowl hunting. On this type of hunt, sense of smell isn't something hunters have to worry about.
However, when it comes to their sense of hearing, birds do have a very sensitive ear. As they approach, it is crucial to remain quiet… While still enjoying the show!
Older birds will be harder to foil as they have become more experienced over the years. They will also stop younger birds from making the mistake of landing if any danger is detected.
2. Which camouflage pattern to wear for waterfowl hunting?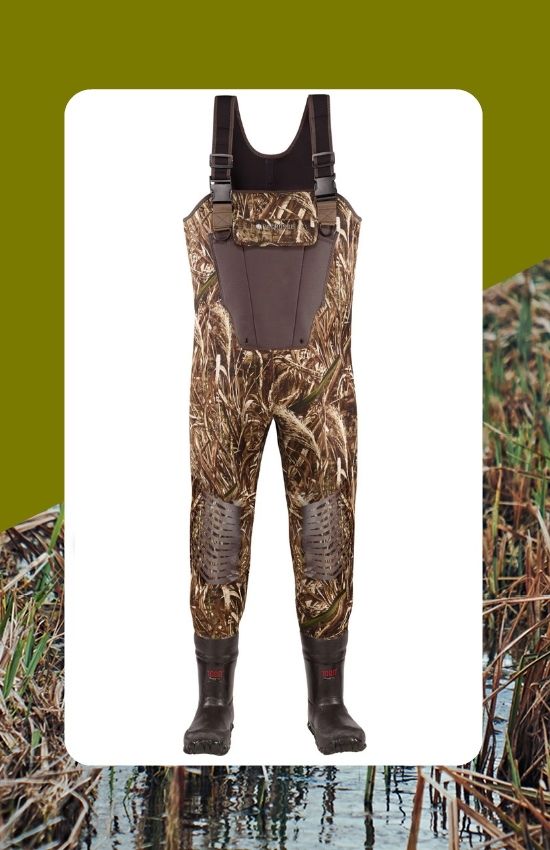 When it comes to waterfowl hunting, there is really only one suitable type of camouflage. From the beginning to the end of the season, expert Éric Martineau recommends the Realtree Max-5 pattern.
It is also possible to go hunting wearing natural colours such as browns, kakis or dark greens. Just avoid the kind of artificial colours that aren't found in nature, such as blues or reds.
During the winter, if hunting out in the open, it's important to wear white to blend in with the snow. Ideally, opt for a protective suit such as a Tyvek® suit.
3. Which clothes to pick for waterfowl hunting?
Underwear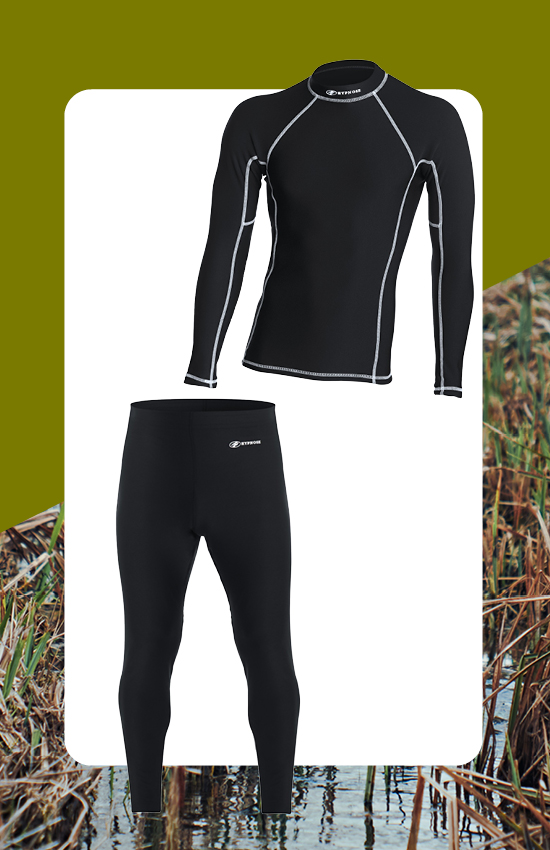 As with any outdoors activity, layering works best. This starts with good breathable underwear made from moisture wicking fabric that keeps sweat away while also keeping you warm during rest periods or while you're waiting for birds to show up. Merino wool is particularly recommended for this. You can add a mid-layer on top of this to keep warm if needed.
Jackets and pants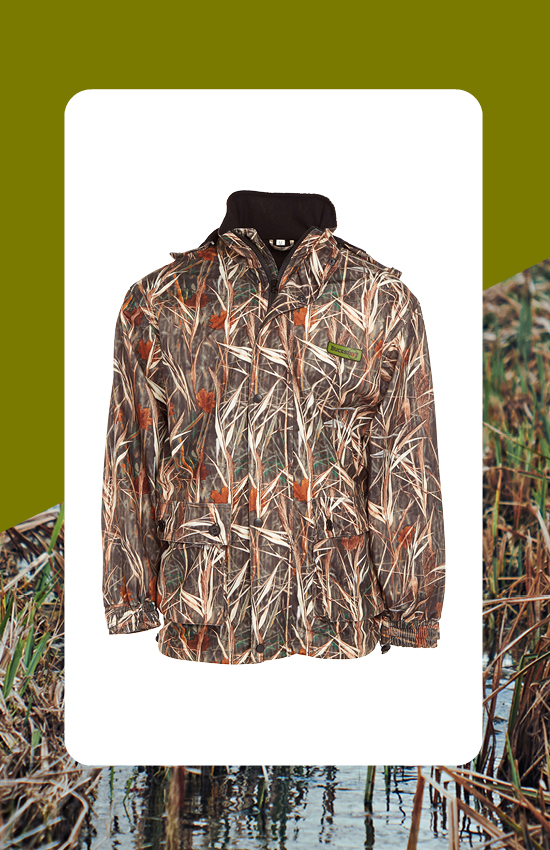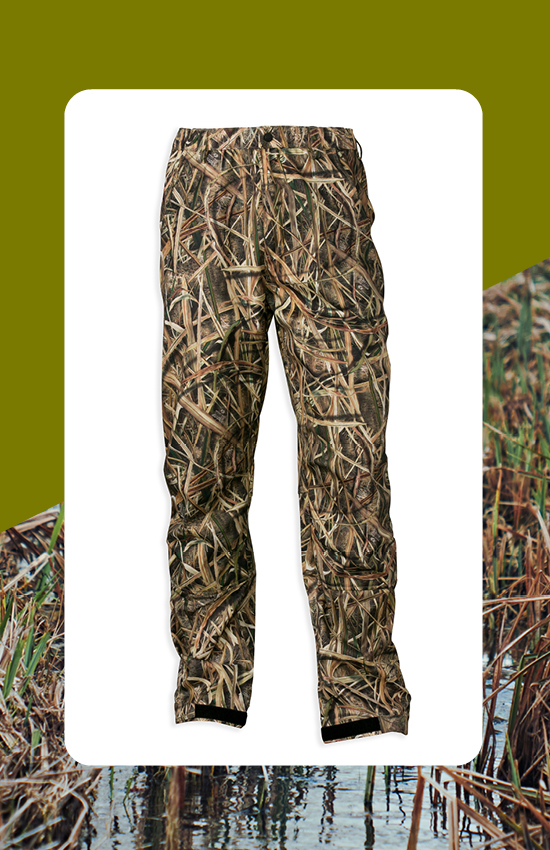 Select a versatile jacket and pants combination that can protect you from the elements (rain, wind, snow) throughout the hunting season. Éric Martineau recommends purchasing a 3-in-1 jacket, made up of a breathable waterproof shell as well as an insulated lining, both of which can be worn separately or together for optimal warmth.
When it comes to pants, it's important to choose a waterproof model that's comfortable, and made from fabric that will not make too much noise so you don't get spotted when you move.
Brands Connec and Browning, as well as SAIL's own brand, offer versatile jacket and pants options that are worth considering.
Gloves, hats and hoods
As mentioned above, it's very important not to let your skin show to avoid rousing birds' suspicions as they fly around on their reconnaissance tours. To do so, cover your hands with gloves and your head with a hat or hood, all of which featuring the Realtree Max-5 camouflage pattern or natural colours. Some hunters enjoy cut-finger gloves better as they allow for better dexterity.
Socks
Like with underwear, the material to opt for when it comes to socks is merino wool, which wicks away sweat while retaining its insulating properties.
Boots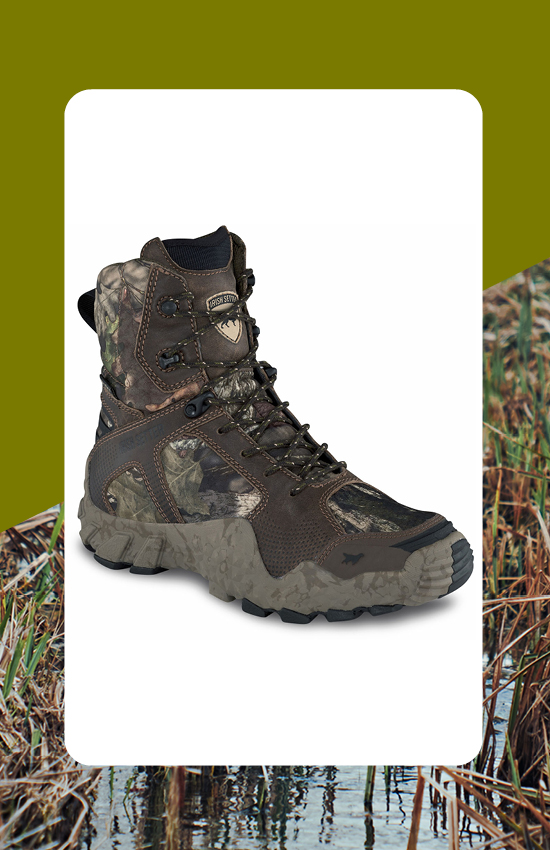 Éric Martineau particularly likes neoprene rubber boots. They provide great insulation while keeping your feet dry (and toasty warm) during rainy or muddy outings.
Brands Baffin, LaCrosse or Bogs have selections of neoprene rubber boots that are worth considering. Try on a few so you can choose the most comfortable ones for you. Gaiters can also add warmth and keep your legs and feet dry.
A few pro-tips
Waterfowl hunting involves remaining still for a certain amount of time (from several minutes to a few hours). So focus on warmth when getting dressed.

Note that it's not necessary to wear an orange bib when waterfowl hunting as you are likely to spend most of your time crouched down in a blind.

Go for clothes with lots of pockets so you can keep all your essentials close to hand, but avoid noisy velcro fasteners that could give you away. 
Also available in: French