12 Winter Activities to Enjoy Ontario's Snow-Covered Landscapes
Also available in: French
Winter is one of the most serenely wonderful times of the year to calm your mind in the solitude of a beautiful snowy landscape, while enjoying new experiences with friends and family. Let our list of ideas below help you plan your next winter adventure together, then bundle up, get outside and discover some of the best of what Ontario has to offer, followed by warm moments around the fire or with a cozy beverage in hand while recounting the day's experiences.
Article written by Chris Prouse, outdoor content creator
Take a look at our 12 ideas for outdoor activities to enjoy this winter:
Before you head out on your adventure, gear yourself up to stay warm in all kinds of weather and make the most out of your favorite winter sports.
Gear up for winterShop heating products
1. Skating through the forest in Arrowhead Provincial Park (Muskoka District)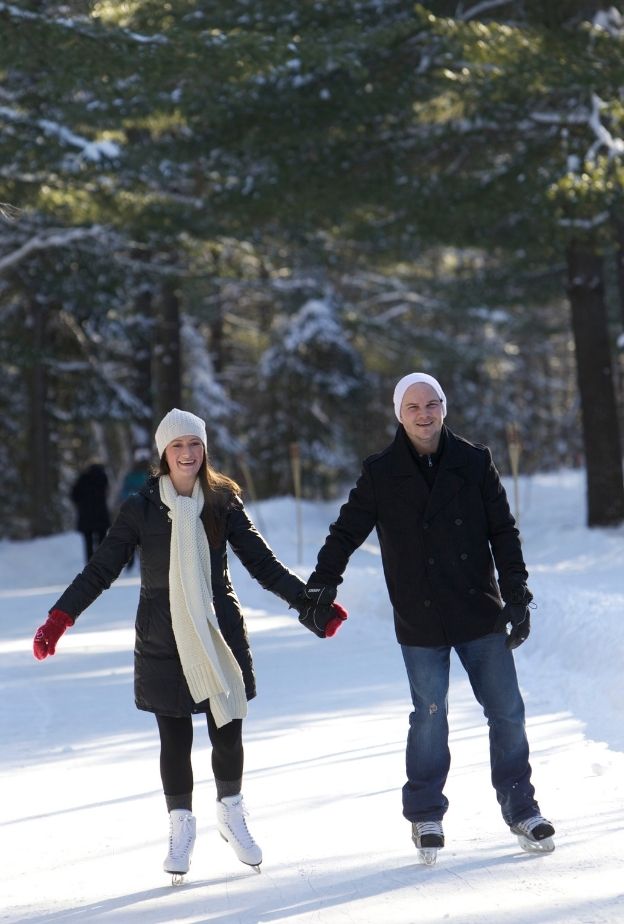 Many of us have fond memories of skating laps around the local rink or playing shinny on frozen ponds, though if you've never experienced skating on a trail through the forest, then you'll love the sense of freedom it affords you as you glide past snow covered trees and explore what's around the corner. Arrowhead's skating trail is open daily from 9am to 5pm through the winter season with the exception of 11:30am to 1pm for maintenance, and the park also offers a range of other activities from cross-country skiing to snowshoeing, hiking, birding as well as overnight camping spots and warm cabin says for longer trips, so you may want to consider planning a full day's worth of activities or possibly more.
Conditions are of course dependent on weather so be sure to check their trail report ahead of time. 
You'll also need to purchase either a day permit for your vehicle ($18 weekdays, $21 weekends) which covers everyone in your vehicle, or an annual / winter Ontario Parks permit. Please keep in mind the park is a popular destination and issues permits on a first-come first-served basis up to a maximum capacity, so a seasonal permit doesn't always guarantee access and we would recommend either arriving early in the day or avoiding peak times on weekends from 10am to 4pm. In the event the park is operating at capacity, you may consider enjoying some of the same activities in neighbouring Algonquin Park.
Be sure to bundle up with a good layering system that combines base layers with an outer shell or warm jacket that can work in combination to pull moisture away from you as you begin to generate body heat on the trail, while also protecting you from the breeze as you skate. Pack some tea or hot chocolate with you in a thermos too, along with some snacks and enjoy exploring one of Ontario's top winter destinations!
2. Winter Fat Biking at Horseshoe Resort in Barrie Ontario (Simcoe County)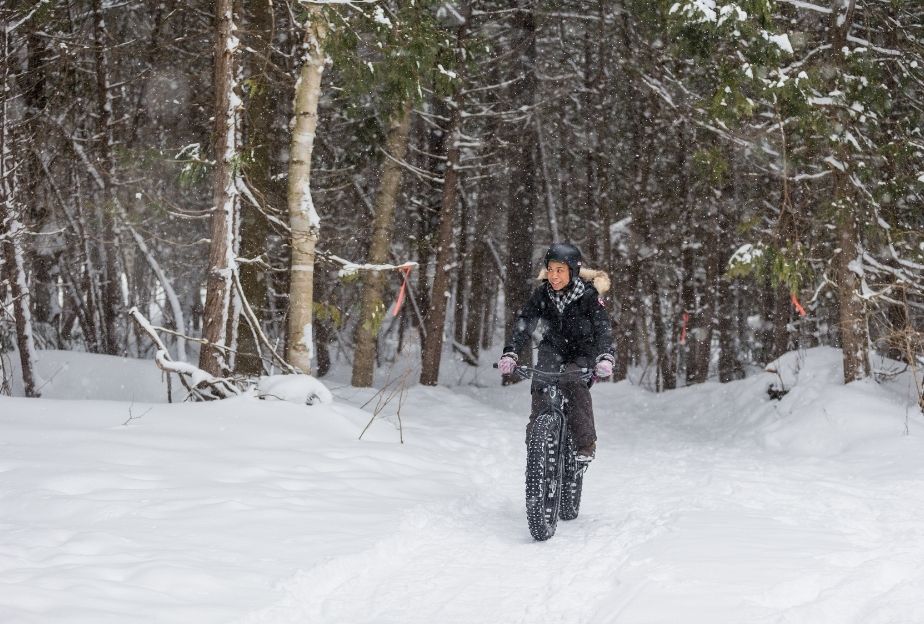 Horseshoe Resort in Barrie Ontario has become one of the premier destinations to try winter fat biking with a beautiful 8.5km trail through the Copeland Forest. The resort offers everything from rentals and experiences for beginners, to daily trail passes and season passes for more experienced riders. The resort's also situated near a growing community of fat bike riders in the area, just a few minutes away from the Hardwood Ski & Bike recreation and event centre, who also offer rentals along with an extensive network of trails to explore. https://www.hardwoodskiandbike.ca Make sure you're ready to ride with the essentials like a bike helmet, warm buff, nimble gloves and flexible winter boots to help keep you moving through the snow.
3. Snowshoeing Through the Ice Caves of Lake Superior (Algoma District)
For those who are looking for a more unique snowshoeing experience, Lake Superior's northeastern shores offer some truly stunning views of spectacular naturally occurring ice caves, which can be explored with the help of an experienced guide to keep you safe. Located in the heart of the Algoma district, Stokely Creek Lodge offers guests an opportunity to see them up close while also exploring other interesting features like frozen waterfalls and ice cliff.
We recommend checking ahead to see what seasonal tours are being offered and you might consider a longer stay to experience their other beautiful views along mountain snowshoe trails, or to do some cross country skiing through local snow covered forests, followed by a relaxing evening back at the lodge afterwards.
4. A Ski & Snowboard Weekend Getaway
Ontario has some terrific ski & snowboard destinations for those who are hoping to enjoy some time on the slopes this winter season – from larger resort vibes at Blue Mountain in Collingwood, to mountains like Calabogie Peaks with a great amount of vertical drop, to mountains further north like Searchmont that receive plentiful amounts of lake effect snow, there's something for everyone to enjoy. For those who are new to skiing and snowboarding, consider taking a lesson for the day and then enjoy a little après-ski afterwards back at the lodge over some delicious food with friends and loved ones. Don't forget your goggles and other accessories to help you make the most of your experience on the mountain.
5. Snowmobiling the Round Algonquin Park Tour (RAP)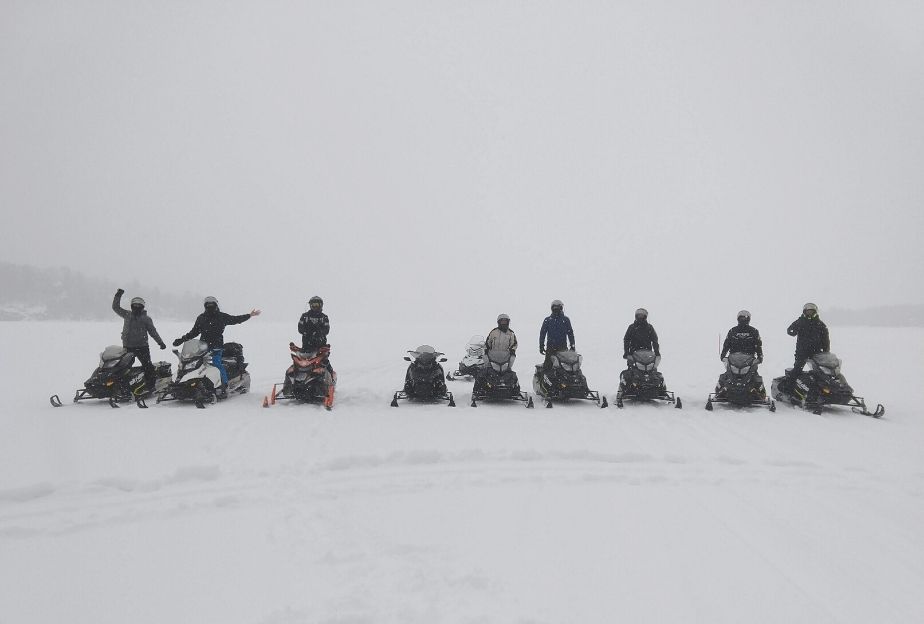 For snowmobiling enthusiasts, the RAP is a world famous 850km snowmobiling trail that circles around the outside perimeter of Algonquin Park and passes through the southern arm of the park. The route is supported by a vibrant community of businesses and services along the way who embrace riders on their journeys, which typically range from 3-5 days for the full loop. The RAP tours through beautiful scenic forests, around wide open snow covered expanses and frozen lakes where wildlife sightings are frequent. For those who are new to snowmobiling, local tour operators offer guided experiences to help get you on your way. Make sure you're well prepared with insulated mitts and boots for those long days on the sled.
6. Winter Trail Running with Microspikes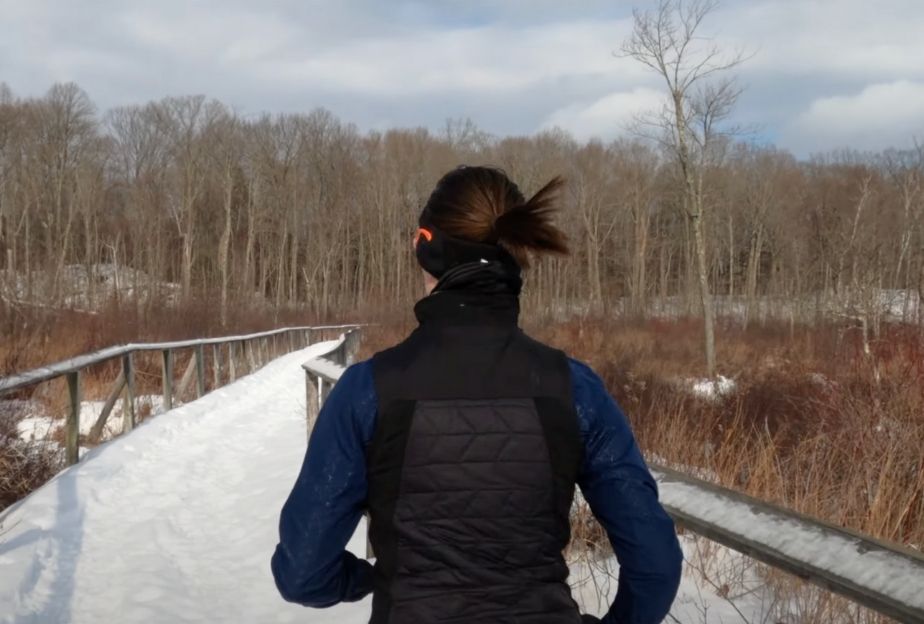 Just because there's snow on the ground doesn't mean you have to put away the running shoes – with just a few changes to your kit, a run in the snow can be incredibly fun and enjoyable! Many of the hiking paths throughout Ontario's provincial parks see enough foot traffic to keep the snow tamped down and don't require snowshoes, so your existing running shoes equipped with a great pair of microspikes can provide all the traction you need to run confidently on the snow. For longer runs, you might also consider waterproof socks or some Salomon Speedcross 5 shoes with Gore-Tex to help keep the moisture out. Our ultra running field testers recommend combining both Hillsound microspikes with Gore-Tex Speedcross shoes for a winning combination on one of the many hiking paths in Algonquin Park, Frontenac Provincial Park, or Charleston Lake Provincial Park.
7. Skating on the Rideau Canal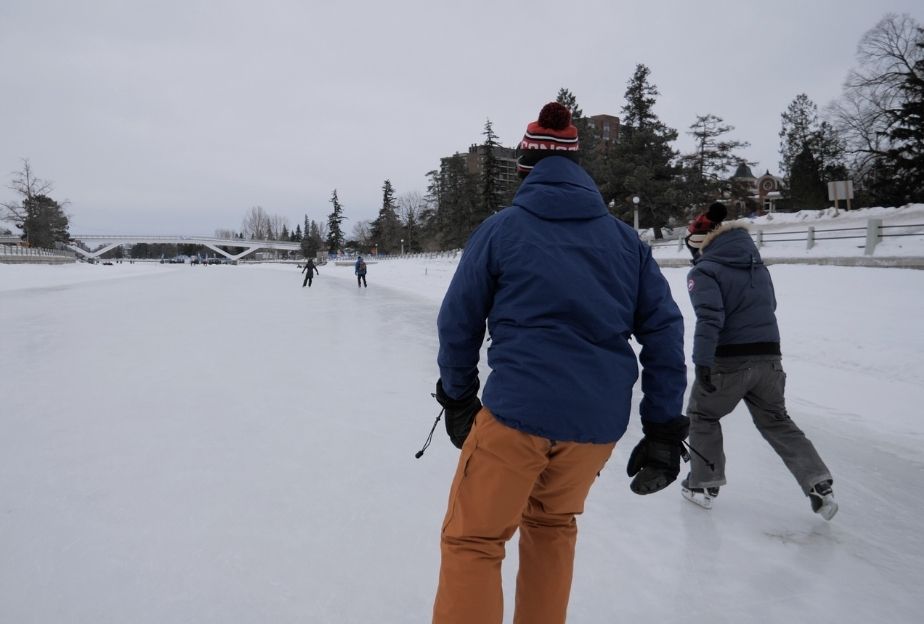 The Rideau Canal is the world's longest skating rink and a magical winter experience that welcomes skaters from all around the world. At 7.8km long, with a surface larger than 140 NHL rinks, you'll love skating for long stretches through Ottawa's picturesque canal dotted by cozy warming huts, while discovering hidden side creeks under bridges and delicious food stops along the way like Beaver Tails (a pastry dessert topped with sweet and savoury ingredients). You can rent skates there or bring a pair of your own, and be sure to dress warmly from head to toe with a good pair of winter socks, a warm jacket, pants, toque, mitts and possibly even goggles to keep the wind out so you can enjoy the full length of the canal.
8. A Stay in Algonquin Park's Yurts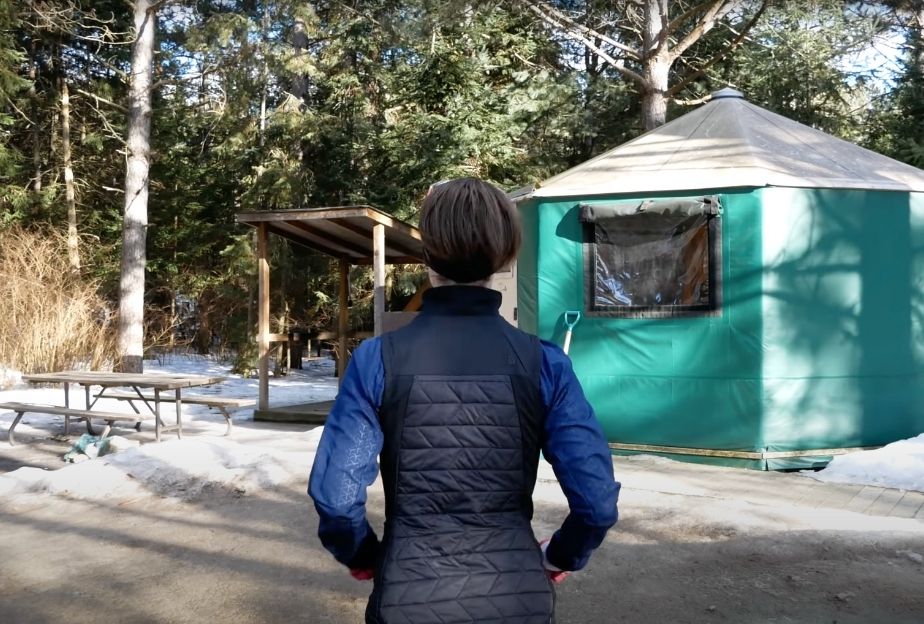 Algonquin Park is considered by many to be the crown jewel of Ontario's provincial parks, with over 7000 square kilometres of pristine untouched wilderness to explore and 2,400 lakes throughout its far reaches. It's the oldest provincial park in Canada and offers visitors a vast array of experiences, from backcountry canoe tripping in the summer to winter camping and cozy stays in the park's comfortable yurts that provide a basecamp between daily outings snowshoeing, hiking, cross country skiing, dogsledding as well as sightseeing across a number of scenic lookouts just to name a few possible activities. Visitors can drive right up to their heated yurt, unfurl their sleeping bag on the provided bunks and enjoy warm moments by the fire outside before retiring for the night. Algonquin's yurts are a popular destination among winter campers, so we recommend booking well in advance. Be sure to come prepared with a warm sleeping bag and some cozy base layers for each day's outings if you're planning a longer stay.
9. Dog Sledding in Algonquin Park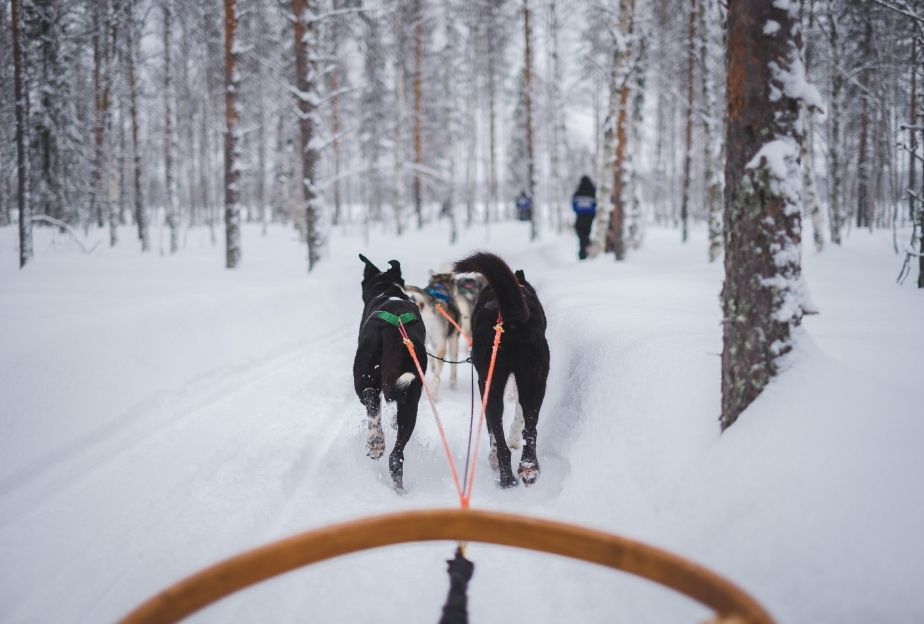 Dog sledding through Algonquin Park's backcountry will transport you back to a simpler time and connect you to the land in a way like no other as you appreciate what it once took to travel through remote winter landscapes before snowmobiles. The dogs will warm your heart and your senses will come alive as you move briskly through scenic trails in the backcountry, followed by evenings tucked away in the warmth of a heated prospector-style tent enjoying home cooked meals provided by local tour operators like Snow Forest Adventures. Be sure to dress warmly in insulated boots, parkas, pants, toque and mittens. If you prefer not to rent them, an insulated sleeping pad and a winter rated sleeping bag are essential too.
10. Winter Horseback Riding at Von Doeler's Ranch (Nipissing district)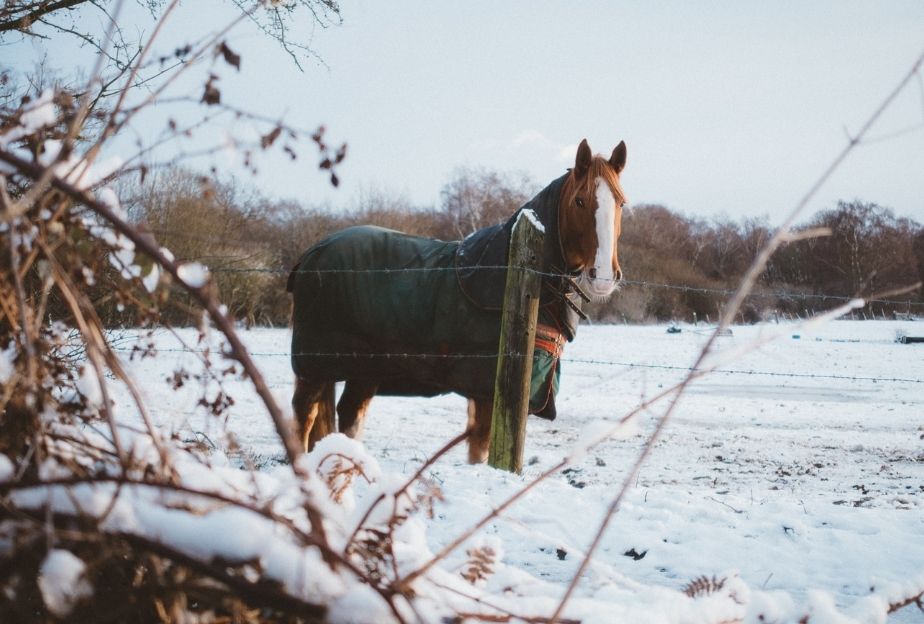 Located halfway between North Bay and Mattawa, Von Doeler's Ranch offers guests guided horseback riding experiences through scenic snow covered forest trails in the winter. Enjoy slowing down and riding at a relaxed pace on their gentle Bashkir Curly horses, known for being a friendly, hardy breed of horses with a thicker winter coat to keep them warm. The ranch offers a range of day experiences as well as cozy cabin stays made comfortable by wood burning stoves to keep you toasty throughout the night. Be sure to come prepared with good laying system to keep you warm while out on the trail, as well as an insulated sleeping bag and pillow if you decide to stay the night.
11. Ice Fishing on Lake Simcoe (Simcoe county)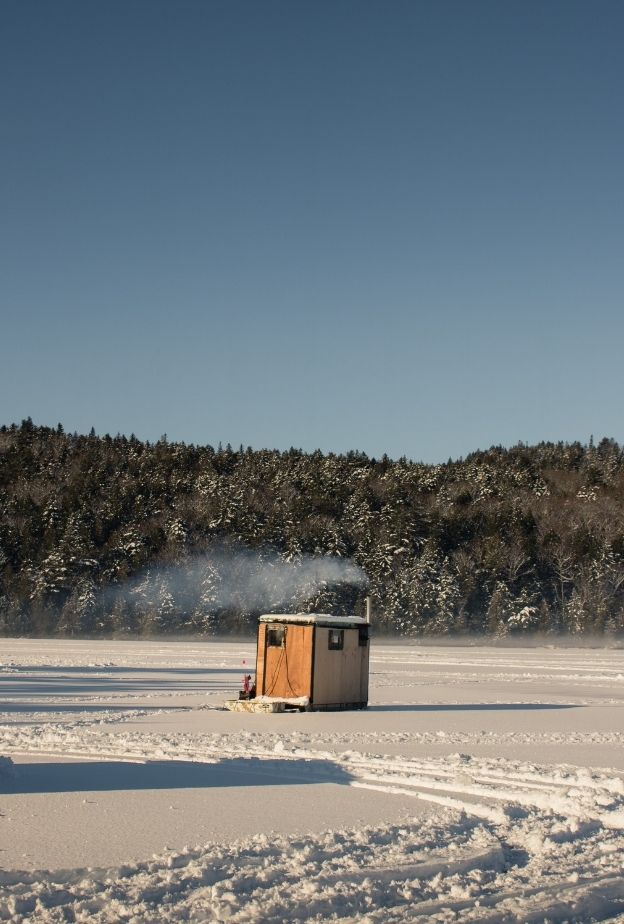 Lake Simcoe, just an hour north of Toronto, is considered by many to be the premier Ice Fishing destination in Ontario, where anglers enjoy reeling in everything from lake trout to walleye, giant pike, jumbo perch, ling and herring. It might be windy out on the lake, but today's modern anglers enjoy ice fishing from the warmth of portable insulated shelters that are quick and easy to setup – check out our range of ice fishing shelters along with everything you need to go fishing here – and guided experiences on Lake Simcoe offer guests a way to safely become acquainted with the ins and outs of ice fishing, all from the comfort of large heated shelters that provide delicious on-ice fish-frys along with all the amenities you could need to make an entire day out on the ice a comfortable stay: 
12. "Peak Bagging" Ontario's High Points
Peak bagging Ontario's high points is a fantastic way to enjoy some spectacular views while also getting some great exercise at the same time. For those who are keen to give it a try, "The Crack" in Killarney Provincial Park is considered by many to be the best hike in southern Ontario and a popular place to get above it all with beautiful views of the surrounding lakes and neighbouring Silver Peak. Depending on the conditions, be sure to come prepared with either a good pair of winter hiking boots or snowshoes, along with a few expendable layers as you climb and perhaps a handheld GPS unit or watch to help keep you on track. For the more adventuresome who are exploring the more remote high points across Ontario, carrying a Spot or InReach device with you while off the grid is great peace of mind in the event of an emergency, or to keep friends and family posted of your whereabouts while venturing off the grid. Always plan ahead and be well prepared. Let others know where you're headed and when to expect you back. Read up on trail reports from others who've covered the terrain before and consider trekking with a buddy too – safety first!
Also available in: French