25 Free Family Activities to do During Summer Vacation
Also available in: French
Your summer holidays are fast approaching, but you haven't made any plans yet? No sweat. Check out our list of suggestions for free family activities to do with the fam – or even solo – in Quebec and in Ontario. The best part? You'll be enjoying the great outdoors without breaking the bank.

Before checking out our list of free family activities, be sure to check out our website or stop in to one of our stores to get geared up for your outdoor adventures.
Free Family Activities – Province of Quebec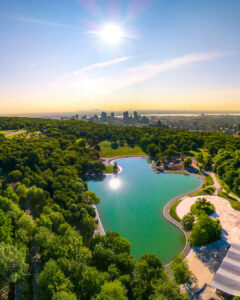 1. Head out for a walk on Mount Royal, in Montreal.

A classic outing in an urban location, the mountain is part of Mount Royal Park, which was inaugurated in 1876, over 145 years ago. Hike the different trails or make your way to the Kondiaronk lookout to see the city from above. Or, opt for visiting Beaver Lake or the St. George monument that are definitely worth the visit.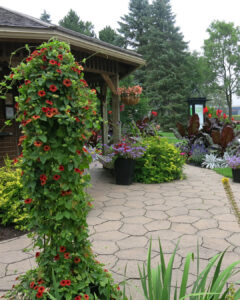 If you live in the capital city region of Quebec, or are passing through, don't hesitate to consult the flowering calendar and stop by this colourful garden. The garden's name comes from the late agriculture professor, Roger Van den Hende, and officially opened its doors to the public in 1978. At the time, the garden was used for experimental tests for studying a variety of plants. Entrance is free, but a donation of $2 is recommended in order to cover the garden's maintenance costs.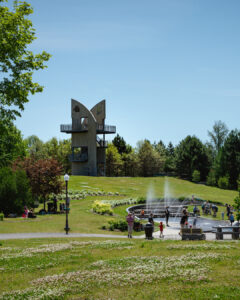 3. Enjoy the biking path and the domaine des Maizarets, in Limoilou.

A true enchanting space, the domaine des Maizarets promises one of the most relaxing nature escapes with its botanical labyrinthe, its majestic lookout tower, its swimming pool, and its four bike paths that go along the park. Bring your bike, your walking shoes, or your swimsuit to spend a beautiful and full day that is sure to leave you with memories to last a lifetime.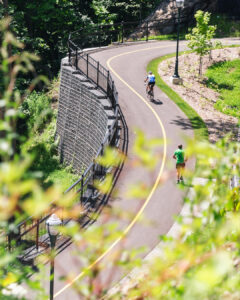 4. Step into history by taking a walk on the plains of Abraham at Champs-de-Bataille Park, in Quebec City.

Enjoy a picnic, train for cross-country skiing before winter, or have a run through this space while listening to the history of New France. Continue your walk until the Samuel de Champlain monument, near the St. Lawrence River.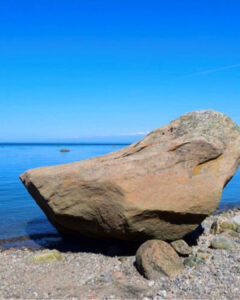 Not only is the route to Charlevoix spectacular, but the Baie-des-Rochers is a destination of choice, as it's truly the window to the St. Lawrence River. You will have a chance to catch a glimpse of some seals, belugas, or small whales, and you can also bring along your kayak for a nautical stroll, see all sorts of birds, and walk tons of trails, all for free. It's an outing that will almost give you chills seeing how magnificent the landscapes really are. Don't forget your camera and make sure not to leave any traces so as to conserve the beauty of the area for many generations to come.
6. Plan an excursion at Kistokuk Park in Cacouna.
There's nothing better to recharge your batteries than lacing up your hiking boots and taking on 10 km hiking trails where you can learn more about the exceptional biodiversity of the park and even bring along your four-legged friend. Tours and lookout points are also offered to you where you can birdwatch and see more than 260 bird species and find bike paths such as the Green Route and the Notre-Dame-des-Sept-Douleurs, which are accessible by ferry. Don't forget your binoculars.
7. Watch the sunset from the quai de L'Anse-de-Roche in Sacré-Cœur.
No doubt, starting off your exploration of the Saguenay Lac-St-Jean region with the grand spectacle of the sunset is amazing. Consider packing a picnic and bringing some camping chairs in order to sit comfortably and enjoy the sky's orange and red tones, and possibly catch a glimpse of some seals and whales.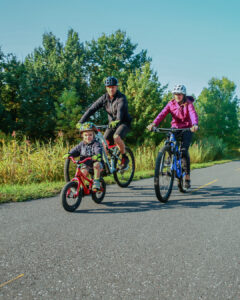 Repurposing a former railway line to make a closed cycling route of over 97 km with only 2% elevation was the goal that a group of townships in the Eatern Townships brought to fruition. Connected to a host of bike paths and neighbouring towns, the Estriade crosses Haute-Yamaska. Several loops and routes are there to choose from and are accessible to families. Travel through the Artria cultural circuit, cross a multitude of bridges, or stop in front of the Choinière dam during the nature loop of Yamaska Park. The road is yours!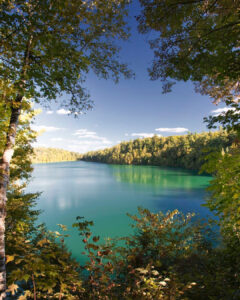 9. Explore Pink Lake in Gatineau Park in Chelsea.

Contrary to what its name would have you believe, Pink Lake is actually Turquoise rather than pink due to eutrophication – an accelerated proliferation of microscopic algae. In fact, the lake is named after the Pink family who settled here in the 19th century. Even if it's not possible to sail or swim here, the lake coexists with magnificent landscapes that you will not regret visiting. Walk the 2.3 km path that circles the water and go to the lookout to observe the unique colour of the water. Above all, show respect for the area so that this body of water can survive for many years to come.
10. Dip your kayak into the waters of River Park in Terrebonne.

If you are the proud owner of a kayak or paddleboard, consider launching your boat for free from the dock of the park, then paddle to the Mille-Îles River to discover the Forget, Aux Vaches, and Saint-Joseph Islands. Even if you're a beginner at kayaking, navigating here is safe, because the waters of this river remain rather calm. Why not end your nautical activity with a picnic on the premises?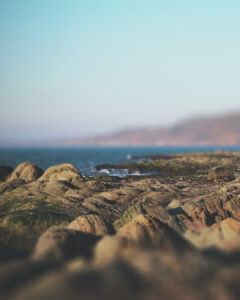 11. Practice your balance on a stand up paddle board by navigating the Havre du Bic in Le Bic.

If you plan to visit Bic national park, be sure to go to 302, chemin de la Pointe in the village of Bic, to navigate to Havre du Bic. Other beaches in the area also allow small, personal boats in the water. Before setting out with your paddle board, make sure you bring a water safety kit (whistle, rope, etc.) required for small boats, as well as a life jacket, and that you have kept a good watch on the tides. Go with someone experienced, especially if you don't have a lot of paddle boarding experience.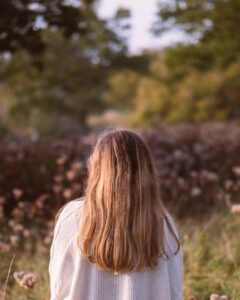 12. Bring your kids to any of the Sépaq parks

Introduce your young children and teenagers aged 17 and under to the activities offered free of charge by the Sépaq parks when accompanied by an adult with right of access. Whether it's a day of fishing, an activity at the AstroLab in Mont-Mégantic National Park, access to the natural history exhibits of Miguasha National Park or a discovery activity, your young ones will take full advantage of Quebec's national parks this summer.
Free Family Activities – Province of Ontario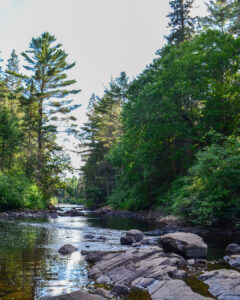 Throughout the summer, until September 2, 2021, Ontario Parks offers free access to its parks on weekdays, Monday through Thursday. Don't know where to start? Visit Charleston Lake Park for a hike and swim in the calm waters, stop at Frontenac Park to cast your line and possible catch lake trout, largemouth and smallmouth bass, large pike, and speckled trout in various lakes, or in search for Mazinaw Rock for spectacular views at Bon Echo Park.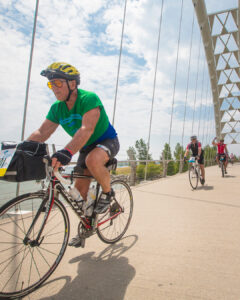 The 1600 km of the waterfront trail allows you to explore the different regions of Ontario as much as possible. If you're going out with the family, choose one of the routes that allow you to hike and stop off at children's play parks. Among the popular routes is the one between Hamilton and Burlington, which includes miles of off-road trails and sits bordering beaches along the shores of Lake Ontario. Pass by Hutch's restaurant in Hamilton, renowned for its fish and chips and ice cream, a lift bridge over the Burlington Bay Canal and a lighthouse. Hamilton and Burlington also have a number of local bike paths, including Humber and Dundas Valley (though not all sections are suitable for families). Another section to see of about 3 to 5 km is that of Princess Point at Bayfront Park and Pier 8 with cycling paths along the harbour, parks, and restaurants…If you're feeling ambitious, why not take on the challenge of completing the 1000 km route in a dozen days with your road bike? It's up to you!
Take your dog out and hit the trails with the family in the heart of nature in this park with grandiose forests that will get you away from the hustle and bustle of Toronto in just over an hour by car. Lace up your hiking boots and head for the Strasburg Creek Trail for some stream views.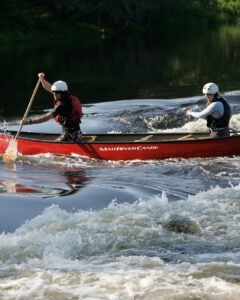 Get your boat in the waters on Aumond's Bay near Quadeville and Palmer Rapids, and spend the day on the water as you travel from Aumond's Bay to Buck Bay, or Buck Bay to Griffith. You can even spend several days on the water, as the river is long enough for a 40 km expedition from Aumond's Bay to Highway 41. There are a few campsites along the river route which are available free of charge on a first come, first serve basis. In all cases, make sure you are sufficiently experienced; the river has several waterfalls and eddies, all of which are suitable for portage if you don't want to paddle. Gear up well with life jackets, paddles, dry bags, and other water boating essentials.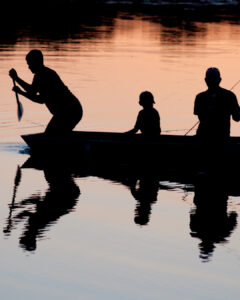 17. Head out fishing as a family almost anywhere in Ontario.

Enjoy fishing week, from July 3 to 11, 2021, to fish with the family without a licence. Fishing rods and reels can even be borrowed for free if you don't already have some, in Ontario provincial parks, from conservation authorities and libraries and in various municipalities. Introduce your children to carp, bass, and walleye fishing.


Plan a day walking the many trails of Hamilton. Try out Red Hill Valley Recreational Trail and be sure to end the day on a high note with the Breezeway Trail located on the shores of Lake Ontario. You will come across Hamilton Beach, Lakeland Pool, Confederation Park and a unique view of Lake Ontario.
Other ideas for free family activities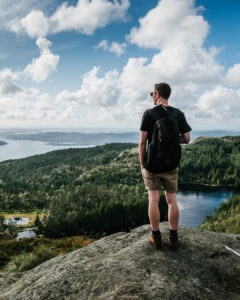 19. Stargazing.
Make yourself comfortable in a camping chair in a low-lighted area to observe the night sky and teach the different constellations to your little ones.
20. Organize a treasure hunt in the woods.
Gather a few surprises together and hide them in a forest near your campsite, cottage, or home and give clues to the kids so that they can find them.
All you need is a GPS and the following article to learn all about this popular activity for hiking and outdoor enthusiasts.
22. Try out yoga on a paddleboard.
Find a wooded area or a calm, peaceful body of water, and try out different yoga poses under the sun. It's a guaranteed rejuvenating experience!
23. Take a walk in the woods, in a park, or along the water.
Don't have a car? No sweat! The important thing is to get outside and get some fresh air. Find a park, pond, or park near you and discover a new little corner of paradise right near home. Use the opportunity to take some pictures or to try out some trail running.
24. Hop onto your bike or grab those roller blades and head out to try a new bike path.
Quebec and Ontario are literally full of bike paths. Check the routes recommended by Route Verte or the Ontario By Bike™ networks. Pack a hearty lunch or ample snacks, slab on that sunscreen, fill up your water bottle, and ride for hours.
25. Take part in a trail cleaning or maintenance volunteering day.
Nothing is more rewarding than doing a good ecological deed during your vacation. Consult the Rando Quebec and Ontario Trails websites to find the official locations and dates of these initiatives, or suggest planning one yourself
Happy vacation and happy summer!
Also available in: French