Finding the Right Satellite Messaging Device for a Safer Outdoor Experience
Also available in: French
Ready to grab your snowshoes and head out on a snowy path or steep mountainside? You've gathered your necessities: a headlamp, healthy snacks, gloves, extra socks, a water bottle, and other essential gear. But, have you thought about bringing along a satellite communication device? This extremely practical tool will literally be life-changing in terms of safety and security, which is why is it so important to pick the right one. Fintan Robb, Senior Marketing Director of SPOT, explains the specifics to look for as well as the advantages of using this type of tool.
When can a satellite communication device come in handy?
We all know that something like a GPS device is a useful tool in the outdoors, especially to help orient yourself in nature.
But, have you ever thought about bringing along a satellite messaging device during your outdoor escapades in areas where reliable cellular coverage isn't accessible? It's a great tip to have a communication device if you're heading out cross-country skiing, hiking, snowshoeing, hunting or fishing in a remote area, or even mountaineering!
Though its primary function isn't to guide you, your satellite communication device offers a host of other helpful features all while including a trusty satellite messaging option. "Seasoned outdoor enthusiasts often make the mistake of not bringing along much gear, as they are heading out in areas close to home," explains Fintan Robb. But that's the thing about the outdoors, even if you are well acquainted with most hiking paths or are heading out for the fiftieth time on the mountain just outside of town, something unexpected can always happen. For instance, you may get injured or suddenly need help. The same thing is true for outdoor rookies: you may have an excellent sense of direction, but it's easy to be turned around and disoriented quite quickly when you're out on the trails. And this is where the satellite communication device comes in.
While a global positioning system (GPS) helps you to localize where you are, a satellite communication device allows you to transmit your GPS coordinates via satellite. Your position may be shared through satellite technology to your personal contacts, or to emergency rescue teams. This allows you to be reachable (SPOT X) and to share your position without having to access a cellular network in order to communicate – no matter where in the world you find yourself.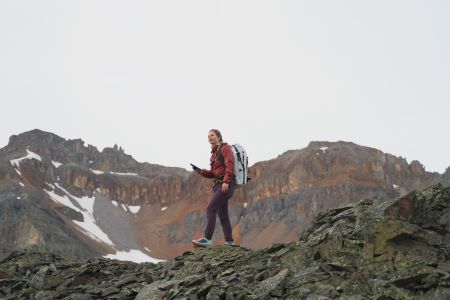 The advantages of using a satellite communication device
Peace of mind for you and your loved ones.
While you're out doing your activities, you can't always predict the unpredictable. This type of device with integrated satellite messaging becomes indispensable "if an accident or injury occurs, weather conditions change or the unexpected pops up. Should you need to let someone know your whereabouts when you are beyond reliable cellular coverage, a device such as the SPOT GEN4 will allow you to send a pre-programmed text message with your GPS coordinates to up to 10 contacts in your list that you can customize in advance. Or, set up motion-activated tracking and share your whereabouts with friends and family. For extra safety, a simple push of the S.O.S. button in a life-threatening situation sends your GPS coordinates to local response teams via the 24/7 GEOS International Emergency Response Coordination Center, alerting them to your situation," details Fintan.
2-way communication.
Certain devices even allow your friends and family to contact you. This is the case with the SPOT X. "SPOT X can send AND receive messages. Connect SPOT X to your smart phone via Bluetooth wireless technology through the SPOT X app to access your contacts and communicate easily with family, friends, or directly with Search & Rescue services in a life-threatening situation", shares Fintan.
Tracking your journey.
Using a messaging device isn't only a matter of safety and security. It also allows for tracking your expedition at regular intervals. Those close to you will appreciate this feature, as they'll be happy to be aware of how your journey is unfolding. For example, through satellite technology, the SPOT X and SPOT GEN4 devices allow you to track your progress at every 2.5, 5, 10, 30, or 60 minutes thanks to cloud mapping, so you can save and share your position along the way.
Protecting your valuables.
You like to head out on your snowmobile or ATV, but need to leave your main vehicle at the cottage? Certain messaging devices are specially designed to offer surveillance for your valuables during your absence. "The SPOT Trace, a satellite theft alert and tracking device will alert you to the object's daily location, or alert you when it is on the move. You'll be able to notify authorities in the event that unauthorized movement is identified. You can follow the action on your phone or on your computer, depending where you find yourself," explains Fintan.
Specifics to consider before selecting a satellite messaging device
You're ready to make your selection and acquire a tool that will be your best new ally in all your outdoor adventures? Here are some things to consider so as to make an informed choice.
Resistance to water, humidity, shocks, and vibrations – as you may be heading out near rocks and waterways, make sure that your device is safely stored in a sturdy, waterproof case.
Altitude and cold resistance – Depending on the conditions of the places you wish to visit, it could be a good idea to make sure that your device functions well at high altitudes and sub-zero temperatures.
Lightness and compact design – Weigh the device and hold it in your hands in order to assess its weight and that it has a comfortable grip.
Emergency button – A device armed with an S.O.S. button, such as the SPOT X or the SPOT GEN4, will allow you to alert authorities in an emergency situation.
Long battery life – You definitely don't want to be out in the cold with no extra batteries in the heart of the woods. Choose a model with battery power that lasts for several hours or days, as is the case with the SPOT X.
Motion-activated tracking – a highly practical feature for tracking a vehicle (such as your ATV) from a distance, as is the case with SPOT Trace, or sending continuous signals to friends and family who may keep track of your journey.
Possible communication option – Of course, when it comes to safety, the possibility to communicate or send information regarding your whereabouts is always reassuring.
Learn more about SPOT products and their distinct features.
Discover SPOT
Tips and advice
To enjoy your adventure to the fullest and get the most out of your device.
Wear your device high up on your body. As these devices use satellite technology, you'll get a better signal by wearing them higher up on your body, or with visibility to the sky. "The rule of thumb? The closer they are to the sky with a clear line of sight, the better the connection to the satellites," says Fintan.
Make sure they are securely attached to your person. Although devices made for outdoor activities are generally quite solid and robust, make sure to attach yours to yourself with handy straps and carabiners. A case could also be practical when it is not in use.
Log your expeditions. Keep a log of your excursion and log your travels so as to "be able to retrace them easily if you return to the same location in the future. SPOT's enhanced mapping service, SPOT Mapping, stores your data for a minimum of three years so you can revisit your favourite trips over an over again. Your escapades will never be the same again," concludes Fintan.
Written in collaboration with SPOT
Also available in: French