Hiking Gear: Get the whole family ready for winter walks
Also available in: French
This winter, introduce the whole family to hiking and create magical moments to remember with the whole tribe! Whether you're a beginner or a seasoned pro, bringing along your little ones or your baby on the trails requires adequate prep and the best hiking gear. 
In this article, you will discover the essentials to gear up young and old for winter hiking as well as tips to make sure that pleasure and comfort are top priority during your outings on the trails.
Shop – Hiking Gear
Shop – Heating Products
Get ready for anything with the right hiking equipment
Even if you decide to do beginner/easy trails with baby on board, certain clothing items and accessories are a must.
Layering…always layering
Since the temperature, in mountainous areas, can change quite quickly,
First, start with base layers made of merino wool or a breathable textile fabric. Add warm vests, a down jacket or down vest on top and finish off with your winter jackets and pants that will protect you from the cold. To learn more about layering, check out our tips for practicing this technique.
Also, consider bringing some extra blankets, tops, mittens, tights, and scarves in case it gets really cold or the wind kicks up during your hike.
In this same vein, bring along a second and even third pair of socks (for you and your little ones), in case snow gets into your boots and your feet (or theirs!) get cold. Make sure everyone is wearing a tuque, neckwarmer, mitts, and good hiking boots that will keep toes warm. 
Choose your winter accessories wisely by reading the tips in this article.
Staying hydrated
Plan to bring along healthy snacks (granola bars, nuts, fruit, dark chocolate, etc.) and 1 to 2 litres of water per person for the duration of your outing. In the cold, you risk not noticing how thirsty you actually are, and not drink enough. To remedy the situation, nothing is better than flexible water reservoirs with tubes that you can use while walking instead of stopping every time to take out your water bottle. Otherwise, a regular water bottle may also be appropriate.
Also, think about bringing a hot beverage in an insulated container; this will ensure that the whole family is warm and everyone is well hydrated. Hot chocolate, soup or broth, coffee or tea for the adults, etc.
Wearing must-have accessories for more comfort
Other essential accessories to bring with you? Hot pads to put in boots and mittens, a first-aid kit, tissues, walking sticks, and headlamps if you plan to be out past dark.
If your little ones are too young to walk, why not get them used to the great outdoors in a baby carrier? Seeing little birds, chipmunks, or even a deer will delight them and the steady pace of your walk will keep them calm.
Little luxuries worth the investment
You wouldn't want to have to turn back because your teenager's feet are too cold or your toddler is shivering.
Consider adding heated clothing and accessories to your stuff; jackets, socks, chairs, pillows, etc.
Choose your trail carefully
Start off by getting informed about the different trails at your disposal at a local tourism office for the region or the park where you'd like to go.
Check out the total number of kilometers to hike and calculate that the average adult walks at a speed of 4 or 5 kilometers per hour. A 5 km hike should take anywhere between an hour and hour and a half, depending on the difficulty of the trail and the physical shape you are in.
Now, with children, and adding in some stops for photos, snacks, and bathroom breaks, you can easily plan for double the time – meaning between 2 to 3 hours for the same trail.
If you get them used to it when they are young, children have the capacity to climb steeper trails with an ease that could surprise you! But, those who have never walked on different paths need not only more time, but lots of encouragement to complete the trek.
So as not to discourage your children from getting used to hiking, choose the beginner trails first and increase the level of difficulty as you go. In the winter, find out about the snow conditions whenever possible. An intermediate trail can oftentimes be more demanding and longer to get through with soft, freshly fallen snow, while an expert trail could be less difficult if many snowshoes have created a path through it.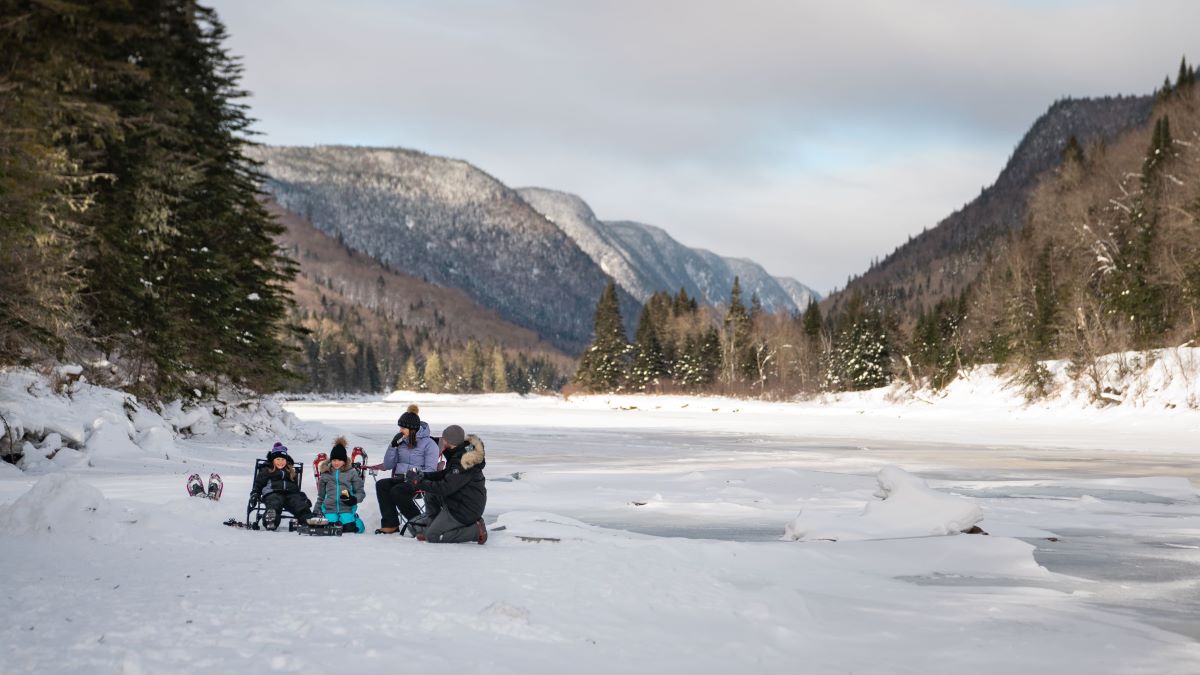 Going at everyone's pace
In order for all the members of your clan to have a good time, it's important to respect each person's pace. If one of your children feels like running at one point, explain that you don't need to walk side by side while hiking, but that the important thing is that each person goes at a speed that he or she can maintain until the end. Meaning, not too fast, but not too slow either. Allow your children to walk ahead or behind you. And don't forget to encourage them to observe nature, and drink and snack a little.
During the winter, it's preferable to take several short breaks than long, drawn-out ones, so that your body may keep in as much heat as possible, and so that your clothing doesn't become humid from perspiration and freeze.
What's certain is that no matter where you choose to go hiking, the fresh air will feel great and you'll create memories to last a lifetime!
Also available in: French