Selecting the Right Paddle Board (SUP) for Your Activity of Choice
Also available in: French
So, you've decided you want to get into stand up paddle boarding? Choose the right board according to your activity…and your personality!
Read our Paddleboarding Guide to discover a ton of tips and tricks about this relaxing and fun activity that will allow you to enjoy the summer sun.
Select the activity that you'll be doing on your SUP
In order to choose the right stand up paddle board (SUP), it's important to ask yourself a few questions about the activity you're thinking of doing, how frequently you intend to head out on the water, what type of waterbody you'll be on, etc.
We've created a fun, easy quiz to help guide you in your activity selection.
1/ Which of the following words describes you best?
2/ Which sentence describes you best?
3/ What's your favourite time of day?
4/ Which of the following words would you say is your favourite?
5/ What type of waterbody do you prefer?
6/ How experienced are you on a stand up paddle board (SUP)?
7/ How often do you aim to head out onto the water?
Time to take a look at your results. If you answered mostly…
A, opt for SUP cruising

B, opt for SUP yoga

C, opt for SUP touring

D, opt for SUP surfing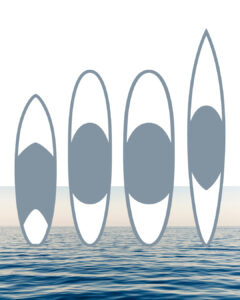 The right stand up paddle board based on your activity
1. Cruising
You can select a hard or an inflatable SUP. Go for medium length (from 10 to 11.5 ft/305 to 350 cm) and wide enough to allow for good stability (30 to 32 inches/76 to 81 cm). The board should have a more rounded nose.
Use it in calm waters to get used to the activity and consider heading out with a group for more safety. Teenagers and young adults can also use this type of board to familiarize themselves with the sport.
Quick tip
If you're thinking of heading out with your dog, make sure your furry friend isn't afraid of water, remains calm, and wears a life jacket. Consider trimming your dog's nails as well before getting on the paddle board.
2. Yoga
Both types of stand up paddle boards, inflatable and hard, may be used for doing yoga on the water. It is, however, recommended that an inflatable SUP be used, as the surface is more comfortable.
Your stand up paddle board should be of medium length (from 10 to 11.5 ft/305 to 350 cm) and wider (34 to 36 inches/86 to 91 cm), as you'll need optimal stability in order to carry out your different yoga positions.
Opt for calm waters, free of waves and strong currents.
Quick tip
Attach your paddle to your board very well and let it float out on the water if you'd like to use as much space as possible.
3. Racing or touring
This one's a no-brainer, a hard SUP is in order.
This type of board is generally longer (12 to 13 ft/365 to 396 cm) and a little less wide (30 inches or less/76 cm or less) in order to maximize aerodynamics and speed. The nose is pointed, allowing for better direction and precision.
It's good for almost any body of water, except very rocky areas or extremely agitated waters.
Quick tip
Invest in a good dry bag, as you wouldn't want your personal belongings to disappear underwater during this livelier activity. 
4. Surfing
Opt for a short, hard paddle board (less than 10 ft/less than 305 cm), equipped with a fin and a pointed nose.
This is a great board for oceans, seas, rivers, and other wavy water bodies.
Quick tip
Pay attention to your board's deck pad: it should be longer and rougher than other types of boards in order to allow for optimal traction.
3 safety tips
Wear a personal flotation device (PFD) 
Check out the Transport Canada website and get informed about safety items you should have on board in the Safe Boating Guide.

Wear a leash and come back before sundown, especially if you do stand up paddle boarding in the wintertime. Also, try to avoid heading out solo.
Come visit us in store to see our selection of SUPs. You can count on the expertise and recommendations of our sales consultants in order to gear up properly for your water adventures. You can also visit our website to find the right watercraft for you to enjoy all summer long.
Shop – Nautical Gear
Also available in: French