The 10 Best Hunting and Fishing Outfitters in Ontario and Quebec
Also available in: French
You've been catching trout for years at the lake near your cottage? Convinced that the best spot to hunt partridge is the woods behind your brother-in-law's cabin? All that is about to change! Discover some of the best hunting and fishing outfitters to escape and quench your thirst for these thrilling activities.
Please note that the outfitters in this article are very popular. Reservations need to be made several months in advance in order to be sure to get a spot and plan out your hunting or fishing trip meticulously. Several last-minute packages are also offered; you will simply need to call or visit the outfitter's website for more details.
The best hunting and fishing outfitters in the province of Quebec
Shop Hunting Gear
Shop Fishing Gear
1. The Poulin de Courval outfitter, in the Monts-Valins of Saint-Fulgence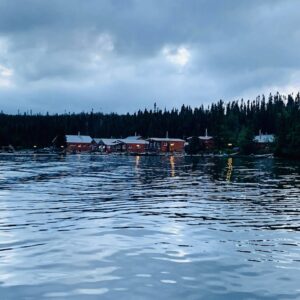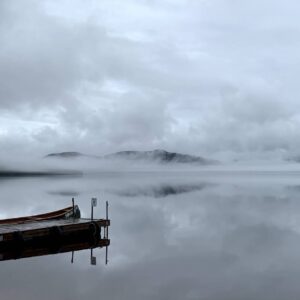 Located away from the hustle and bustle of the city, close the the Monts-Valin national park in Saguenay-Lac-Saint-Jean, this outfitter in known for the magnificent Poulin de Courval Lake, one of the largest lakes in Mont-Valin, which abounds in trout. Something that also makes the location famous is that no fish stocking is done in this 28 square-kilometre body of water, which is one of the largest native brook trout lakes in the world. Several packages are offered, including ones that include a boat (in American, European, or semi-American fishing plans), as well as moose and black bear hunting packages. It's also possible to organize special stays for groups (you must reserve at least 35 beds out of the 46 available spots to be able to reserve the entire outfitter), and families, and to land at the outfitter by sea plane. Located near the water, the rustic-style private cottages all have a breathtaking view of the lake and will welcome you so that you can spend a comfortable and tranquil stay. A bonus? Even your favorite four-legged companion is welcome to tag along with you!
For reservations (mid-May to Mid-October): website / 418-690-4096 (in season) / 418-944-9764 (off season)
2. The Vérendrye Wildlife Reserve, between the Outaouais and Abitibi-Témiscamingue regions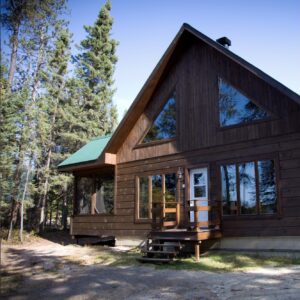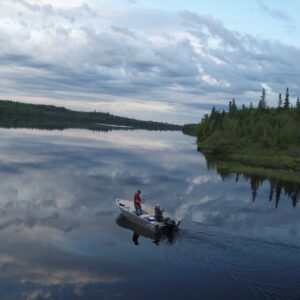 With its almost 12589 square kilometres and 4000 water bodies, including the Cabonga and Dozois reservoirs – which are immense. This vast wildlife reserve includes multiple cabins available for reservations on whether you want to run or fish. Among the packages offered, you can access the Domaine chalets, Granet and Nadagam sectors, Joncas sector, Modik Giroux chalets, and Modik Victoria chalets if you want to fish for smallmouth bass, walleye, sturgeon, northern pike, brook tour or lake trout. If you prefer small game hunting, the Domaine des chalets is for you. You will also be able to practice white-tailed deer hunting. So, why choose this particular area – declared a wildlife reserve in 1979? To catch lots of fish, to bring your children and see their eyes light up, for the cleanliness of the cottages and the remote location away from the city, and for the Rolland Lake waterfall – with 150 species of birds and 40 mammals (hello wolves and foxes!), it's a must see. A perfect place to disconnect from screens and reconnect with nature.
For reservations: website

 / 1 800 665-6527
3. The Domaine du Renard Bleu Outfitter, in Saint-Damien
This outfitter, located in the Lanaudière region – only 1 hour and 30 minutes from Montreal – is easy to access. As soon as you set foot here, you will be won over by the charm of the place and the natural beauty of the outdoor sites. The outfitter provides six lakes around which a multitude of camps and cabins can accommodate from 4 to 18 people. Each cabin has its own charm and the facilities are sometimes luxurious and modern, sometimes more rustic. Depending on the package you choose, you will have access to 22 lakes to fish for rainbow and speckled trout, as well as 8 hunting areas to harvest moose, partridge and small game. You will have access to clean and functional boats and you can even rent motors or a pontoon to take a trip. A unique place to discover!
For reservations (May to October): website

 / 450-835-7422
4. The Seigneurie du Triton outfitter in Lac-Édouard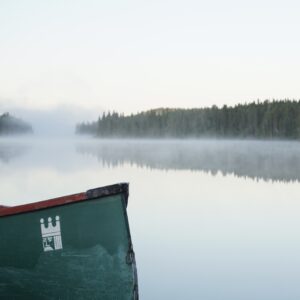 The history of the Seigneurie du Triton alone makes this spot worth the detour. Accessible only by water, the outfitter came into being as the Triton Fish and Game Club, founded by Alexander Luders Light, a railway engineer, in 1893. Over time, the club has attracted many big names including the 26th and 33rd U.S. Presidents – Theodore Rooselevelt and Harry S. Truman – Winston Churchill, the former Prime minister of the United Kingdom, and members of the Rockefeller and Molson families. For accommodation, an inn as well as several sophisticated chalets will make your stay as comfortable as possible. Should you opt for a fishing package, you can fish for speckled trout, walleye and pike on over 12 lakes and a large river. And who knows, with the generous waters of Triton, you might just manage to catch some trophy trout and make it into the "Over 2-Pound Club". Should you choose to hunt, you will have access to a territory to hunt animals such as black bear, partridge, grouse, and hare. If you wish to simply enjoy the outdoors, a host of activities from yoga, to canoeing, to a night in a teepee are available for you and your loved ones. Above all, you will not want to miss the Fauniquement femme event, organized by the FedeCP, which will take place at the beginning of July 2022, and which teaches women all about hunting and fishing, alongside volunteers and other participants.
For reservations (May to September): website 

/ 819-653-2150
5. The Saint-Maurice Wildlife Reserve, in the Mauricie region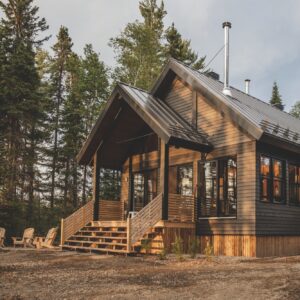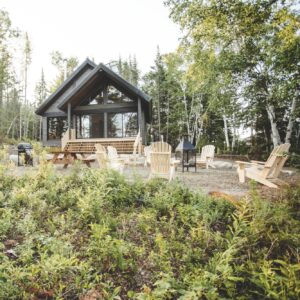 Well known to fisherman and small game hunters, this wildlife reserve introduced into the Sépaq Parks in 1995, attracts outdoor enthusiasts due to its numerous streams, lakes, and rivers, but also for Steamboat Rock, Dunbar Falls, its sandy shores and the only place to find kokanee salmon in Quebec, introduced to Quebec in Lake Normand after Expo 67. To choose from: a variety of packages with accommodation and motor included, family fishing, moose hunting (if you win a draw), and small game hunting spread over different sectors of the reserve. The fabulous horizon cottages in the Dunbar section are worth a visit. And trust us, you won't leave without pike, kokanee, speckled trout, ouananiche, or lake trout, we promise!
For reservations: website / 819-646-5680
6. The White Deer outfitter in Bowman
This camp didn't get its name for nothing. Meet with family or friends to hunt white-tailed deer with a bow, crossbow, black powder or rifle in an exclusive 43 square kilometre site this fall. If you're passionate about fishing, two packages are available to you during the summer or the fall. In total, browse the 26 lakes, divided into 3 fishing sectors. Search for speckled trout, rainbow trout and lake trout in the Provision sector, speckled trout and rainbow trout in the Grill sector, and speckled trout, rainbow trout, pike and bass in the Pointes-des-Pins sector. Fun fact: young people under 18 years of age and admitted to the outfitter free of charge (from July 1).
For reservations: website /

 819-454-2313
7. The Pourvoirie du Milieu outfitter, in Saint-Michel-des-Saints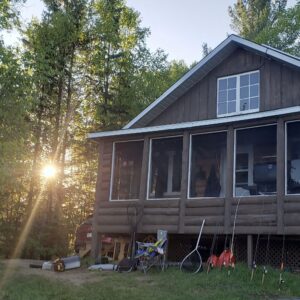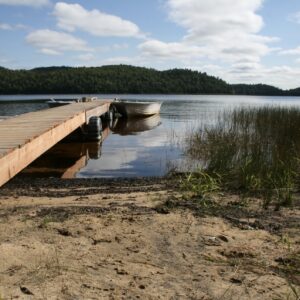 The 19 lovely rustic cottages of the Milieu outfitter are practically all on the shores of a lake, with no neighbours nearby. Fully equipped with solar-powered panels, they allow you to rest, relax and cook between two fishing trips for bass, lake trout, walleye, ouananiche, and perch. In addition, several lakes are home to native speckled trout. For those who love adventure and thrills, ten lakes are at your disposal where you may catch pike, a rather active species that requires a little more energy. A must-stop is legendary Lake Murray, and Lake Laviolette, one of the most popular. Otherwise, wander the 200 km or so of forest roads and footpaths to spot black bears or small game like hares, partridges, grouse, and migratory birds. A new experience offered since last year: a package to hunt white-tailed deer, or deer, that runs until the month of November. Choose from the various packages at this well-located gem of a place and ask for the assistance of a guide if it's your first time at an outfitter.
For reservations (May to October): website

 / 450-833-5335
The best hunting and fishing outfitters in Ontario
Shop Hunting Gear
Shop Fishing Gear
8. Eagle Lake Island Lodge, in Machin (near Eagle Lake)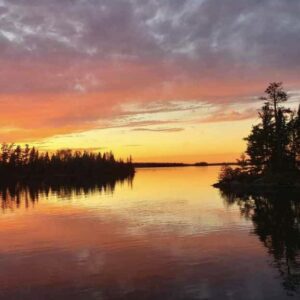 Dedicated to fishing of muskellunge (40 to 50 in), walleye (15 to 31 in), northern pike (20 to 40 in), smallmouth bass, lake trout, and yellow perch fishing, this vast camp located in a unique setting can accommodate couples, small groups, large groups (20 people or more), corporate meetings, as well as families. The 68,000 acre lake surrounds an 8 acre island smack in the middle of a wild paradise that will allow you to escape and recharge your batteries away from the urban chaos and stress. The motto here is to stay close to the fish, not to have to spend time boating to them. The Sunset country region, which bears its name well, offers splendid sunsets accompanied by the sound of waves, loons and eagles over the water. By choosing their all-inclusive packages, all that's left to do is relax, and they'll take care of everything: meals, fish preparation, drinks, and all the rest.
For reservations (May to October): website / Summer phone: 807-633-1428 / Winter phone: 920-579-4037
9. Blue Heron Resort, in the Algoma region
SAIL collaborator and professional fisherman, Wil Wegman, has traveled across Canada and the United States in search of the best fishing catches. On his last trip to the Algoma region, he visited the iconic and historic Blue Heron Resort. "It was a fall fishing trip and our main species caught was smallmouth bass. Even on the windiest days, the hundreds of islands and remote bays gave us a respite from the wind. The bass had been wonderfully active. A return visit in the spring to enjoy the incredible walleye, pike, and even muskellunge fishing not far from Blue Heron and the rest of the Spanish River is definitely on my agenda", shares Wil Wegman. "You will find cottages there fully equipped with a bathroom and kitchen and the essentials are provided: kitchen utensils, dishes, sheets, television, etc. It is also possible to rent very well maintained and efficient boats. You can even book a cottage to go to with the family if you'd like to take a break from fishing".
For reservations (May to October): website

 / 1-888-406-1111
10. Bear's Den Lodge, in Alban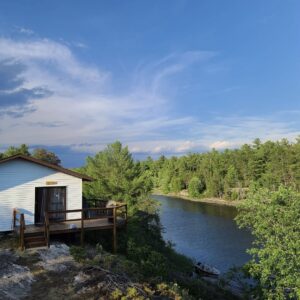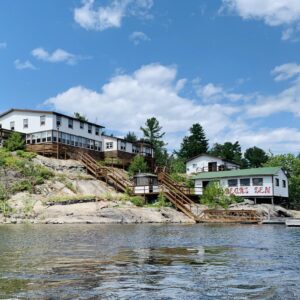 Why does our contributor and founder of the SheLovesToFish.com blog recommend this place? "For the incredible variety of fish species, the spectacular scenery and the simply great hosts," she reveals. In addition to offering fishing packages in the majestic French River to catch trophy muskellunge, walleye, pike, small and largemouth bass, carp, catfish, perch, bowfin, sunfish, bluegill, and even salmon. In contrast, sturgeons are a protected species of fish. They are a bear management outfitter, allowing you to indulge in black bear hunting with archery and rifle. The family business offers American Meal Plans and with fully equipped electric Housekeeping cottages, boats with motors, a fishing store with worms, sonar rentals, and more. The most beautiful thing? Bear's Den lodge is proactive in educating people and conserving natural resources so that all can enjoy them for years to come. If you also enjoy spending time in nature, this is the place to go for stargazing and photographing wildlife. If you're a foodie, the excellent, home-cooked meals prepared by a chef and master butcher have attracted customers for a long time. Finally, Bear's Den lodge is home to the 14lb Line Class World Record muskellunge weighing 59 lbs 11oz.
For reservations (May to October): website

/ 705-857-2757
Other hunting and fishing outfitters to visit in Quebec and Ontario
Visit the websites of the Fédération des Pourvoiries du Québec (FPQ) and Ontario Lodges to find a camp or an outfitter, and plan a memorable trip.
Be sure to gear up well and bring all the necessary equipment for your fishing trip or hunting expedition.
Also available in: French