3 Tips for a Successful Hike With Your Dog
Also available in: French
The hot season has arrived, and with it, your favourite summer activities. If you're planning to bring your dog on your next hikes and forest outings, you will first have to choose your destination, then make sure you bring the necessary equipment for a successful hike with your furry friend.
Check out our Hiking Guide to discover more tips about this popular activity that can be done both in summer and winter.
In this article, we'll cover:
Before getting started, have a look at our selection of gear for your favourite furry friend.
1. Getting your dog ready
If your dog is more used to the city and rarely goes out in the woods, start by training him by taking walks on a small, flat path near your home, then gradually increase the pace and duration of the outings.
Test your gear before heading out by dressing your pooch in a dog-friendly backpack and boots, then analyze his reaction. It is better to have planned beforehand rather than having to deal with your dog's surprise once you're out in nature.
Do not hesitate to consult your veterinarian before your hike to determine if your dog is calm, mature and healthy enough to walk for long hours (don't forget the car ride to the trails that can be stressful for him).
2. Choosing a trail
As a dog owner, you know how difficult it is to find a trail where your pet is also welcome. Some of the most impressive trails and views are generally forbidden to animals.
Fortunately, your four-legged companions are now allowed in several National Parks in the provinces of Quebec and Ontario. However, it's always a good idea to check official websites beforehand to make sure. Also read the conditions and familiarize yourself with the rules for dogs before you go out.
Quebec – Most Sepaq national parks allow dogs, but check the list before making your choice. 
Ontario – You can bring your dog to any national park in Ontario, as long as you follow certain regulations and limit access to certain restricted areas. 
Here is a brief selection of locations to add to your list of must-sees:
Hautes-Gorges-de-la-rivière-Malbaie National Park, Charlevoix (Quebec)
A must-see destination for international tourists, this park now welcomes dogs on most of its trails along the river and its rapids. Several lookouts are located there.
Mount Orford National Park, Eastern Townships (Quebec)
This area is very popular in winter for its ski slopes, but you can enjoy it in summer without leaving your dog behind. You will find trails for all levels as well as breathtaking peaks. Make sure to visit it in the fall so you can see the colour changes of the maple trees that cover over half of the park's land.
Opémican National Park, Abitibi-Témiscamingue (Quebec)
Walk the well-known trails of the Grande-Chute and the Inukshuk and be sure to cross the Estacade trail along the shore of Lake Temiskaming. A heritage trail that is worth the visit!
Mount Tremblant National Park, Laurentian Mountains (Quebec)
The perfect place for your weekends out of town is now even more welcoming and allows you to share it with your best furry friend who is allowed on many trails in the various areas. Try the La Roche, Corniche, Chute-aux-Rats and Boucle du Lac-de-L'Assomption trails, among others, where dogs are allowed.
Balsam Lake National Park, Kawartha Lakes (Ontario)
This park, which includes a dog park, has two trails: the 2.6 km Lookout trail where you can enjoy a panoramic view and the Plantation trail, a little longer in distance at 4.2 km, suitable for intermediate hikers.
Pinery National Park, Lambton, Ontario
This park includes a magnificent 10 km white sand beach along Lake Huron in addition to several fairly short trails in some majestic pine and oak forests.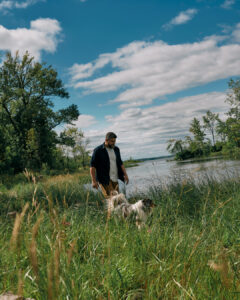 3. Equipping your dog
If you are used to venturing into the woods, you are probably already equipped with all the necessary gear to enjoy your outings. However, it is important to equip your dog as well to optimize the experience and be safe. Don't forget your dog's leash, an essential requirement in most parks.
Outdoor accessories for dogs
A harness
A comfortable, well-fitted harness will allow you to help your companion through rugged trails and ensure your pet's safety near any cliffs. We know how distracted dogs can get at the sight of a squirrel.
A bowl
Be sure to bring a bowl for your dog to drink from. Some waterproof models will take up very little space in your bag and you will prevent Fido from quenching his thirst in a body of water where harmful bacteria may be found. Therefore, remember to bring enough water for you…and your dog!
A nutritious snack
Don't forget to prepare a snack for your pet! If you are planning a picnic at the top of a summit, your dog will also need nutritious treats to maintain energy levels.
A backpack
If your dog has energy to spare, why not bring along a suitable backpack? This will allow for carrying your pet's own water supply, excrement bags and perhaps a snack bone.
A pair of boots
If your dog has fragile paws, you may want to gear him up with small boots that will protect his paws from rocks, branches and colder soil (if you are walking in the spring or fall, for example).
A life jacket
During heatwaves, you may want to let your dog bathe in nearby waterways. A life jacket comes in handy to let him swim with safety. 
To the trails!
Also available in: French