10 Winter Activities That Are Off The Beaten Path
Also available in: French
Experience the cold season in a different way by experimenting with unconventional activities. Winter is the time to explore unknown peaks, to get out of your comfort zone and to contemplate the beauty of Canada's landscapes. Filles du Nord has put together its top 10 suggestions for activities to do in different regions of Quebec that will inspire you to get outside, no matter the weather.
Article written by Filles du Nord, outdoor content creators
Discover 10 winter activities that will make you enjoy Quebec winters more than ever!
Before you leave, make sure you're well-equipped for your adventure and stay warm, no matter what the weather.
1. Go ice fishing and admire the colourful shelters in Abitibi-Témiscamingue
Abitibi-Témiscamingue has an abundance of lakes in its vast territory. In winter, ice fishing is a particularly popular activity! Enjoy a stay in the region and visit the fishing village of Saint-Marc-de-Figuery. You will find a different theme for each cabin such as the Potato Shack, the Saloon, the village church and more!
2. Alpine touring on fresh snow at Mont-Édouard, Saguenay-Lac-St-Jean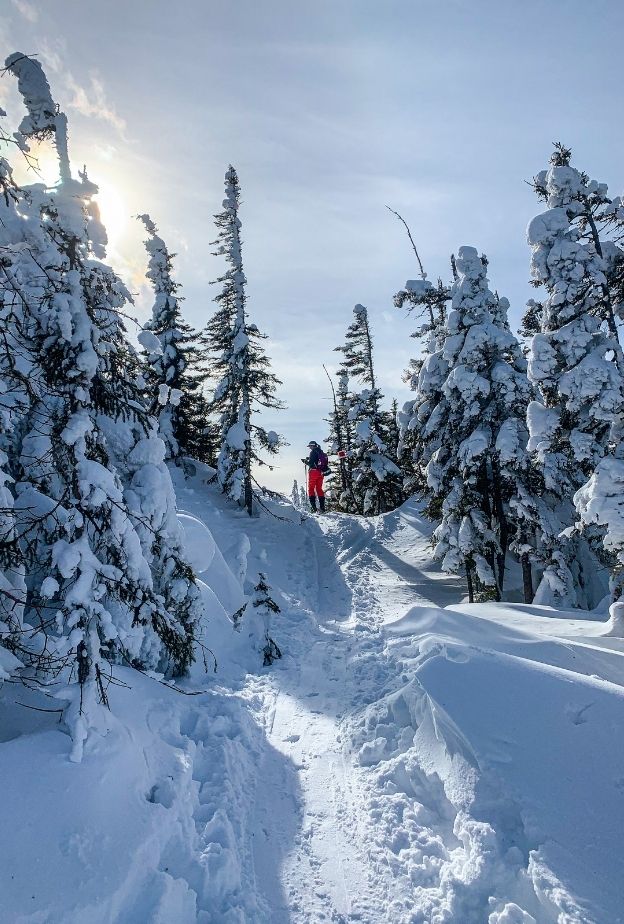 Increasingly popular, alpine touring consists of climbing a mountain with the help of skins. Yes, it's demanding, but the effort is well worth it, especially when there is fresh snow waiting for you. Moreover, the off-piste sector of Mont-Édouard is a real gem to discover if you are a powder lover. You can even spend the night in one of the huts on the mountain to enjoy the first tracks the next day. Check out this article to find out everything you need to know to learn alpine touring!
3. Give yourself a chill with the winter Via Ferrata, in the Laurentians and Charlevoix
What is a Via Ferrata? It's a perfect combination of hiking and climbing. This activity is well known during the summer, but did you know that it is also possible to do it in winter? It's a great way to get a dose of adrenaline, admire the beautiful winter landscapes of Quebec and get a breath of fresh air! Several centers offer this activity, such as Tyroparc, in the Laurentians, and Les Palissades de Charlevoix. The latter even offers "ferra-ski", a combination of ski touring and via ferrata!
4. Take an ice canoe ride on the St. Lawrence River like our ancestors, in the Capitale-Nationale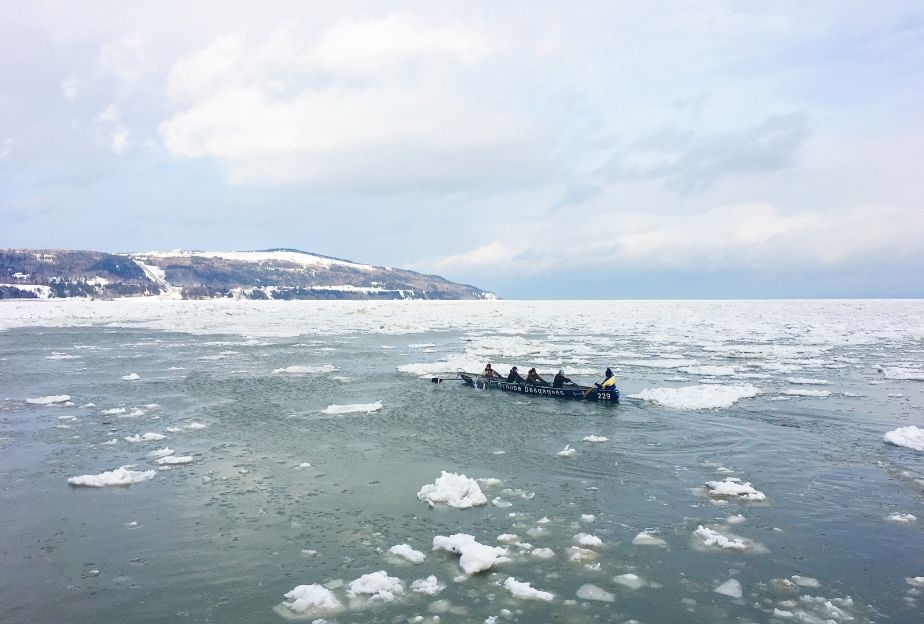 Feel like trying something a little more extreme this winter? Try ice canoeing in Quebec City! Recognized as a UNESCO World Heritage Site, this activity will give you a glimpse of the reality of the time, when the ice canoe was the only means of transportation between Quebec City and Levis. You can do the initiation with Ice Canoe Experience, a company specialized in adventure tourism. Take advantage of this activity to admire the Quebec Bridge from a unique point of view.
5. Climbing ice mounds with Maïkan Aventure, in Mauricie
To surpass yourself while climbing on ice, head to the Mauricie region for an initiation with Maïkan Aventure. A guide will teach you the basics of climbing and the particularities of ice. Equipped with ice axes and crampon boots, you will climb the ice structure: we guarantee that a rush of adrenaline and a lot of fun will be on the agenda!
6. Learn to Hok ski at the Chic-Choc Mountain Lodge, in Gaspésie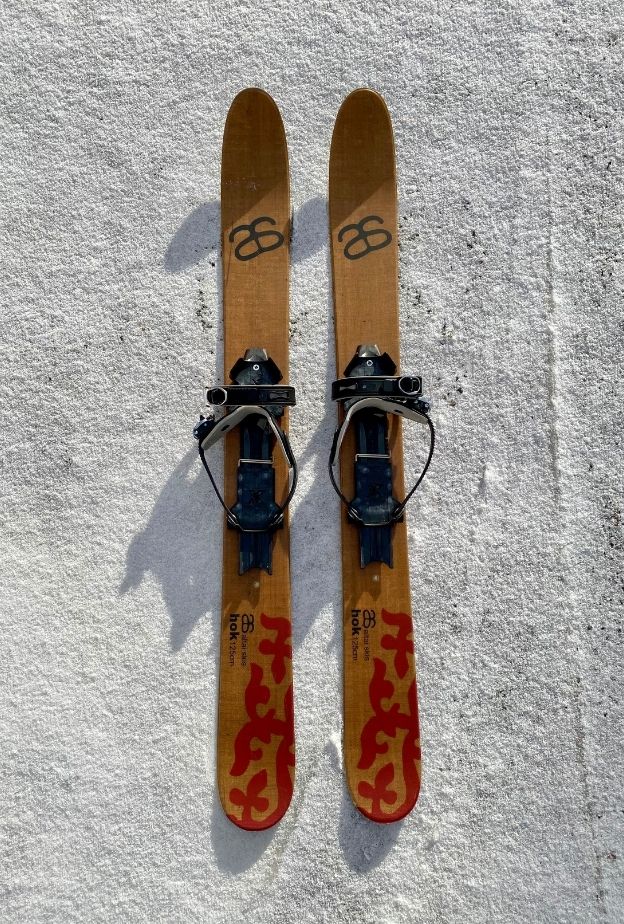 Also called snowshoe-skiing, Hok skiing is an accessible hybrid between snowshoeing and cross-country skiing. The skis have an integrated skin that makes it easier to climb, much like a cross-country ski. Although it is possible to do it everywhere in the province, we strongly recommend that you try it at the Chic-Choc Mountain Lodge. The rental is included during your stay and experienced guides will help you discover the hidden treasures of the area such as the Hélène Falls.
7. Live an extraordinary experience with a dog sledding trip at the Chenil du Chien-Loup, in Abitibi-Témiscamingue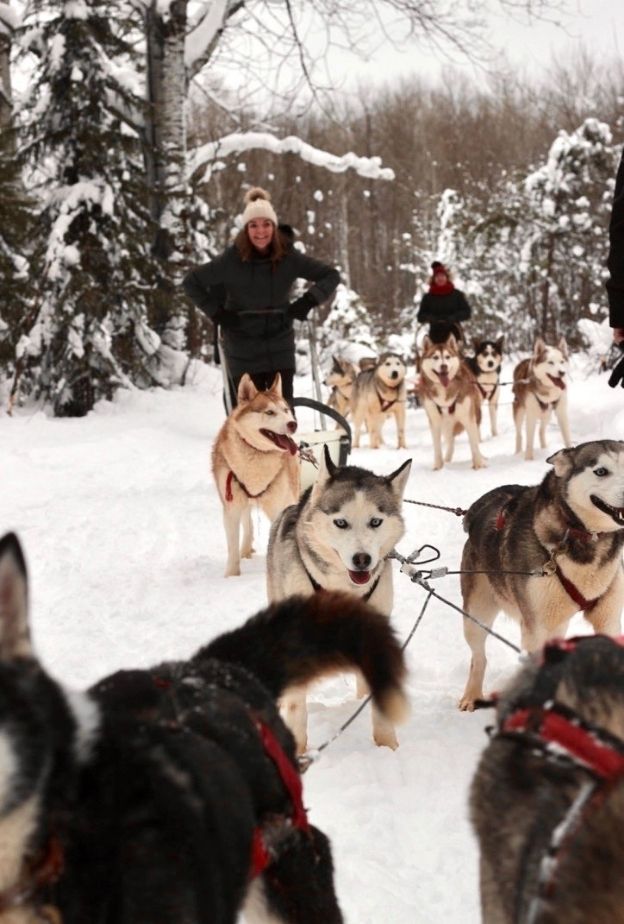 Who wouldn't like to spend some time surrounded by big, furry animals? The dog sledding activity at the Chenil du Chien-Loup is definitely a must in the region. Of course, you have to do your research before choosing your kennel to make sure that the dogs are well treated. In this case, there is no doubt that these dogs are happy in their natural habitat. It was great to see that Eric, the passionate owner, knew the name, nickname and character of each of his 35 dogs.
8. Sledding under the moon in the Vallée du Parc, in Mauricie
For a day or an evening with your family or friends, there is nothing better than sledding! This classic activity will allow you to return to your childhood during a beautiful winter day or evening. La Vallée du Parc offers a 2.5 kilometer course that you can do three times with two guides. It takes about two hours and thirty minutes to cover the trail three times by chairlift. Watch the video below to see what awaits you on a night sledding trip! Please note that this activity is open to children 10 years and older.


9. Organize a winter activity that is anything but ordinary thanks to the joëring ski at the Coeur-Corico Equestrian Farm in the Côte-Nord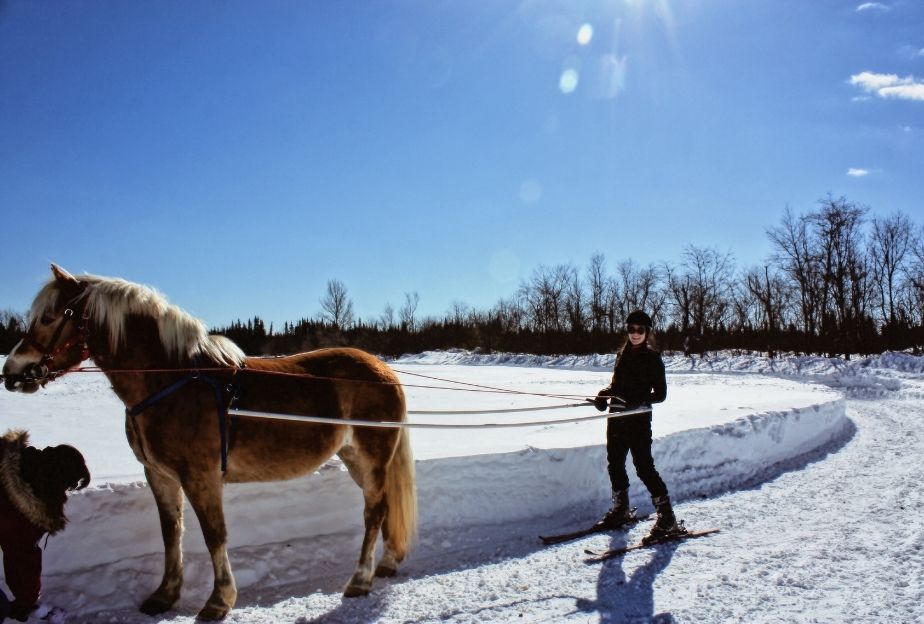 If you're looking for an unusual winter activity to get away from it all, ski joëring will not disappoint you. It is a sport where you put on your skis and then let yourself be pulled behind a horse. At the Coeur-Corico Equestrian Farm, there is even a moment of getting to know the animal before you launch yourself onto the practice ring.
10. Practice kite skiing (snowkite) in Oka, in the Laurentians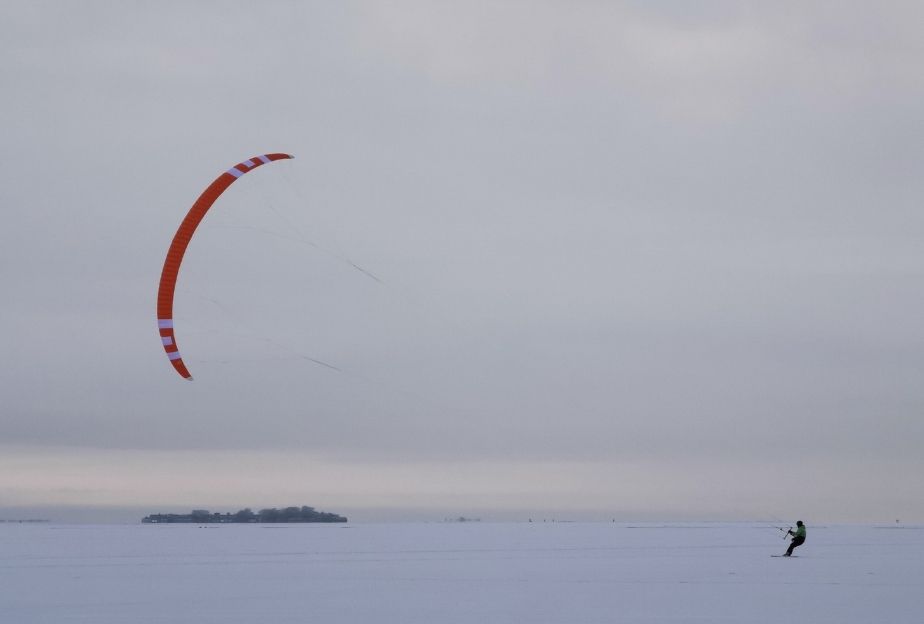 Want to experience something out of the ordinary? Try kite skiing (better known as snowkite)! It is the winter version of kite surfing. We highly recommend taking an introductory course before you take the plunge and try snowkiting. With skis or a snowboard on your feet and a harness around your waist to support the kite, you'll glide along with the wind while admiring the scenery around you. This activity is much more accessible than it sounds and will give you a great sense of freedom. To book a snowkite lesson or equipment, contact VoilOka.
Also available in: French