3 Easy Space-Saving Tips for your Backpack
Also available in: French
No matter what type of expedition you plan to do, two thoughts often enter the minds of adventurers: What you want to bring VS What you really need to bring. Here are 3 tips to save space in your backpack and avoid this inner conflict.
1. Use some compression bags

There's no doubt that the compression bag is a hiking, trekking, camping and canoe-camping enthusiast's best friend, as it allows for tons of room for packing as many clothes as the bag can handle.
It comes in all sizes, ranging from 8 liters to 30 liters. Compression bags can also be used to separate clean clothes from dirty ones or to effectively organize your clothes: tops in a bag, undergarments in another bag, etc… It can also significantly reduce the amount of space your sleeping bag takes.
2. Choose clothes that go well together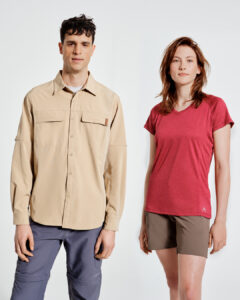 Do not make the mistake of putting together many outfits. Instead of bringing the only fuchsia shirt that goes perfectly with your grey pants, opt for a blue shirt that goes fabulously with your grey pants, beige shorts and black bathing suit.

Complementary and versatile clothing is key. A swimsuit that doubles as shorts, an athletic bra that dries quickly and can be used as a bikini top, pants that turn into shorts, a shirt that can serve as both a light jacket and chic top, a light t-shirt that will serve as your pajamas and top for the day, etc. The different ways of wearing clothes are as numerous as the selection of functional pieces offered at SAIL. The essentials of the Borealis collection are ideal for dressing you wherever you want to go.
However, make sure that they adapt well to the temperature and your type of outing (for example, camping in the forest in the fall does not require you to bring the same clothes as a three-day mountain hike in the spring), and prioritize bringing polyester clothing and merino wool: lighter, comfortable options and easy to dry.
Shop – Men's ClothingShop – Women's ClothingShop- Borealis
3. Opt for a lighter sleeping bag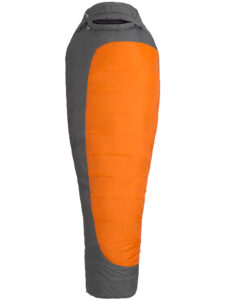 Unless you're going for a trek in the mountains for several days, you really won't be needing a -40 degree sleeping bag. Heat means more weight, so prepare adequately.

Instead, opt for a lighter three-season bag that will ensure maximum comfort without taking up extra space at the bottom of your bag.
Other quick tips to save space in your backpack
Choose the right size backpack according to your needs. Do you need a very spacious bag or one with a limited capacity?
To save space, it is essential to properly sort and organize your gear in your backpack. In addition to distributing the weight and not straining your back and shoulders, it will help you find each piece of gear and list which items are absolutely necessary and which are less. Put large, lightweight objects like your mat and sleeping at the bottom of the bag, heavy gear in the middle and clothing on top.
Use the external straps of your backpack to hang your hiking boots and poles or your tent and take advantage of the small pockets to store fragile, precious or small items. 
Before leaving, shop for a backpack and gear up for adventure by visiting the outdoor section of our website.
Also available in: French