Camping furniture: are chairs, tables, hammocks and cot beds camping essentials or glamping luxuries?
Also available in: French
The very mention of camping furniture brings images of bulky items and full to the brim car trunks. But while most of the items in the article below can sometimes be considered luxury items, they can also be lifesavers. After all, there is nothing worse for morale than sitting on a cold rock to eat a precariously balanced dinner on your knees after a long day's hike. A little comfort can go a long way towards making your camping trip a great experience. But what's truly a necessity and what's a luxury you should leave at home? SAIL buyer Joey Trudel is here to help you make informed choices when it comes to camping furniture.
In this article, you will learn:
What to look for in a camping chair?
There is an overwhelming amount of choice available when it comes to camping chairs, from extra comfy sofa seats to minimalist ultralight collapsing stools. Even the old school orange and brown folding chairs we used to see in the 1970s are back in fashion! So how can you choose the right one? According to Joey, it's quite simple. Put all other considerations aside, it comes down to the tradeoff between weight and comfort.
Backpacking camping chairs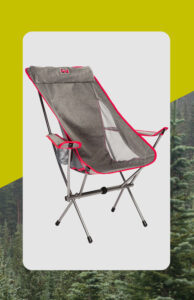 Here, weight is everything. We can all agree that a backpacking chair isn't an absolutely essential item, so if it does make it into your backpack, make sure it's as light as possible. Backpackers hoping to increase their level of comfort can opt for an ultralight folding stool, but it's worth noting that brands such as Helinox also offer lightweight products made of aluminum frames that, when collapsed, use up as little space as a 1L water bottle. These can be expensive, but they can be worth it to avoid sitting on the wet ground or a lumpy rock. Other suppliers such as Eureka and Big Agnes offer backpacking camping chairs, with price tags inversely proportional to the product's weight.
Frontcountry camping chairs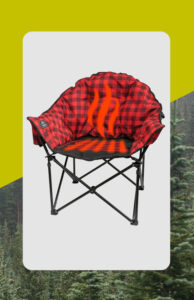 Choosing campsites accessible by car does mean that you can opt for more comfortable seating options. Here, choices are endless, from basic steel framed foldable chairs to comfy two seaters with wine glass hooks. Ask yourself how many people usually camp with you, the space you have available in your car and how comfortable your chair would be should you have to spend most of the day sitting in it while sheltering from the rain.
New innovations can also turn camping into a much more comfortable and accessible activity for a wider community of outdoors enthusiasts. For example, SAIL features a rocking chair model, which could come in handy for those travelling with infants. Other brands offer lumbar support and footrests. Now some add ons are pure luxury, but who doesn't want a cup holder for their morning coffee in front of the fire, or a side shelf for snack bowls? Brand KUMA is quite well-known for its range of glamping camping chairs, even going as far as selling a heated camping chair. With that, how could anyone dislike camping?
Should you take a camping table with you?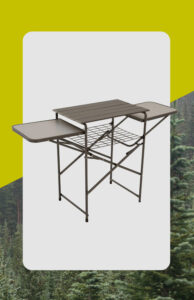 Again, a camping table isn't quite on our list of camping essentials, but bringing one sure beats trying to prepare a meal on a flat rock! And they are useful for more than cooking; tables are great for playing games, writing and balancing your lantern, amongst other things.
Backpacking camping tables
Depending on the length of your trip, a table may really not be a practical addition to your pack. However, if you do have a little room left in your bag or if you can strap it on the back, there are some ultralight table options available. Call it luxury backpacking if you will! It's important to note that these will often work by stretching polyester or mesh as opposed to a hard surface, so while useful, they may not be as sturdy as other camping tables on uneven surfaces. Brand Helinox is again a reference when it comes to lightweight camping furniture and camping tables in particular.
Frontcountry camping tables
At the other end of the camping table spectrum, you can find more spacious sturdy models for serviced campsites. Despite being fairly compact, they can withstand a good amount of weight, sometimes up to 100lb. Ask yourself how many people will be using it before you determine size, and whether you will sit around to eat or use it solely to prepare or store food.
Some models can be quite ingenious, with a main working area and additional levels on the side to maximize storage space. Look for brand Eureka for some fun options. Other add ons for glamping enthusiasts include side pockets and wire shelves for drying tea towels or rags. Don't skip out on the carry bag if it isn't included in your purchase as they can make your life much easier. Have a look at our must-haves list for camping cookouts and our glamping checklist as well for some camping inspiration.
The types of hammocks available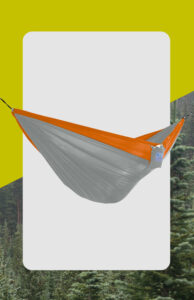 Hammocks can be used for chilling during the day, or as part of a sleep system to avoid carrying a tent. There are no major differences between the two types, and both are usually lightweight and easy to install. The main consideration will be finding two well-located trees to hang it (you could consider taking a hammock on feet with you, but these are usually very bulky and heavy). If you're planning to sleep under the stars, you'll want to bring a few additional pieces of gear with you.
Sleeping hammocks
Again, ultralight options are available for backpackers. These usually come in a compression pack and take up very little room, which explains why this sleep system is a favourite amongst backpackers. Look for a resistant fabric such as Ripstop nylon to avoid rips. Sealed seams can also help protect you from water infiltrations during downpours. However, waterproof fabric and taped seams will not be enough if you want to stay dry in case of rain. Make sure you pack a tarp or rain fly to sleep under. A bug net is also an absolute must if you want a good night's sleep. Brands ENO's and Vivere's selection offer a good range of camping hammocks.
When should you use a camping cot bed?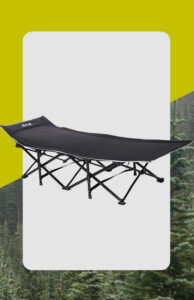 Camp beds are probably more on the nice-to-have side, but they do ensure a good night's sleep no matter how rocky the terrain. They also make it easier on those with mobility issues and struggling to get up and down, which can make camping accessible to a wider range of people.
While camp cots are much bigger and bulkier than the usual sleeping mats (see how to choose a sleeping mat here), they do increase your level of comfort quite drastically by protecting you from a whole array of unpleasantness such as mud, rainwater and creepy crawlies. They also help you stay warmer as you won't lose your body heat to the cold ground.
Again, there are light and slightly more portable (albeit not quite in the backpacking realm!) options, and some sturdier, robust but heavier models for those driving to an equipped campsite, or for hunting cabins. If you need larger dimensions, have a look at brand Eureka's product range, with models catering for tall campers (up to 6'5) and weight capacities of up to 300lbs.
Camping furniture top tips
Camp cots can be a bit on the firm side, so bring a camping mat with you to add some extra cushioning.

If you choose to bring a camping table with you, look for anti-rocking feet for added stability on uneven ground.

Make sure you're not assembling your camping furniture for the first time at the campsite! Practice putting everything together in your backyard first.
Also available in: French