Choosing Winter Running Clothes
Also available in: French
To make the most of your winter running outings this year, dressing appropriately is the ticket to happiness. Check out our tips from Pamela Boucher so that you can pick out the right winter running clothes and run through the snow and ice in comfortable warmth.
Cover photo credit: Jean-Guy Campeau
Stock up on tips for running comfortably this winter by reading this article.
Make sure to set out on the right foot thanks to our wide selection of trail running shoes.
Shop – Men's Trail Running ShoesShop – Women's Trail Running Shoes
I have always been passionate about running! From a very young age, I already liked running – as fast and as long as possible. Running gave me a lot. It gave me a feeling of accomplishment and achievement. Running intoxicated me and continues to do so to this day, and I am always looking for ways to reach new heights.
When I started winter running, I needed to face myself and I admit, in all transparency, that my first outings weren't easy ones. Let's just say it wasn't love at first run. I had to learn the basics of this sport, which is very different from running in the summer. I had to master this sport. To do so, I got well equipped, which completely transformed my experience and literally made me fall in love with winter running.
So, it's with a lot of enthusiasm that I share my experience and tips with you so that you, too, can learn to love winter running. You'll also avoid making the same mistakes I did when I started out. So, get ready to run – wherever the cold temperatures take you!
Why run in winter?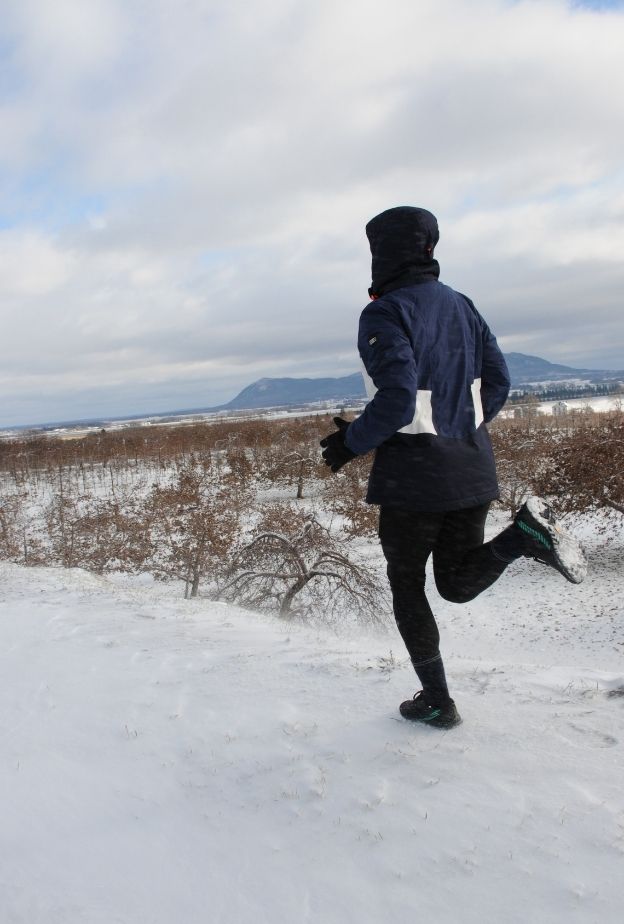 Running in winter allows you to stay in shape, to challenge yourself and to reach new heights. Doing sports outside also helps keep your motivation up, especially when there is less sun outside – and it reduces stress levels!
What winter running clothes should you wear?
To enjoy winter running to the fullest, you must dress appropriately from head to toe. Keep extremities (your head, your hands, and your feet) warm. Here are the winter running clothes you should wear.
A tuque and a neck warmer
It is essential to wear a tuque made for winter running in order to do this sport appropriately.
Select a thin tuque made from merino wool that fully covers your ears. Perfect for all seasons, merino wool wicks moisture and naturally regulates body temperature, in addition to preventing odours. Cotton should be avoided, as it absorbs moisture and cools the skin.
Avoid pom poms and opt for functionality (perhaps select a hat with an opening at the back if you like to tie your hair up) and select warmth rather than appearance.
Add a neck warmer that will complement the tuque in order to optimise your chances of staying warm as your body dispenses energy.
Depending on your preferences, you can also replace the tuque, neck warmer combination with a quality balaclava in merino wool.
Gloves or mitts
To keep your fingers warm, grab some gloves or mittens. Gloves offer better dexterity, but conserve less heat. Less practical, mittens protect you better from the cold, as your fingers share the heat. It's up to you to decide depending on your personal preferences.
Socks
To run comfortably, grab some merino wool socks. Socks designed for hiking or winter sports, that are thicker and go up higher on the calf would be a good choice.
Layers, layers, layers
Layering will make your winter outings a success. It will allow you to regulate your body heat more easily and to adjust freely depending on the level of intensity of your exercise. Especially if you are looking to build your endurance, layering is an absolute must.
Here is an overview of the essentials:
Base layer: First, wear underwear that wicks moisture and is designed for sports. Next, slip on a fitted base layer top with long sleeves made of merino wool.
Mid-layer: For optimal insulation in the cold, select a warm jacket (polar fleece for example) that will insulate the heat.
Outer layer (or shell): Leggings with inner lining (not cotton), a light windbreaker that can hold up to light precipitation is a great idea. If it's very cold, add a windbreaker pant to the mix.
In order to better understand layering, read the article here.
What shoes should you wear?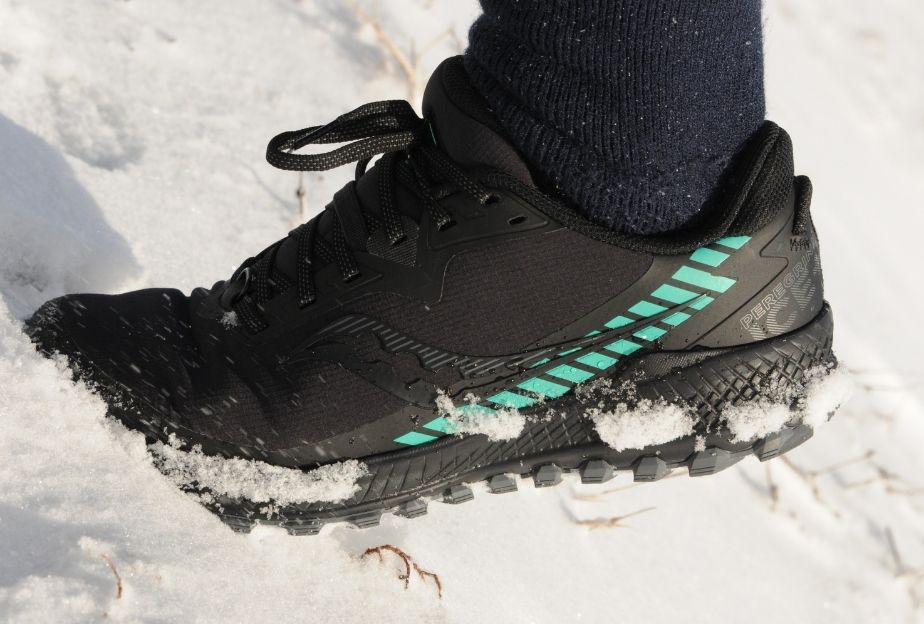 A good pair of shoes on a snowy trail or on the asphalt will get you going on the right foot! Invest in a good pair of shoes.
Consider that running in winter will be a very different logistical experience than in summer; the accumulation of snow on the ground and ice along your way are elevated risks for slipping, and you've got to do everything you can to avoid that happening.
As such, your cadence will be quicker and your steps closer together. A minimalist shoe (that allows you to feel the ground more), that's waterproof (ex. Gore-Tex) and cleats. Train running shoes, for example, have cleats that can grip the snow.
In the winter, forget the targets that you want to reach, such as your "personal best", and focus on safety with a shoe that suits your needs. Work on your endurance rather than working on your performance, which you can reserve for the summer season where you can run more powerfully and faster on the open pavement.
What essential gear should you bring?
In winter as in summer, it's important to stay well hydrated. To run without impeding your movements, you might like to consider a light hydration pack.
It's also advisable to select an activity monitor or watch tracker to gather data about your physical fitness and compare your runs (heart rate, distance, etc.)
Pro tips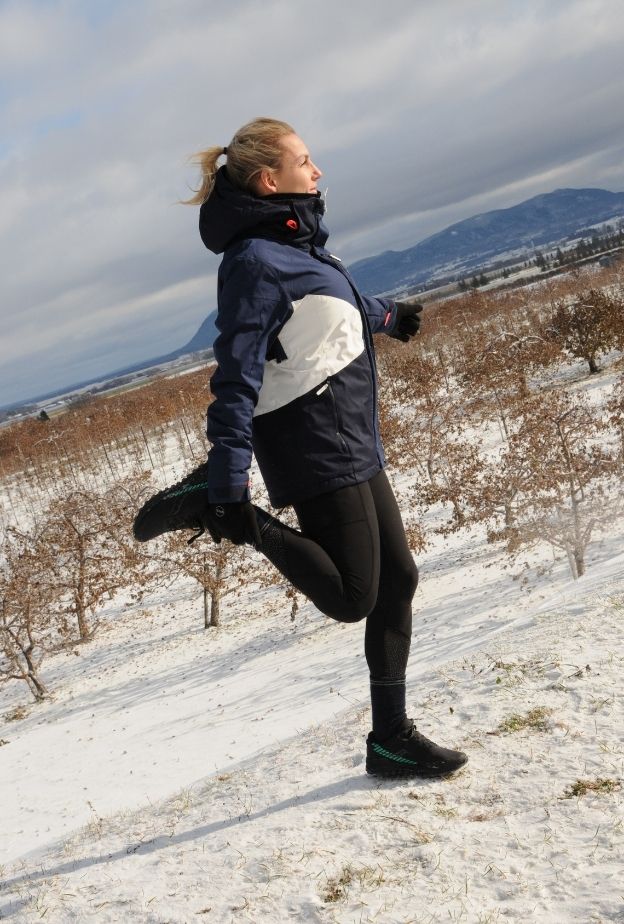 To enjoy your outings to the fullest this winter, follow these tips:
Keep up the energy: Whether it be during interval training or for endurance, opt for consistent cadence (ex. walking) rather than coming to a full stop. In this way, you will master the cold better.
Dress according to the temperature: To know how to dress, add 10 degrees to the temperature outside. Guaranteed success!
Warm up: A good warm-up and neuromotor education are required, as winter running is more demanding on our body, tendons and ligaments and could cause more musculoskeletal injuries.
Make sure you are visible: Being visible is essential when you are out running. In winter, when the sun rises late and sets early, consider some reflective clothing.
All that'll be left is the snow for you to get initiated to your winter running experience. I just know you're going to love it!
Also available in: French