8 Outdoor Activities to Do During the Long Weekends in Fall
Also available in: French
Autumn is the best season to enjoy the great outdoors, soak up the beauty of nature and enjoy the fall colours. To make the most of it, take a look at our five outing ideas in Quebec and Ontario that will leave you happily pleased over the long Labor Day and Thanksgiving weekends.
Take a look at our 8 ideas for outdoor activities to do this fall:
Ascent of the Acropole-des-Draveurs

Night in a yurt near the Wolf Trail

Bike ride in the Eastern Townships

Glamping stay in Estrie and Montérégie

Treehouse getaway

View of the colourful landscapes

Rideau Canal Kayak Tour

Salmon watching in Owen Sound
1. Ascend the Dizzying Acropole-des-Draveurs in Charlevoix
Take your time. Climbing the Acropole-des-Draveurs trail is undoubtedly one of the most beautiful hikes in Quebec, but reaching the summit is not easy. The 10-kilometer trail takes about five hours to complete. Watch for the maximum departure time so you don't miss your chance to see the place. Once at the top, you can admire the panoramic views of the Hautes-Gorges-de-la-Rivière-Malbaie National Park, some of the highest walls to the east of the Rocky Mountains, magnificent landscapes and impressive elevations.
This hike is for relatively experienced walkers and Sépaq recommends bringing at least two liters of water per person and wearing hiking boots, as the trails are uneven and a pair of sneakers or sandals is not suitable. Also, it's cooler at the top, so bet on a good layering system made up of base layers, a shell and a coat.

Hydration BagsHiking BootsMen's BaselayersWomen's BaselayersMen's Shell JacketsWomen's Shell JacketsMen's JacketsWomen's Jackets
2. Book a Yurt near Les Loups Traill
Jacques Cartier National Park is only half an hour from Quebec City. To completely unwind, choose to stay in a yurt.
Take the weekend to walk the Les Loups Trail overlooking the spectacular Jacques-Cartier and Sautauriski valleys. The trail for intermediate-level hikers is 11 kilometers long after which you can enjoy the comforts of your yurt. Live the nomad life and enjoy a change of scenery! Please note that your 4-paw companion is allowed in the park, but is not allowed on this trail. Fortunately, your pooch will be able to stretch his legs on other trails.
Also remember to bring all the accessories you will need to perform well during your hike: hiking poles, a backpack, good breathable socks, etc.
Hiking PolesBackpacking PacksSocks
3. Plan a Bike Ride through the Eastern Townships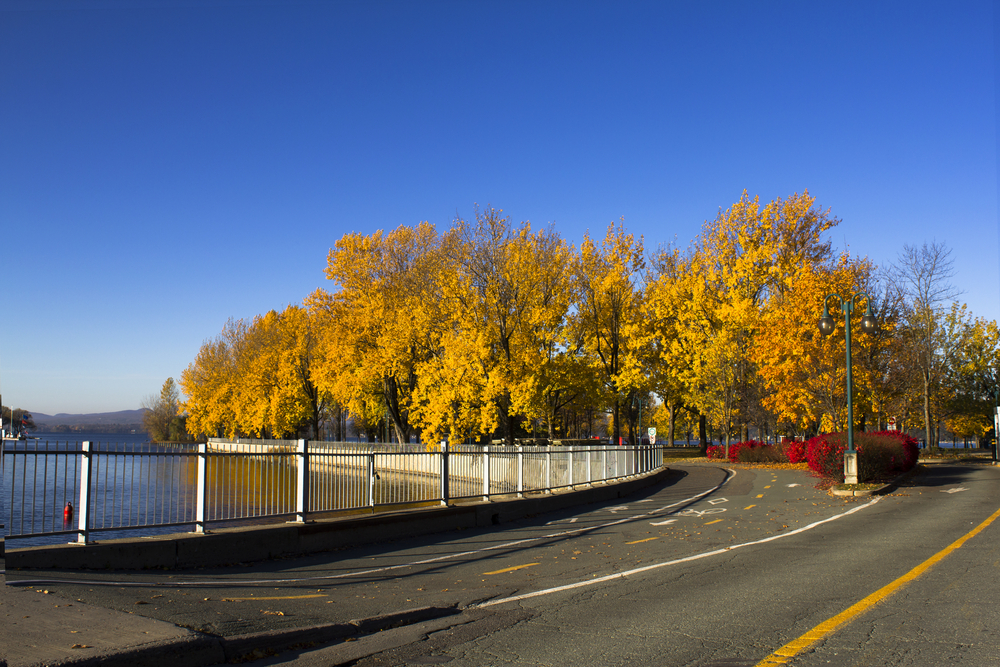 Easy and accessible, the network of trails that crosses the Estrie is perfect for those who want to take a leisurely ride or tackle a more challenging one. It has nearly 100 kilometers of trails, half of which are paved. Along the way, make sure to enjoy the many delicious local products.
You can also get on your road or leisure bike to explore the different circuits in the Eastern Townships, including the 33 km trip between Magog and Orford or the Grand Tour of Lac Mégantic of 56 km.
Make sure you gear yourself up with some essential accessories for your cycling outings: bike helmet, gloves, jerseys, bibs, and more.
Cycling HelmetsCycling Clothing
4. Camp in a Sophisticated Tent in Estrie and Montérégie

You don't need to go deep into the woods to enjoy the tranquility of luxury camping tents in the ready-to-camp facilities of the Îles-de-Boucherville National Park, which rents out 20 or so luxury tents. Don't forget to bring your bike to ride around the island before enjoying a beautiful evening in the great outdoors…a stone's throw from the city!
You can also try out the Huttopia tents made of canvas and wood that can accommodate 2 to 5 people. These include a bed, a small bathroom, and a refrigerator. You can even leave your sheets and towels at home, as everything is provided.
All you have to do is bring your glamping gear to decorate the premises and make your stay even more cozy.
5. Rent a Treehouse in various regions of Quebec

For some people, it's a childhood dream that can so easily come true. To sleep below the stars amidst the fall colours, there's nothing better than a tree house. More and more are popping up all over Quebec. The Kabania at Notre-Dame-de-la-Merci in Lanaudière. Le Diable Vert in Glen Sutton. The Parc Aventures Cap Jaseux in Saguenay–Lac-Saint-Jean. Canopée Lit in Sacré-Cœur. Find your own little nest for a weekend in the trees.
To take full advantage of your fall camping getaway, get the right equipment by visiting the camping section of our website.
6. Admire the Colourful Landscapes of Quebec and Indulge in a Host of Outdoor Activities
Before the leaves start to fall, they turn from green to yellow and from orange to red. Hurry and head to the Rigaud Festival of Colours, the Mount Owl's Head, in Mansonville, the Ara Féria automnale in Saint-Calixte, or the Val Saint-Côme Tourist Station in Saint-Côme. On the menu: outdoor activities for adults, families and children, mountain hikes, food kiosks, educational classes, etc.
Men's ClothingWomen's ClothingKids' ClothingOutdoor Gear
7. Paddle the Rideau Canal in Ottawa
Over 200 km of water is available to you so you can launch your kayak on the Rideau Canal. Be safe by wearing a life jacket and also pay attention to the wakes and locks to cross (you must have a lockage permit to navigate the canal). During your nautical trip, you can admire historic buildings and a variety of lakes, marshes and rivers. Finally, stay tuned to hear the loons sing.
8. Watch the Salmon in Owen Sound
Watch the famous Chinook salmon hopping between the waves on a hike or bike ride that borders the water's edge, beginning at Harrison Park and ending at the majestic Inglis Falls. To get there, follow the arrows and take the Bruce Trail, one of the longest trails in Canada. Just bring your binoculars, compass or geonavigator, and your curiosity.
Also available in: French