Inflatable or Hard: How to Choose a Paddle Board
Also available in: French
The popularity of stand-up paddle boards (SUP) is growing, much to the delight of water sports enthusiasts and seekers of summer relaxation. Several models are available on the market, including solid, and inflatable boards. Here's an overview to guide you in choosing a paddle board (SUP) suited to your needs.
Read our Paddleboarding Guide to discover a ton of tips and tricks about this relaxing and fun activity that will allow you to enjoy the summer sun.
In this article, you will learn more about:
To learn more about the different types of paddle boards on the market, shop online or visit your local SAIL store.
Also, make sure you have the essential accessories for your paddle board (SUP) outings.  
Overview of an inflatable paddle board
For whom is it intended? Beginners, amateurs, those who wish to try out this sport on a leisurely basis, those who live in a more cramped space, etc.
For which types of activities should it be used? Mainly for paddle board yoga or recreational cruising.
Performance This board offers relatively good performance for activities of light to moderate intensity.
Frequency of use This type of paddle board is ideal for occasional or moderately frequent outings.
Inflatable paddle boards are practical and compact. They don't require too much storage space, which is a plus if you live in a smaller house, condo, or apartment; a closet is all you need to store it.
Much lighter than its hard counterpart, it's easy to transport in any car, taxi, bus, or any other method of your choice, since all you need to do is roll it up in its carry bag and tuck it away. Added bonus: you don't need to get it onto the top of your car, nor do you need electricity, as it may be inflated with a manual pump.
Finally, despite what you might think, inflatable boards last quite a long time, as its thick vinyl and multiple air chambers allow it to withstand impacts, especially if you're paddling over shallow waters. Repairing a fractured fiberglass paddle board is a bit more difficult and more expensive, should a collision with a rock – or other object – occur.
INFLATABLE PADDLE BOARD

Pros

Cons

Compact
(easy storage)
Hard to inflate
(requires strength)

Light to carry

Slightly slower
and less powerful
than a hard model

Durable

Impact resistant

Relatively
affordable
Assembled with a paddle,
bag and other
accessories
(if purchased as a set)
Overview of a hard paddle board
For whom is it intended? Paddle-boarding enthusiasts, avid sportsmen and sportswomen, and surfing aficionados.
For which types of activities should it be used? This board may also be used for yoga and light cruising, but it may also be used for touring, racing, and surfing.
Performance This board offers superior performance during more high-intensity water sports, as it rides the water better.
Frequency of use This type of board is made for frequent escapades out on the water.
Hard stand up paddle boards (SUP) are more difficult to store once you're done using them, as they can be up to 13 ft long (396 cm). This type of board requires a spacious room with a high ceiling for storage, such as a basement or garage (or a horizontal wall mount!).
These boards are made of plastic and/or fiberglass, which automatically means that they will be heavier (approx. 40 lb / 18 kg). Given its large size, a hard board needs to be transported by car, and well-attached on a car roof rack.
HARD PADDLE BOARD

Pros

Cons

Ready to use
(no need to inflate)
A little more
fragile and prone
to breakage
Faster and more
efficient than an
inflatable model

Heavy

More stable

More expensive
Sizes and shapes of paddle boards to select depending on your activity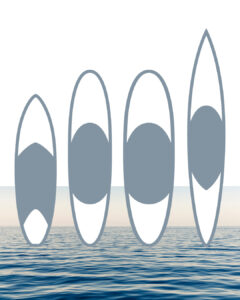 Shorter boards are easier to maneuver. Depending on their weight, they float well and offer good balance. The longer the board, the faster its speed.
le board (SUP), here are some important things to consider when shopping for the right one for you.
https://www.sail.ca/blog/selecting-the-right-paddle-board-sup-for-your-activity-of-choice/
TYPES OF PADDLE BOARDS

Activity

Length

Width

Board nose

SURFING OR BOARD
FOR CHILDREN
Less than 10 ft
(less than 305 cm)

Variable

Pointed nose for surfing,
and round nose for children
RECREATIONAL PADDLING
AND CRUISING
10 to 11.5 ft
(305 to 350 cm)
30 to 32 inches
(76 to 81 cm)

Round nose

YOGA
10 to 11.5 ft
(305 to 350 cm)
34 to 36 inches
(86 to 91 cm)

Round nose

RACING
AND TOURING
12 to 13 ft
(365 to 396 cm)
Less than 30 inches
(less than 76 cm)
Pointed nose
for better precision
and navigation
Note: Paddle boards are generally suitable for all weights, but people of a heavier weight may prefer a wider board, which offers more stability.
How to choose a paddle
The right length
Raise one arm above your head and stand the paddle up in front of you. The handle should reach the height of your wrist.
Flexible or stiff
Choose an extensible telescoping paddle if several people will be using the same one. It will fit into a backpack and doesn't require a large storage space.
Otherwise, select a one-piece paddle for racing or touring.
Material depending on use
Gear up with a telescoping paddle if you are planning on using it for yoga.
Opt for a fiberglass and carbon fiber paddle if you plan on doing more touring, as it tends to offer better performance.
Also available in: French