Paddle Touring: A One More Day Tripper
Also available in: French
Whether you're island hopping in Georgian Bay or camped by a backcountry lake, paddle touring is all about sleeping in the woods.
The trick is getting all your sleeping gear into the boat and distributing the weight evenly. Stuffing your gear into a single hatch in the rear will make the boat unstable and harder to track, or keep straight. Too heavy in the rear and you'll find yourself tilted upwards, like a kid doing wheelies with their bike.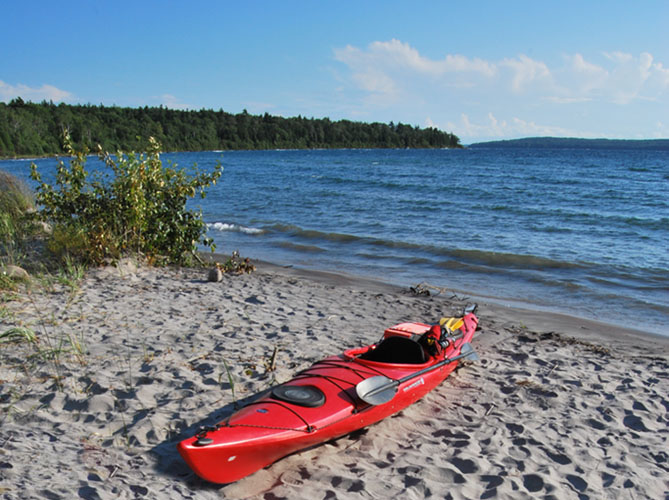 Touring on small lakes the consequences may be nothing more than an incriminating You tube video. On large bodies of water, in rough conditions, it could mean capsizing and putting yourself in fatal danger.
Kayaks have a maximum weight capacity. Touring kayaks are longer so they can carry more weight. They also have at least two cargo hatches to spread that lump of gear on the dock more evenly. You'll also find them better for tracking and handling big lake swells.

Light touring kayak: Current Designs, Whistler Roto 14.6 w/rudder 
As boats lengthen, cockpits shrink. Thigh braces on both sides of the cockpit allow you to brace yourself against the sides of the boat. In that position, the boat's more stable and you've got greater control to lean your body for steering or bracing against a rogue wave.
Light and compact gear helps keep it all below maximum capacity. Paddling less weight it's easier on your body which means you make better time. If you're already a backcountry enthusiast, you're already in the right mindset. All the same principles apply. Let weight and shape be your guide for placement. (Backpackers take note: you don't have to carry it all in on your back.)
Well made dry sacks are your best bet for the more essential items in your kit. In my case, priorities revolve around filling my belly, morning coffee, a dry set of clothes, a night's sleep and shelter from rain. Everything else goes in sealed plastic bags until I can afford more dry bags.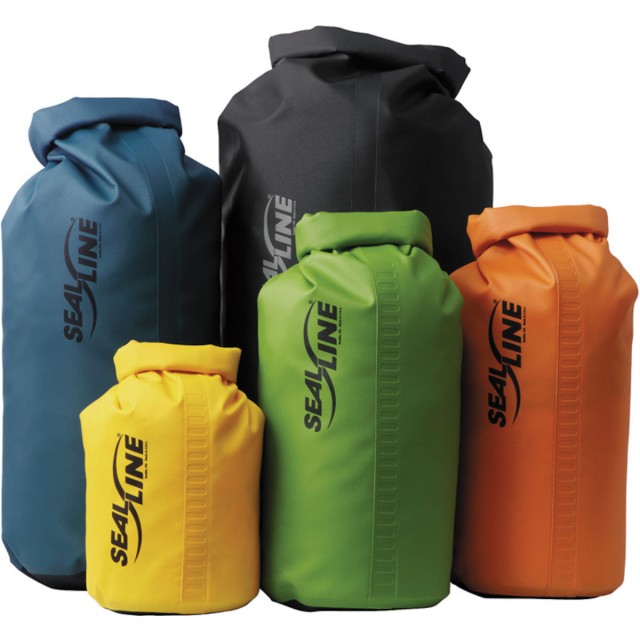 Dry bag: Seal Line, Baja Bag, Product code: 08526/8545
Luckily, dry bags come in various sizes and shapes. They offer the best guarantee of keeping gear dry no matter what comes your way. Since they hold trapped air, dry bags also improve the boat's floatation making it safer. Besides, stuffed with clothes, they make decent pillows around camp.
A lightweight paddle is a worthwhile investment, especially for long tours. You may not feel the difference between a lighter carbon paddle and a heavier aluminum paddle on a morning tour of the cottage lake. Add a few more hours and days on the water with choppy seas and you begin to feel the difference quickly. The heavier and less rigid paddles put unnecessary strain on the upper body. That means less energy and a greater potential for a sore joint after a long day.

Aquabound, Sting Ray Carbon, product code: RST-PC2CB
The next big consideration on a paddle tour is navigation. A compass and a reliable topographic map that's dry and accessible when your GPS looses power can be a deal breaker. Having it sealed and in plain view across the foredeck makes for great reading.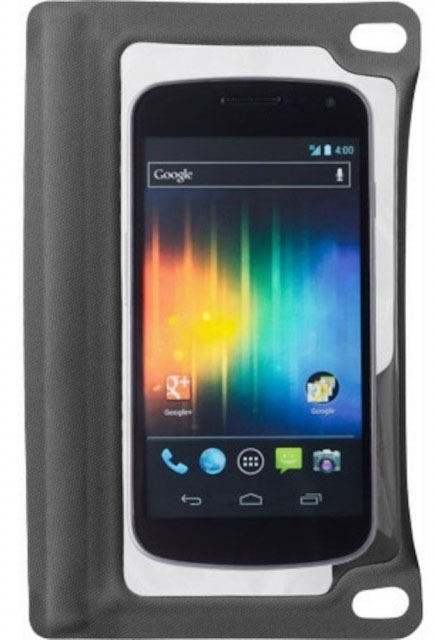 A submersible carrier keeps phones and car keys out of harm's way.
Nothing beats camping near the water. Instead of finding a new favourite spot and having to leave at the end of the day, paddle touring lets you stay the night. In no time you'll have systems worked out on how to pack your gear into the kayak in no time and get to the next campsite. And, of course, you can stay for breakfast in the morning.
Also available in: French