Hunting Backpack: A list of essentials to bring along
Also available in: French
Going hunting takes a lot of preparation, but that's one of the many pleasures this activity brings! Every time you drop an item in your backpack, you get one step closer to good times spent in the woods. To help you get ready without the stress of forgetting something important, refer to the essential list provided by the FédéCP.
Article written in collaboration with FedeCP.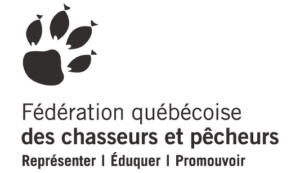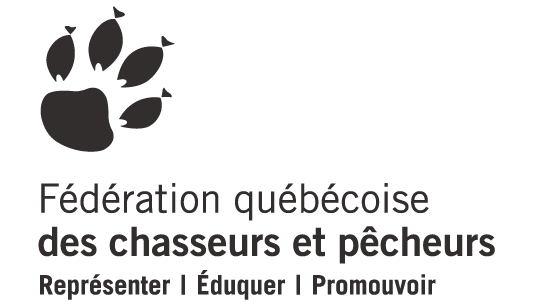 Before you leave home, make sure your backpack is roomy enough so that you can carry all the main items you need to bring on your next hunting trip:
Basic items (for small and big game hunting)

Health and safety items (for small and big game hunting)

Additional items (for big game hunting only)
Basic items to drop into your hunting backpack (for small and big game hunting)
Health and safety items useful in the forest (for small and big game hunting)
A bottle of water and snacks. This is essential even if you only go to the end of the trail to observe, even if there is a river flowing right next to your hunting location and even if you have just eaten lunch.
A map, a compass and/or a GPS. Even if you are in an area with clearly-marked trails, it can be easy to get lost in the woods when you come off the trail to retrieve your game.
A headlamp, flashlight or chest flashlight. 
A good mosquito repellent, a net and a tweezer to remove ticks. An essential combo to protect you from the only beasts that will attack you. 
Extra clothes. Always pack extra socks and gloves as well as extra layers. Practical in case of bad weather or a drop in temperature.
Additional items (for big game hunting only)
Odour eliminators. Choose a spray formula and use odourless soap, because animals have a more developed sense of smell than you might think.
A hunting cushion. This will allow you to stay stationary and wait for your game without feeling uncomfortable. 
Plastic ties. They will be used to attach your licence to your game.
The phone number of a blood dog handler. This type of dog sniffs out the injured animal and will help you find an animal you thought was lost after an imprecise shot. Improve your chances of finding a lost game by being prepared to contact a blood dog handler, if necessary.
Binoculars. The scope on your firearm is not made for observing nature. See something moving out there? Use binoculars!
A rangefinder. This tool will allow you to gauge your distances and help you take accurate shots at any distance.
Efficient organization of your gear
Have you packed all of these items in your old hunting, one-zipper backpack? If so, you might regret it when you have to get your hands on something at the bottom of the bag like your binoculars rolled up in a sweater under the ammo box wide open right next to the spilled mosquito repellent. Carefully choose a hunting backpack that contains all the necessary pockets to properly categorize your gear and facilitates access to it without making too much movement or noise.
Also, try to maximize the space in your hunting backpack by following the advice detailed in this article.
Finally, remember that a hunting backpack cannot be worn over your orange vest, unless your backpack is neon orange. You will therefore need to have an additional orange vest that you can hang on your bag so that it is clearly visible from all sides.
SAIL's recommendations
Here are three backpack models recommended by SAIL to carry everything you need for a successful hunting trip.
Crossbag hunting bag – 34 L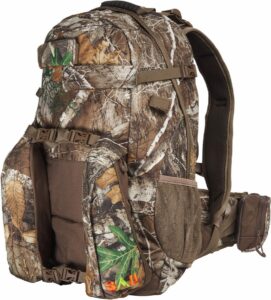 The Crossbag is a great pack to have when it's time to load up your gear and head out. Whether you're going out to your stand or you're planning a quick overnight trip, the Crossbag will be able to hold all your essentials with the 2,080 cu. in. of space. The front accessory pocket will help keep your smaller items organized and the front and side compression lashing straps allow you to strap or tie on even more gear.
Large main pocket

Front accessory pocket

Front organizational pocket

Front compression stuff pocket

Lower side mesh pockets

Side compression straps

Adjustable sternum strap

Padded shoulder straps and back pad

Capacity: 34 L (2,080 cu. in.)

Main compartment dimensions: 18 in. x 13 in. x 9 in.

Weight: 1 lb. 13 oz.
Trooper Elite Hunting Bag – 23 L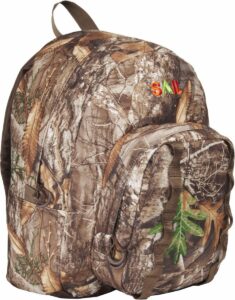 The Trooper Elite is a great entry-level pack for smaller excursions. With 1,450 cu. in. of space, there's plenty of room to pack the essential gear for the day. The front pocket helps keep your supplies separate and the daisy chain on the front provides a place to tie on a few bigger items that you don't want taking up space in your pack.
Large front accessory and main pocket

Front organizational pocket

Padded shoulder straps

Webbing handle for easy carrying

Bartacked webbing gives multiple attachment points

Capacity: 23 L (1,450 cu. in.)

Main compartment dimensions: 16.5 in. x 11.5 in. x 6 in.

Weight: 1 lb. 5 oz
Moosehead hunting bag – 34 L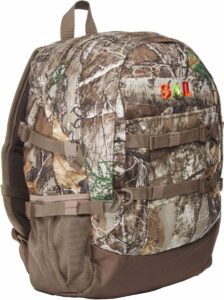 Organize your hunting equipment for your next expedition with the SAIL Moosehead backpack.
Large main pocket and front accessory pocket

Front organizational pocket and front compression pocket

Lower side mesh pockets and side compression straps

Padded should strap and back pad

Adjustable sternum strap

Weight: 0.82 kg (1 lb.)
Also available in: French